COVER STORY

EXCLUSIVE
THE BUSINESS HORIZON
Vish Govindasamy evaluates the private sector's performance since the onset of the pandemic and stresses the need for collaboration to create a stable operating environment
A seasoned professional with experience in the healthcare, fast-moving consumer goods (FMCG), agriculture (including dairy), energy and telecom sectors among others, Vish Govindasamy lays claim to more than three decades of experience in the local and international corporate sector.
Serving as the Chairman of the Ceylon Chamber of Commerce – a role to which he was appointed on 29 June at its 182nd annual general meeting – Govindasamy has held key leadership roles in Sri Lanka's private sector over the years.
In addition to being the current Chairman of the Employers' Federation of Ceylon (EFC), he serves as a member of the Governing Council of the Sri Lanka Institute of Directors (SLID) and is also a past president of the Indo-Sri Lanka Chamber of Commerce and Industry (ISCCI).
A fellow member of the Institute of Certified Professional Managers of Sri Lanka (CPM Sri Lanka), Govindasamy's guile has been recognised in local and international business circles – he is credited with driving the diversification of one of the nation's leading conglomerates across several sectors in his capacity as its Group Managing Director and being invited to sit on several committees in a number of TATA owned businesses in Sri Lanka.
At the Ceylon Chamber of Commerce's virtual inauguration ceremony, he stated: "The chamber is called on to be the clarion voice of the private sector – a voice that is nonpartisan and raised solely in the interest of Sri Lanka."
In this exclusive interview with LMD, Govindasamy offers insights into Sri Lanka's business landscape, sheds light on opportunities that the country could capitalise on, and discusses his outlook and the chamber's expectations for 2022.
– LMD
---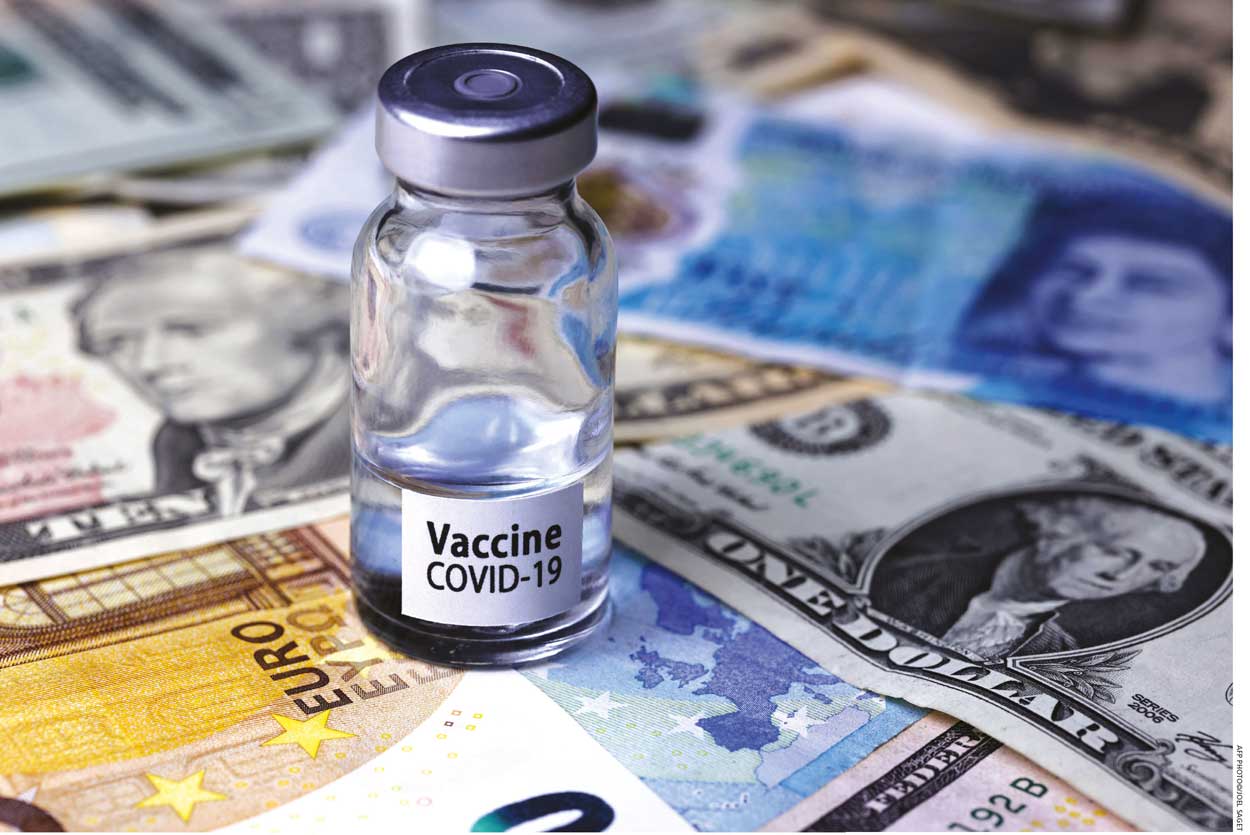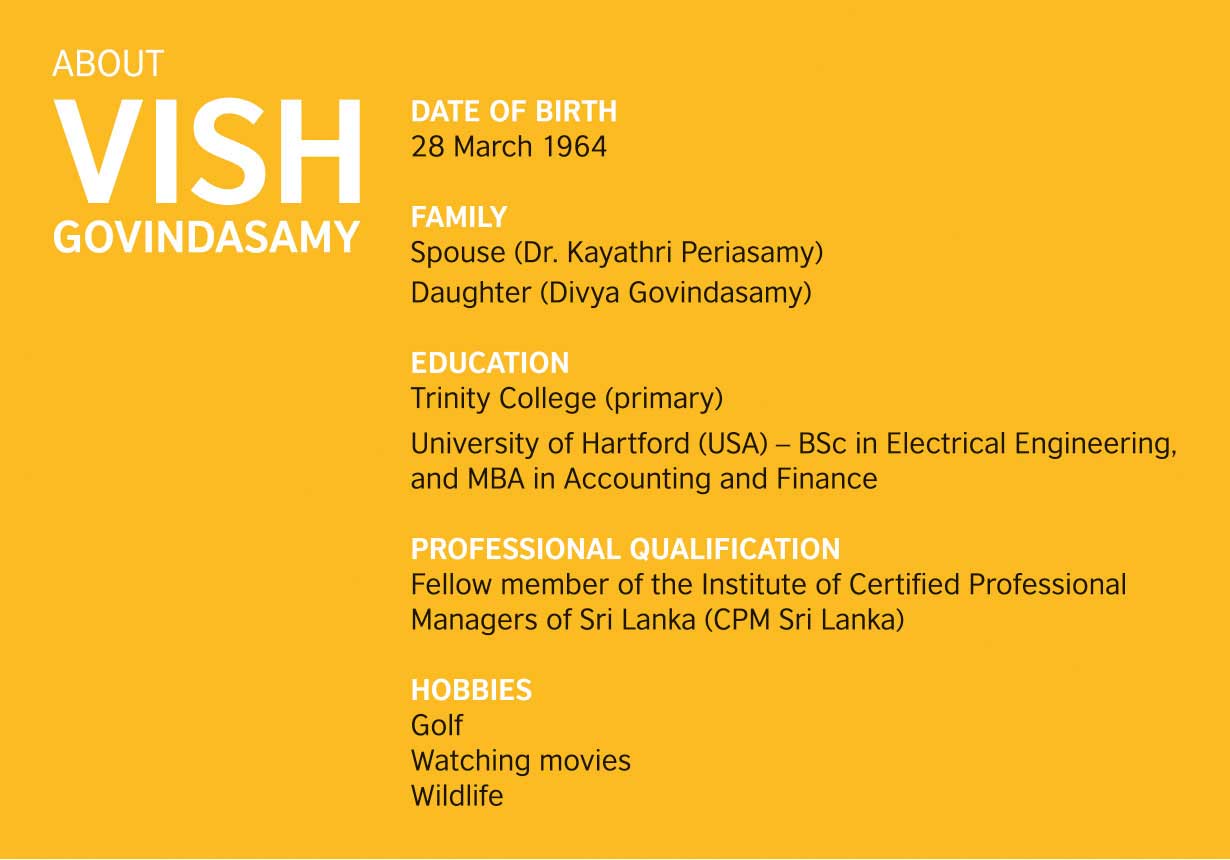 Q: How would you describe the business landscape in Sri Lanka at this time – especially given the seemingly unending pandemic and 'quarantine curfew' imposed towards the end of August?
A: To put the business climate in perspective, we have to look at when the pandemic broke out in March 2020.
Businesses have come a long way since then with the private sector displaying its resilience, and ability to be agile and adapt to the changing environment. It has embraced digital technology – for example, the 150-year-old tea auction has gone digital.
In my view, the private sector and even SMEs have taken advantage of their online capabilities, and been able to perform well. During this period, many have maintained their staff numbers even in the export sector – with export earnings in June and July being among the highest.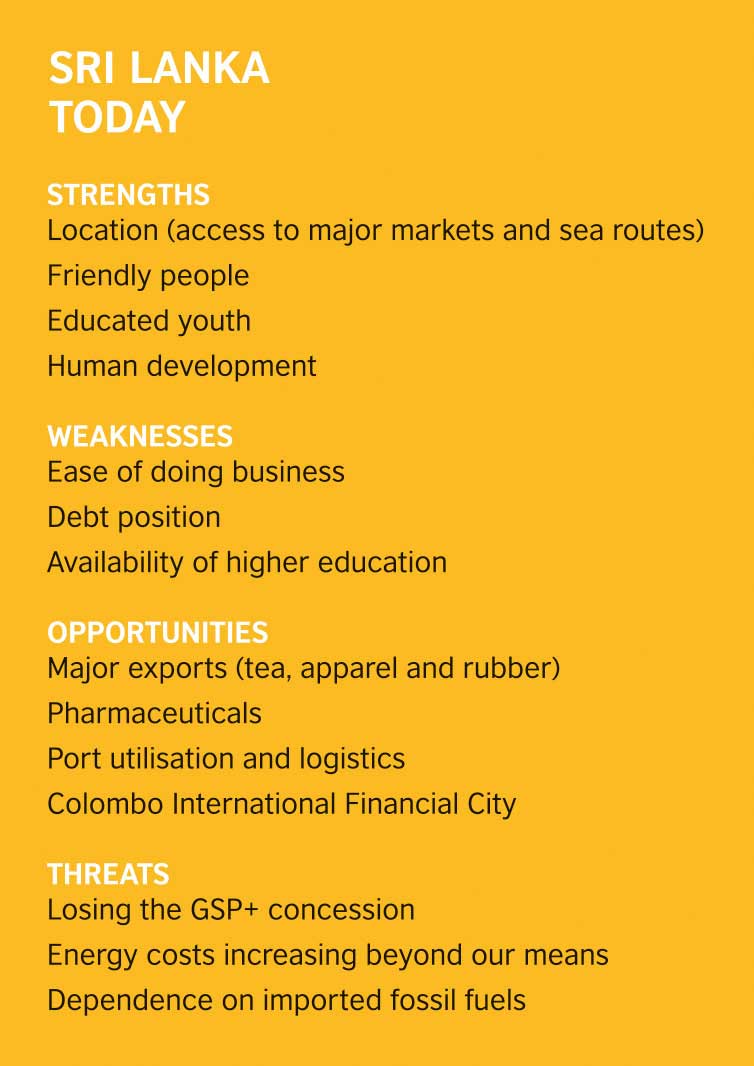 I believe that this resilience among private sector businesses will continue as long as we receive the required support from policy makers to keep this engine ticking. I believe this has been done for the most part.
Q: In the light of your exposure to the pharmaceutical industry and thereby the healthcare sector, do you see Sri Lanka's quest to reach herd immunity this year as a panacea for our ills – or is it likely that the emergence of new variants of COVID-19 together with the prospect of waning vaccine efficacy will continue to plague us? Would the 'best case' so to speak, be that the pandemic shifts to being endemic?
A: I don't believe that any nation has achieved herd immunity at this point. Even countries such as the UK, the US and Israel – which have among the highest vaccination rates – have not been able to completely halt transmission and continue to record new cases.
What is evident from the data is that as the vaccination process progresses and we cover more of the population, mortality and hospitalisation rates decline.
Even though Sri Lanka launched its campaign later than it should have, we seem to be ahead of the curve compared to some countries, and we're lucky to have received vaccines from China and the COVAX initiative in addition to the government's purchases.
Once we vaccinate most of the population, and reduce hospitalisation and mortality rates, then much like the world has accepted the flu virus, we'll have to accept this and move forward.
Of course, our working conditions and how we interact with each other will continue as it has in the 'new normal' so we'll have to adapt. Going forward, crowded offices and environments probably won't be the way to go whereas working remotely may be. People will evolve.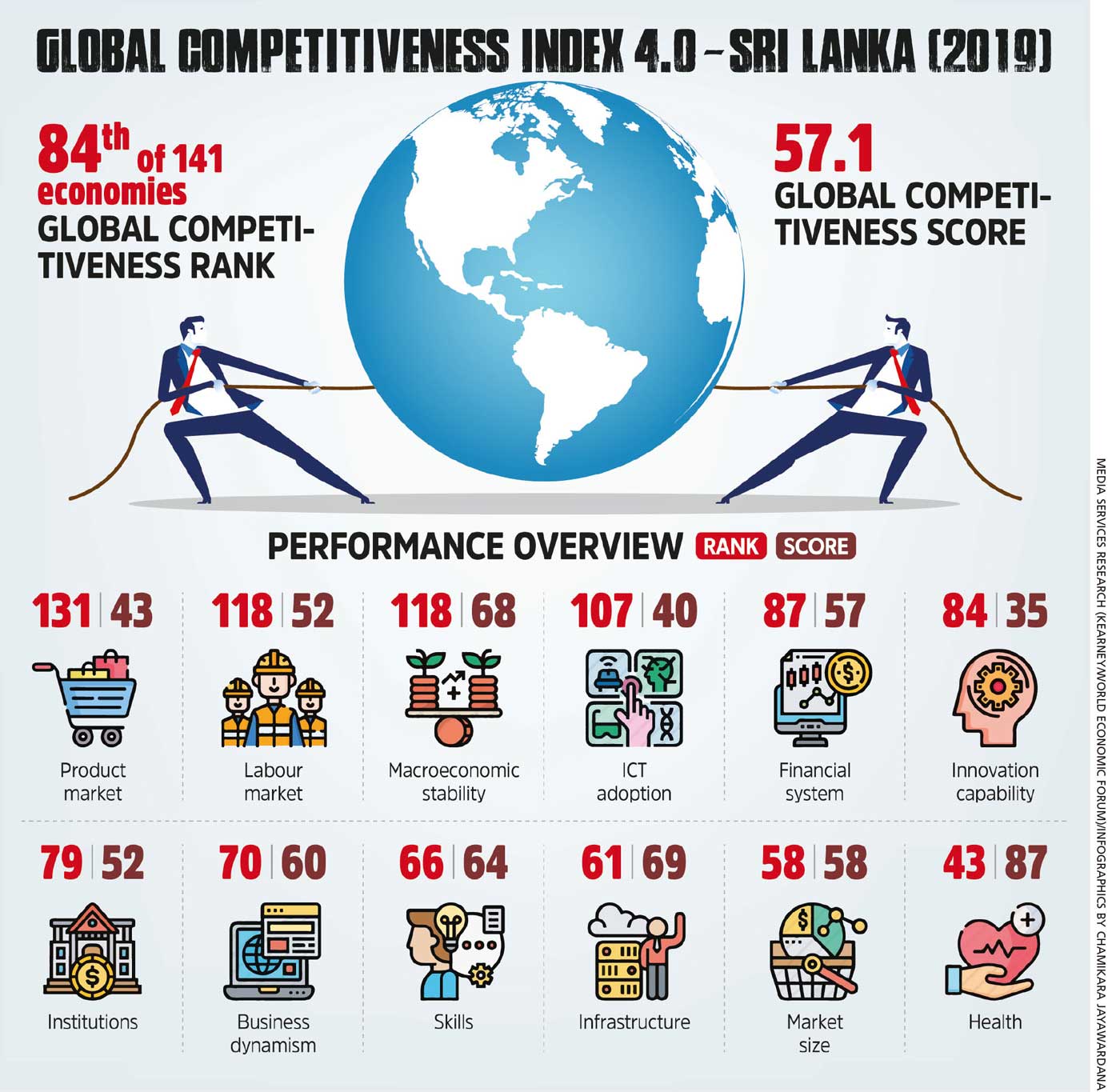 Q: What measures are needed to revive the economy given the difficulties faced by the country due to the impact of the COVID-19 pandemic among other challenges?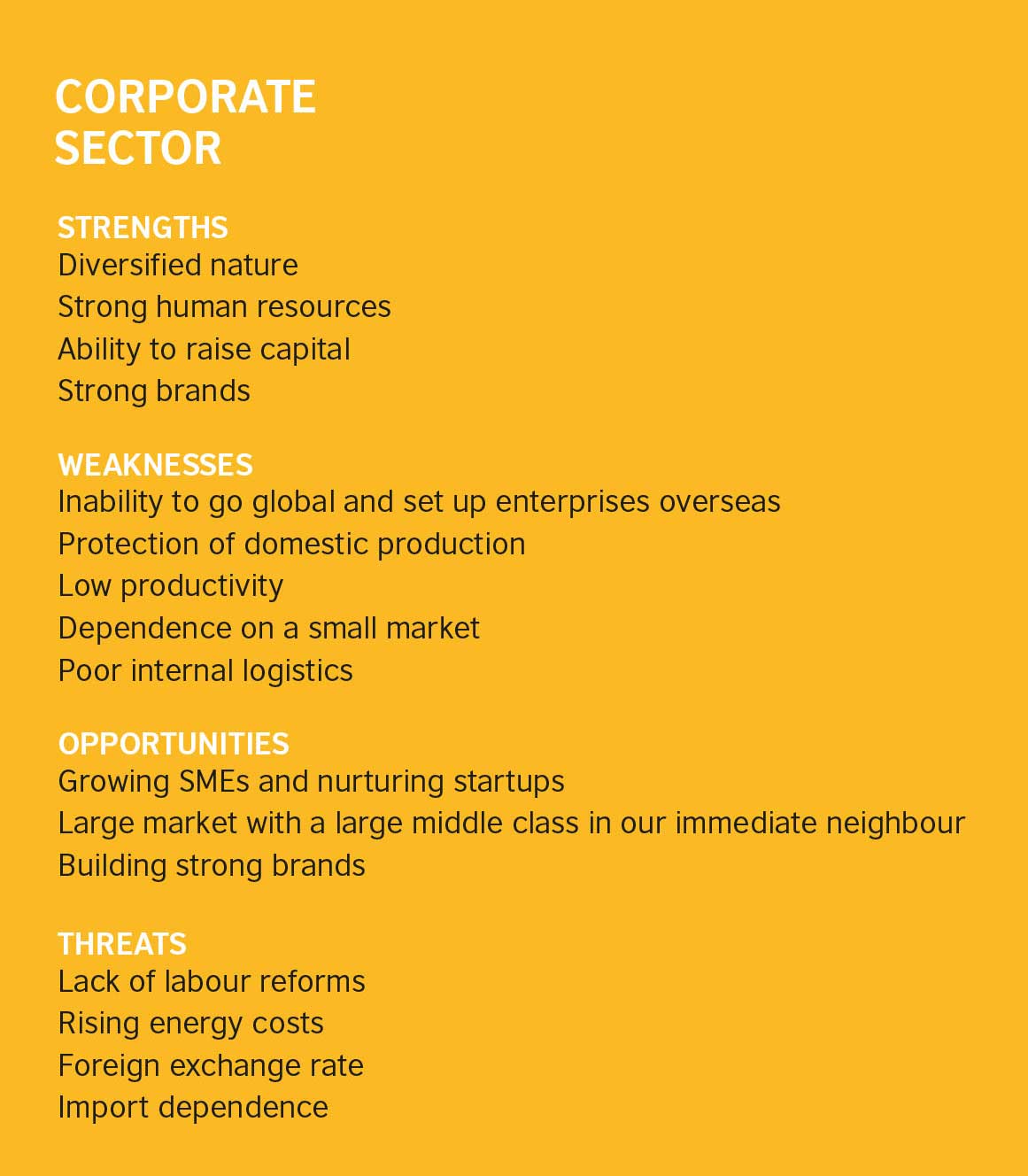 A: Sri Lanka is dependent on the remittances we receive from overseas workers, as well as tourism and exports. Two of these three have been adversely impacted to a major degree – i.e. remittances and tourism.
So far, we have been fortunate that our exports have continued but there are many challenges – freight rates have gone through the roof, and shipment routes and containers are unavailable. Despite this, our export community is resilient and marching ahead.
So we need a credible strategy to handle the foreign exchange challenges. We need to restore confidence in our forex market not only domestically but globally as well, which will improve sentiment in our economy.
We must support the key sectors that are lagging in terms of recovery – such as tourism. While the industry as a whole has continued to ensure employment and keep properties intact,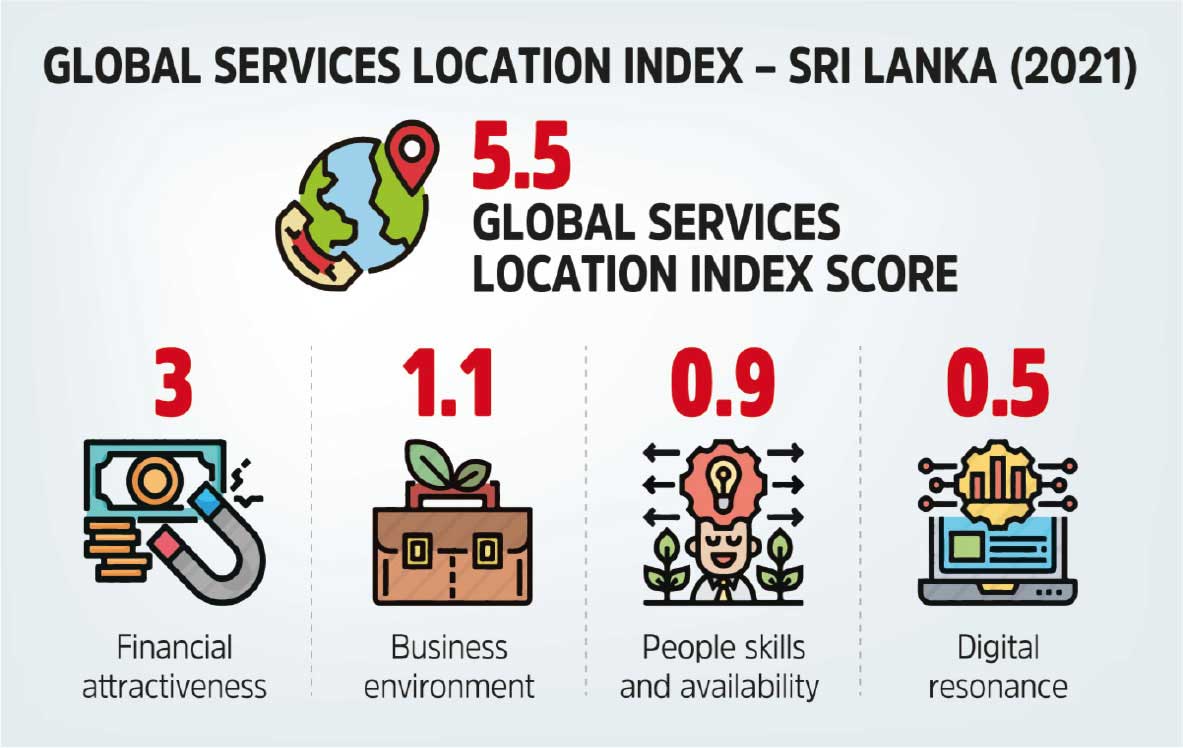 more must be done because eventually, these businesses will be bringing in the dollars.
Furthermore, we need to move forward from our traditional exports – apparel, tea, seafood, rubber and spices – to something different. Sri Lanka needs large foreign companies to set up shop here so that we have different bases for export. Countries such as Vietnam, Malaysia and Indonesia have done this well.
We must do so especially given the supply chain and route difficulties that nations face due to being dependent on countries like India or China. Many companies are looking to shift operations from these nations following the impact of the pandemic on their supply chains and we're well poised to serve these needs.
To this end, we need to pitch and showcase Sri Lanka as a possible alternative supply chain link. The Ceylon Chamber of Commerce was instrumental in organising the Sri Lanka Investment Forum 2021 along with the Board of Investment (BOI) and Colombo Stock Exchange (CSE). We hope to attract foreign direct investment (FDI) through such initiatives.
Q: And what sectors are positioned to help accelerate the nation's economic recovery in the prevailing business landscape?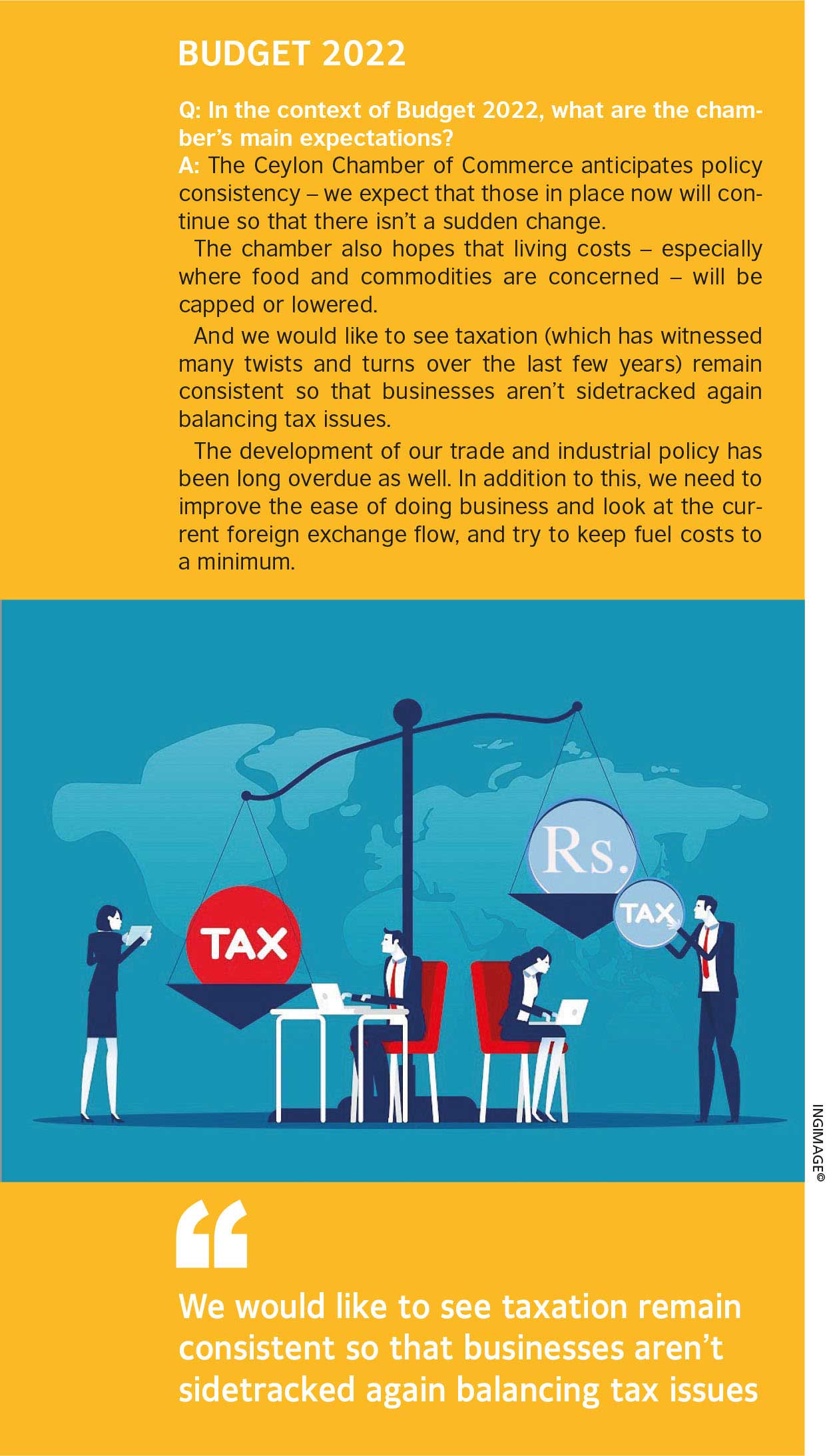 A: We need to identify sectors – particularly in high end electronics – that require less capital investment.
Pharmaceuticals could be suitable if we do it correctly; with India being a major supplier, we could be an alternative along with Bangladesh and Pakistan. If we proceed down the route of 'me too,' it will be difficult but many new biological drugs and vaccines, and various nutraceuticals, offer great opportunities.
The IT industry also offers great opportunities along with our logistics sector, given Sri Lanka's location.
The free trade agreements (FTAs) with India, Pakistan and Singapore will come into play if we work hard at this.
Q: What measures are needed to achieve the Ceylon Chamber of Commerce's envisioned GDP growth of seven percent within the next five years?
A: This figure was envisioned before the pandemic and prevailing challenges.
However, with our agriculture and tourism sectors, and transportation and logistics, I believe that we're geared to achieve this if we progress quickly, beginning with the East Container Terminal and West Container Terminal, Hambantota International Port and Mattala Rajapaksa International Airport (MRIA).
If we can get these assets working and improve our agricultural self-sufficiency, we can work towards this target.
Q: The chamber recently proposed the establishment of a national committee focussed on policy reforms, review and implementation. Do you believe that such an initiative could lead to long-term policy consistency to support a stable operating environment?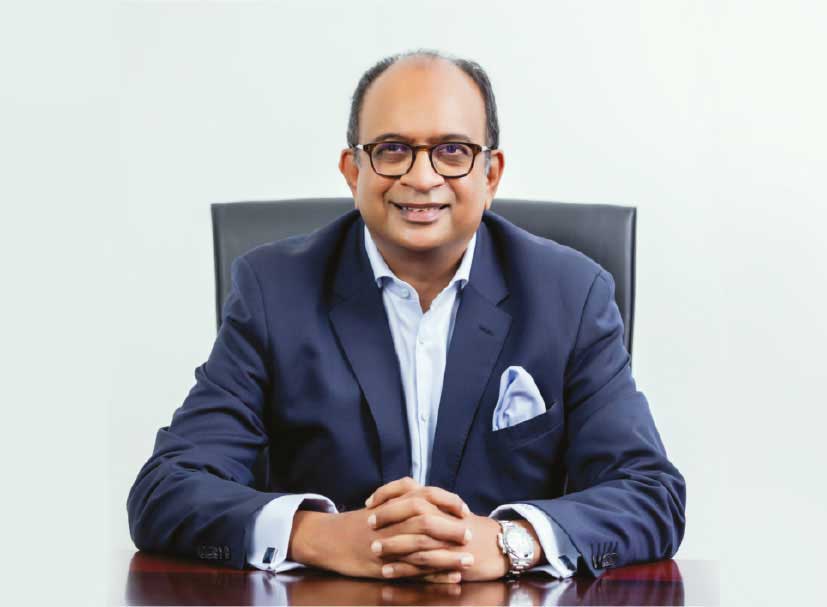 A: Certainly – and that is the basis on which the chamber recommended this. Bipartisan acceptance of policies is needed as it doesn't matter who is ruling.
For the country to move forward, we must have a conducive environment for growth so that policies can be predictable.
Unfortunately, things tend to change radically in either five or 10 years. Our proposal suggests that while the head of state chairs such a framework, stakeholders should play a part in it. We have volunteered the chamber's Economic Intelligence Unit's capabilities so that this can be a consultative and research-based approach.
Furthermore, we believe that some policies should be made transparent by making it possible for the public to comment on them, promoting debates in a bid to implement sustainable changes.
This proposal is in its infancy and we have much more to do to ensure stakeholders' buy in. The business community has to come together as one voice for an initiative like this to get off the ground and I believe everyone sees the need for long-term policies.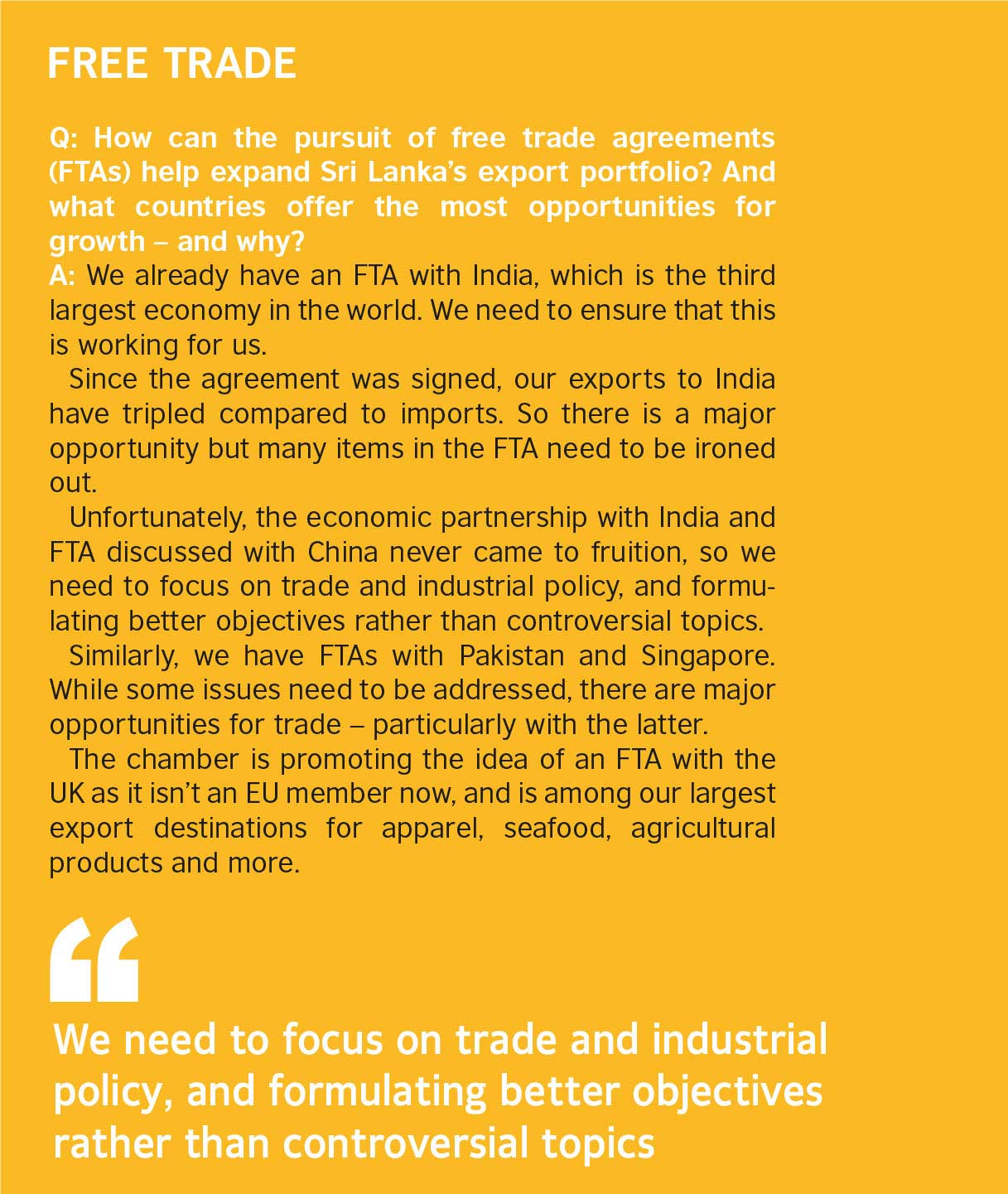 Q: What do you consider to be the main bottlenecks impacting the country's ability to attract FDIs? And as far as perceptions go, are we right in saying that corruption is costing us dearly in attracting quality investors?
A: People have many choices when it comes to investing in different countries. Those who make such investments are looking to grow their businesses, and be profitable and good global corporate citizens by generating employment, protecting the environment and so on.
We must realise that this is a very competitive landscape and the ease of doing business attracts FDIs – viz. transparency and minimal bureaucracy.
The cost of doing business is also important – such as energy costs, which can be high in Sri Lanka.
Moreover, the time needed to get things done should be reduced. There have been many conversations about single windows but with little progress. We need to make sure that regulations are simplified so that people can obtain clearance easily.
These processes should never be about who you know but the quality of an investment. If an investment is ethical and environmentally-friendly, it should be easy to clear.
Most importantly, we need people to be educated. While our literacy rate is high, many IT companies find it difficult to invest here because the required talent may not be available. We need to produce more graduates to serve the needs of the corporate sector.
As for corruption, this is not a phenomenon merely in Sri Lanka. In my opinion, corruption cannot be eradicated entirely but it's all relative to the rest of the world. Therefore, we should look to improve our ranking in the Corruption Perceptions Index.
Having said that, they say it takes two hands to clap. Given this, we have to address corruption from both sides – the giver and the taker. There needs to be an evolution over time.
While there are many areas to improve, we continue to attract FDI. If we can tackle these issues, we should be able to increase these inflows since people would love to live in Sri Lanka.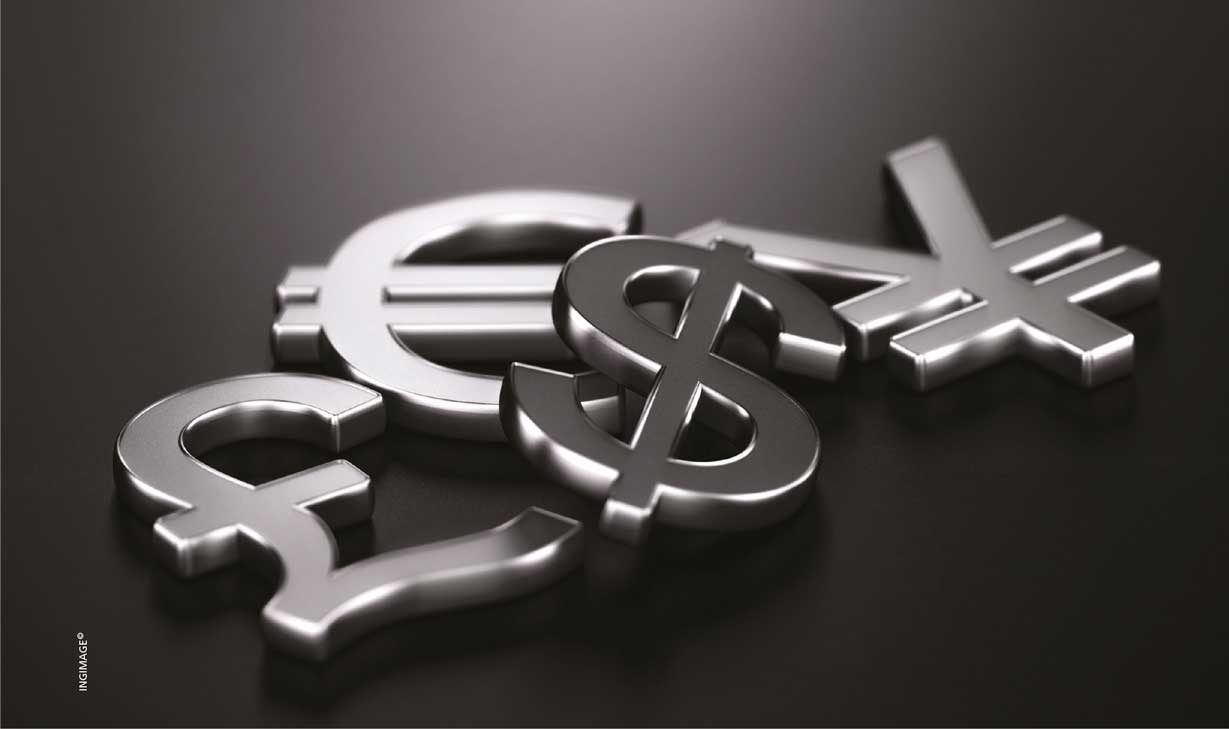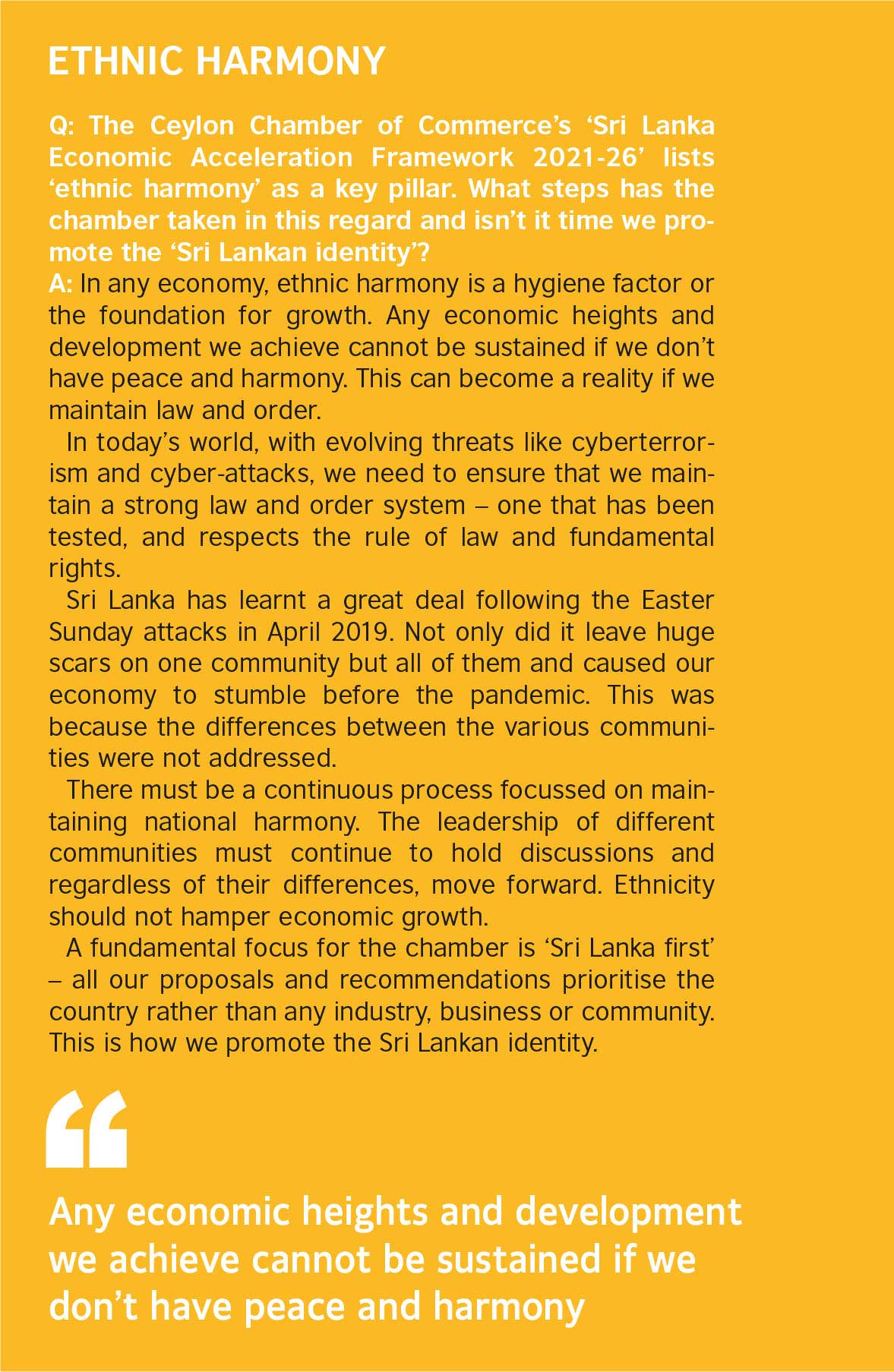 Q: Following your appointment as the chairman of the chamber, you said the nation must be portrayed as investor friendly to attract FDIs. How can this be achieved?
A: Attracting FDIs is an ongoing process so it's difficult to determine a timeline for how soon inflows can be increased. But as with the Sri Lanka Investment Forum, entities such as the BOI are working to attract investments and this is an evolving process.
Business and financial confidence, consistency in policy making and the ease of doing business are important factors.
Q: Is Sri Lanka adequately leveraging strengths such as its location, literate population and reputation for manufacturing high quality products when competing on the international stage?
A: Sri Lanka enjoys a very good location, being situated among the best sea routes to Asia, Africa, Europe or any other continent. We can transform ourselves rapidly to become a hub much like Vietnam, Malaysia or Indonesia, which have become industrial giants today.
We need to work on tourism and the inflow of investments into the country. A great deal of effort has been expended into building 'Brand Sri Lanka' in the postwar years with the nation being recognised among the best places to visit prior to the pandemic.
These efforts have created goodwill in terms of the perception of the Sri Lankan people who are friendly so we must keep working towards this.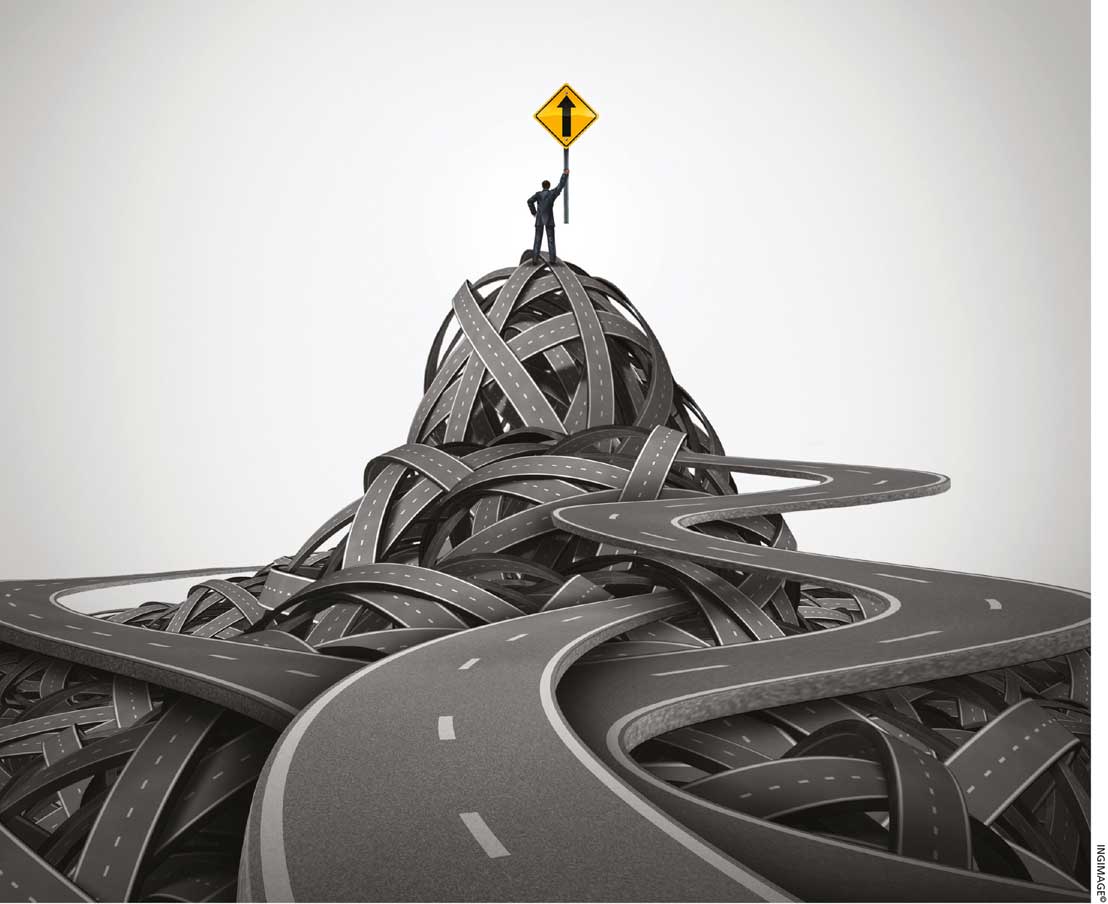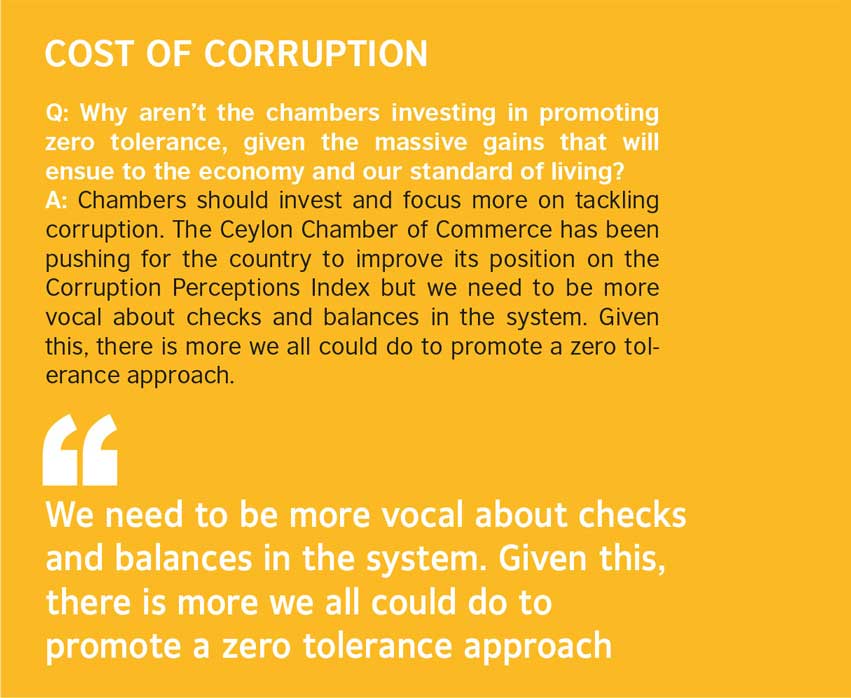 Q: In your assessment, is Sri Lanka's export sector capable of remaining competitive in the case of the EU's GSP+ concession being withdrawn?
A: Sri Lanka previously lost the GSP+ facility in 2010 and after fighting hard, regained it in 2017. But we continued to export during that time.
Being competitive will be difficult without the concession but we need to reduce our cost base and be more efficient in terms of productivity.
In the case of the apparel industry, it invested in becoming energy efficient and many environmentally-friendly factories to remain competitive.
We also must consider that we won't have the GSP+ concession forever as we will become a developed country someday. So these are areas we should work on regardless.
Q: What should be the main components of a credible debt refinancing strategy as Sri Lanka looks to service an estimated US$ 4.5 billion in foreign debt between this year and 2025?
A: While there have been many discussions about what we should do, it's more important to ensure that we're transparent – declaring the debt that needs to be serviced and announcing a plan to finance it.
We also need to reach out to these debtors and begin discussions on how we can refinance these debts.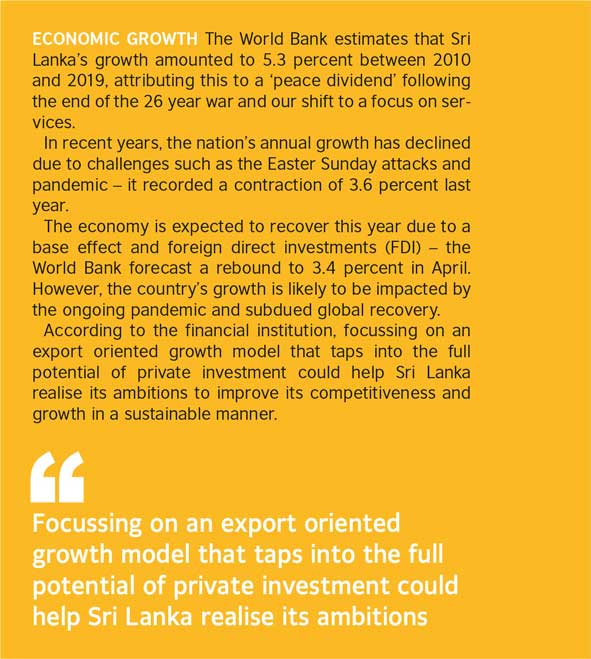 There are expectations that a rebound in tourism will bring close to four billion dollars over the next three years. And there have been discussions about bilateral swaps, credit lines and divesting idle assets to raise foreign currency.
If we can improve the country's credit rating and ease the market's concerns, foreign investors will come. Unfortunately, we lack access to global capital markets because of our inability to service these debts. Strengthening these various aspects would enable us to return to international markets and raise funds.
Q: And how would these factors help build confidence among international financial markets and rating agencies?
A: A lack of data, and transparency regarding why debt is created and how it will be serviced, impact confidence and lead to a drop in ratings. Rating agencies' customers are creditors so they are merely providing warnings about the likelihood of repayment based on the information available.
We must keep in mind that without the pandemic and other challenges facing the country, we probably would not be in this situation.
Moreover, we are discussing around US$ 4 billion dollars rather than 10 or 45 billion dollars so this can be managed. We can reach out to different agencies around the world – it wouldn't be the first time we've done so nor would we be the first nation to overcome this challenge.
Q: What is your take on the government's imposition of import restrictions as a strategy to mitigate the forex crisis? And how can we promote Sri Lanka as a tourist destination and trading hub if the restrictions continue for the foreseeable future?
A: This is a catch-22 situation. When earnings reduce, nations will look to reduce their expenditure. Simultaneously, they would determine whether the local market can produce items that have been imported over the years. There must be a balance.
I believe that the import restrictions were the need of the hour at the time. But we need to question how long we can continue with them because as an island, we earn our income by trading. This cannot be a one-way street.
It may be a necessary evil to have some controls – such as on capital goods; but not consumer or trading goods – especially with the countries we trade with so that there is a balance.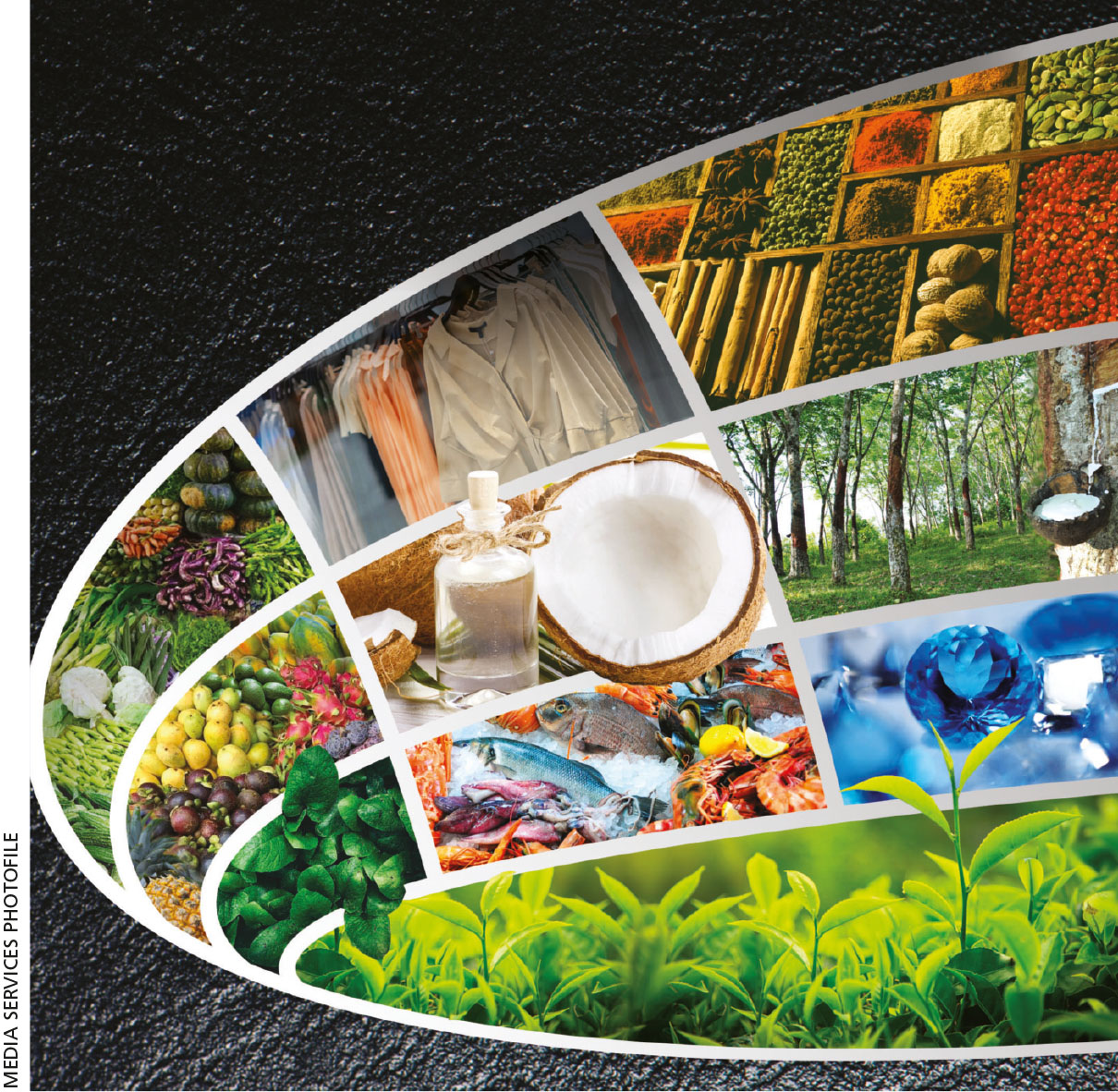 Some countries have also employed bartering instead of depending on hard currency. For instance, we could trade our tea for Iran's oil.
Once income from tourism is restored, some restrictions are likely to ease. But there is another catch-22 in terms of which comes first – tourism or the removal of the restrictions? We will have to wait and see.
Q: And finally, what does year 2022 hold for Sri Lanka – and what are the key sensitivities?
A: In my view, the end of this year and 2022 will be consumed by efforts to manage the pandemic, and ensure the vaccination campaign reaches its full potential. The world is discussing booster vaccinations so we will probably focus on that.
I believe that time will also be spent on getting our debt dynamics in place.
We must seek FDIs and free trade agreements, and look to form favourable trading pacts with friendly nations. This is because the world is likely to experience food scarcity, and commodity prices will pose a threat to our inflation rate and cost of living. Given this, domestic agricultural growth may be a centre of focus in Sri Lanka.
– Compiled by Lourdes Abeyeratne