COVER STORY

LMD EXCLUSIVE
TRADE HUB PROSPECTS
Mohan Pandithage assesses Sri Lanka's potential to leverage on the opportunities emerging on the external trade front in the wake of the pandemic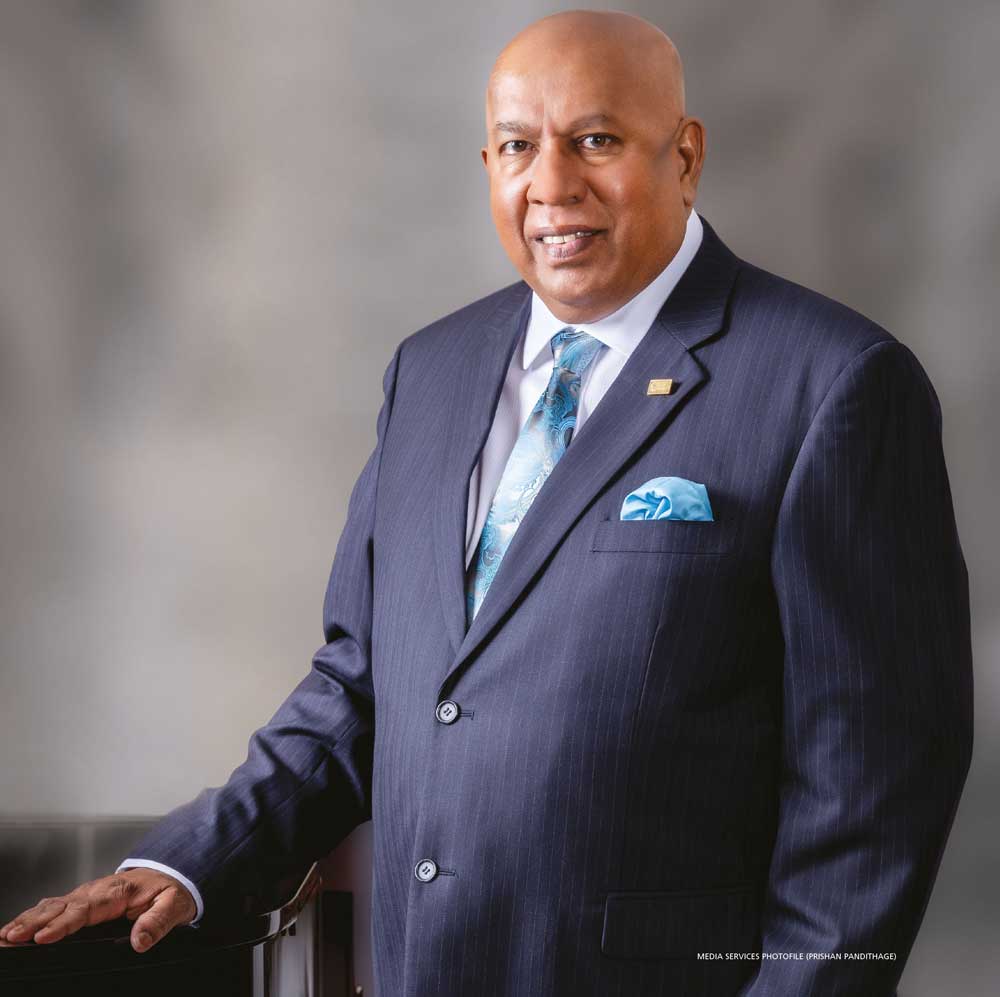 Having joined the Hayleys group as far back as in 1969, Mohan Pandithage counts more than half a century of experience in the corporate sphere. He was appointed to the Hayleys board in 1998, and as Chairman and Chief Executive in July 2009 – and he occupies the coveted chair to this day.
The industry veteran is a fellow of the Chartered Institute of Logistics and Transport – UK (CILT) in addition to which he has been bestowed the title of Honorary Consul of the United Mexican States (Mexico) to Sri Lanka.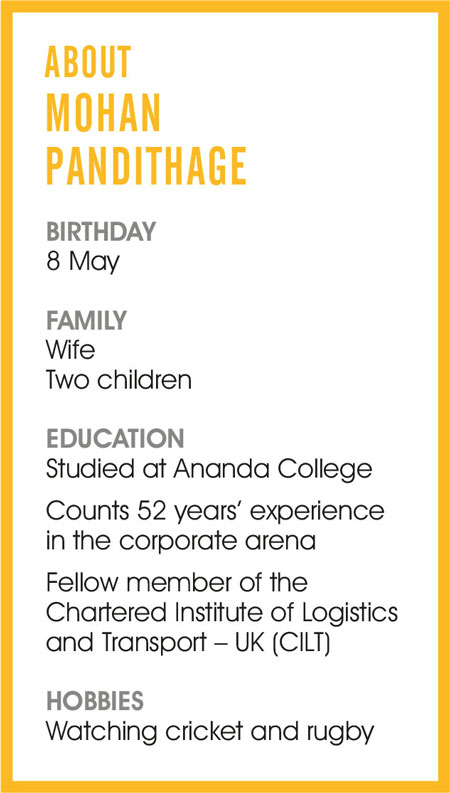 A council member of the Employers' Federation of Ceylon (EFC) and member of the Advisory Council of the Ceylon Association of Shipping Agents (CASA), Pandithage is also a recipient of the Best Shipping Personality Award from the Institute of Chartered Shipbrokers (ICS). He has also garnered Leadership Excellence Recognition from the Institute of Chartered Accountants of Sri Lanka (CA Sri Lanka).
Furthermore, he has been honoured with a Lifetime Achievement Award at the Seatrade – Sri Lanka Ports, Trade and Logistics awards, as well as a Lifetime Award for the Most Outstanding Logistics and Transport Personality of the Year by the Chartered Institute of Logistics and Transport – Sri Lanka (CILT Sri Lanka). He was also recently appointed as a member of the Advisory Council of the Ministry of Ports and Shipping.
In this exclusive interview with LMD, he discusses Sri Lanka's response to the coronavirus pandemic – particularly from an economic and business standpoint.
The external sector and diversified portfolios are also brought into focus, as the national and global economies navigate a new year of potential opportunities – along with the all-important themes of stakeholder engagement and corporate sustainability.
– LMD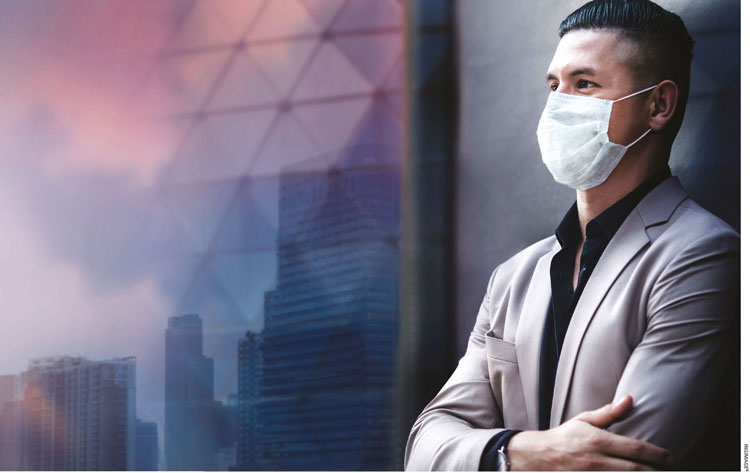 Q: How would you describe Sri Lanka's COVID-19 response so far – and the impact thereof on business in the country?
A: The response has been very encouraging. From a business perspective, the government rolled out effective mechanisms to enable continuous business operations in curfew or isolated areas.
While controlling the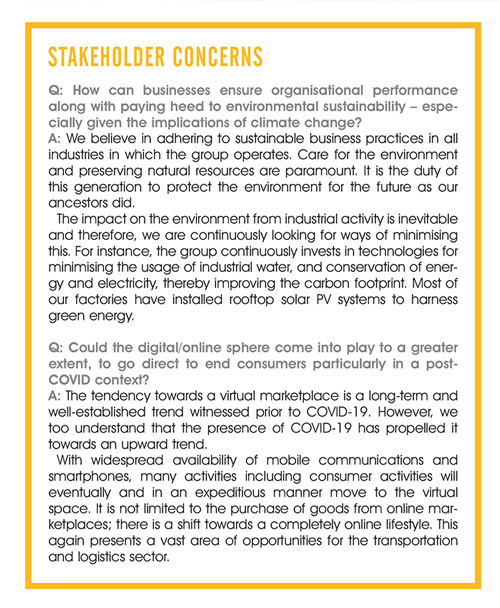 spread of the pandemic is important, the continuation of economic activity is also vital for the survival of the country.
We are thankful to the government, healthcare workers, military and police for their tremendous efforts in controlling the spread of the pandemic in Sri Lanka, and enabling our economy to perform amid a challenging global environment.
Q: What is your take of Sri Lanka's economic and fiscal policies to date?
A: We understand that the operating environment is tough. The government's commitment to policy consistency is commendable. And the prevailing interest rate regime is conducive to business expansion.
However, we feel that the ambitious revenue targets and expansionary fiscal policies may put pressure especially on the external balance sheet. This requires careful monitoring and taking corrective measures continuously.
Q: How would you rate the Sri Lankan economy in terms of its external trade potential?
A: If the right policies are adopted consistently, the country could double its exports within a short period. The present government policy and support for export industries are encouraging.
There is a greater need for improving infrastructure especially in manufacturing zones with the availability of sufficient water, wastewater treatment and power. Currently, there's a shortage of such infrastructure, which acts as an impediment for realising the full potential of the export sector.
We need to tackle the backlog of containers as a result of COVID-19. There is also a global issue relating to a container shortage and freight space in ships.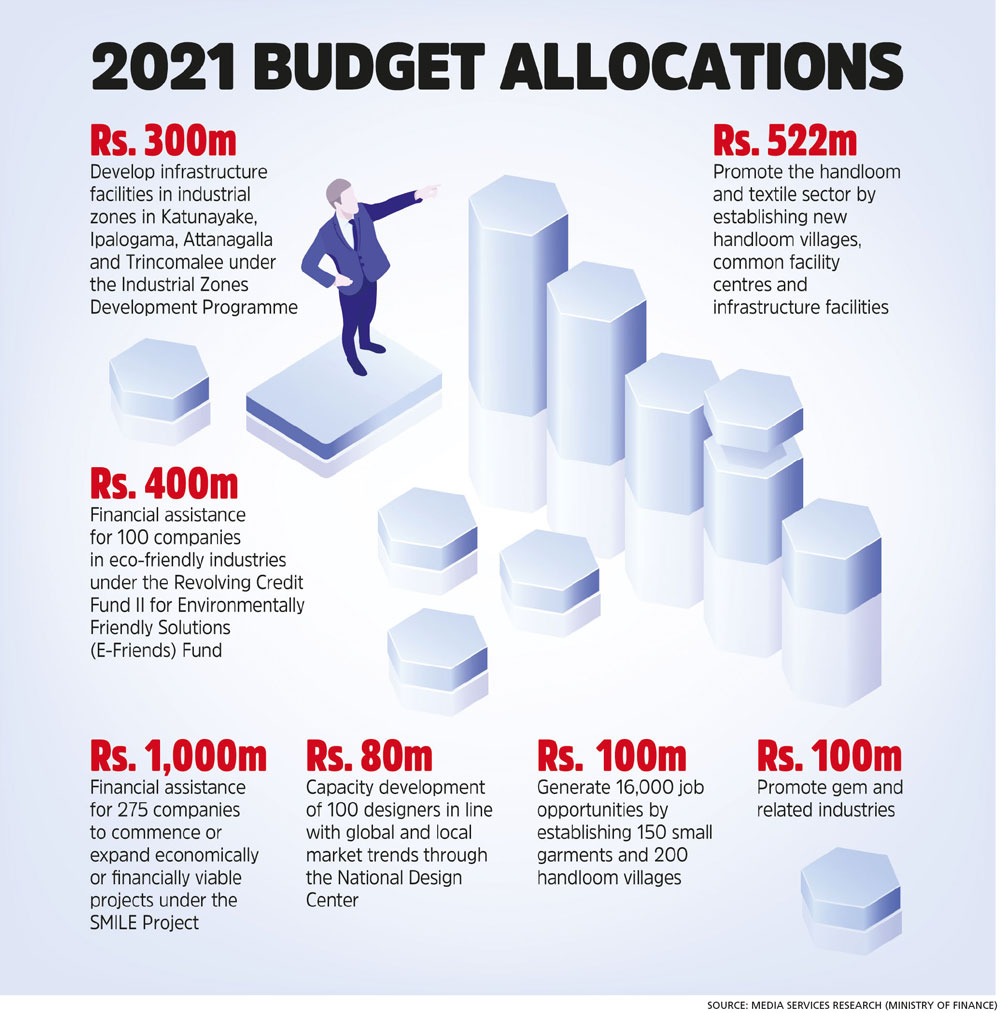 Q: Which factors have contributed to the declining contribution of Sri Lanka's exports to GDP? And will the likes of the National Export Strategy (NES) and Budget 2021 make a difference going forward?
A: Policy inconsistency has been a major deterrent factor. High interest rates, persistent inflation and an uncompetitive exchange rate discouraged export industries in the past.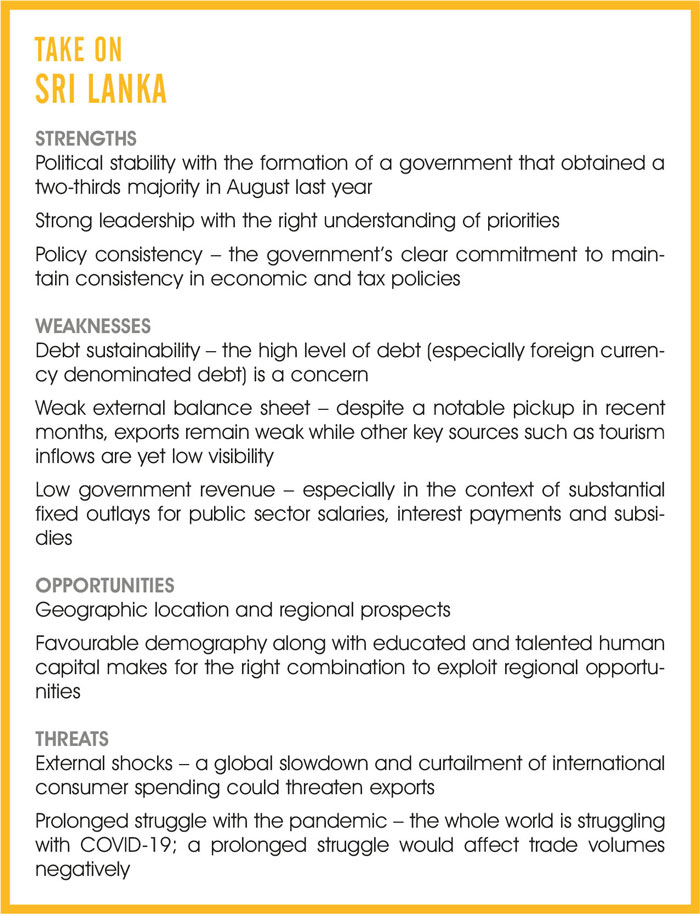 Budget 2021 is a welcome step towards addressing the bottlenecks of exporters. The Board of Investment (BOI), Sri Lanka Export Development Board (EDB) and relevant ministries are supportive, and have become very business friendly. We expect the government to do its utmost to maintain a macro environment that is conducive. There is a need for consistent policies.
Q: What opportunities are there for Sri Lanka to capitalise on to drive external trade?
A: The national budget for 2021 focusses on key areas such as agriculture, dairy and livestock to enter into export markets.
We should focus on industries adding more value to local raw materials – especially agriculture commodities. The country needs to attract foreign direct investment (FDI) in export industries. Development of the Hambantota economic zone targeting such export-oriented industries is a priority. More industrial activities can facilitate higher volumes for the maritime sector.
Q: In your opinion, what steps can Sri Lanka take to improve its 'ease of doing business' ranking and global competitiveness?
A: It needs to focus on low scoring areas such as enforcing contracts, registering property, getting credit and paying taxes. Budget 2021 announced certain measures to improve the tax payment system.
It is imperative that we work towards achieving the overall number one rank and leading position in all aspects (topics) in South Asia. Prioritising what we can do in the short, medium and long term is important. While we should also look for quick wins, planning for improving the overall ranking within the next five years is important. These reforms require targeting with specific timelines.
The government's decision to open roads, airports and ports will definitely improve the ease of doing business. Moreover, a one stop shop needs to be established for the ease of starting a new business.
Q: Cou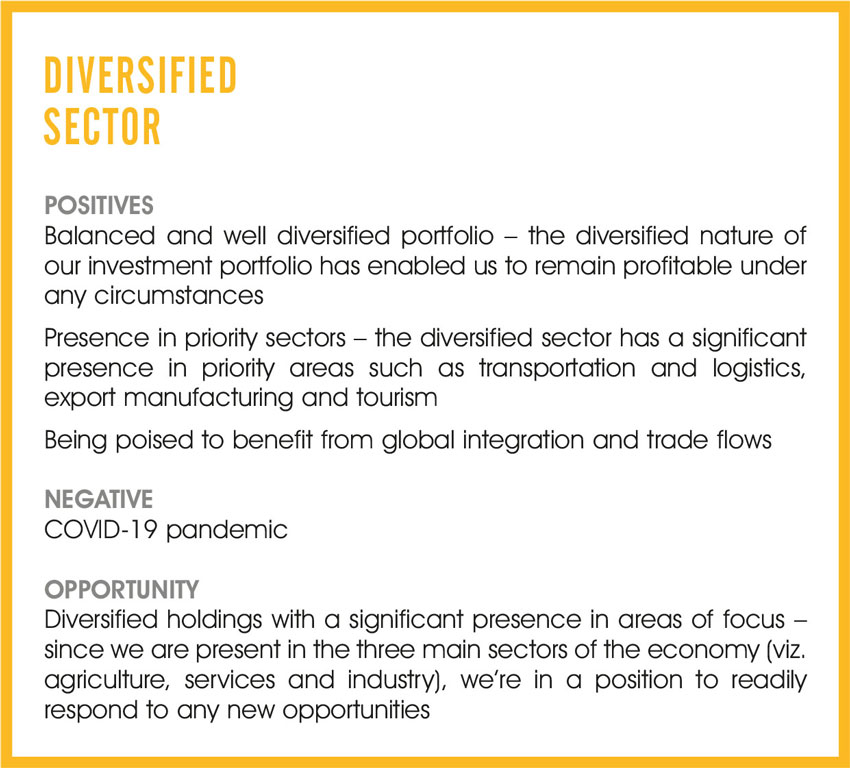 ld you outline the steps that can be taken to address challenges faced by manufacturers and exporters in the context of labour?
A: There are four areas to focus on in this regard. They include reforming labour laws to suit the modern world, permitting labour migration in required areas, devising an appropriate framework for manpower companies to be responsible for statutory obligations, and expat staff for specialised areas and a systematic visa process.
Q: The Sri Lankan Rupee stood its ground for most of 2020 despite the stimulus measures advocated by the government to mitigate the impact of the pandemic on business. Where do you see our currency trending in 2021 and how do exporters view the value of the rupee at this time?
A: Our portfolio is well-balanced in terms of currency exposure. Therefore, movement of the currency in either direction will not affect us significantly.
The exchange rate determines the export competitiveness of the country vis-à-vis its trading partners. And the rupee is competitively valued at present. We would prefer a competitive and stable exchange rate regime, which is healthy for long-term business investments.
Q: Where do you stand on the much hyped about work from home (WFH) phenomenon? What are the pros and cons of WFH – and is such a system sustainable in the longer term?
A: It is an effective system for certain industries and businesses.
We are predominately involved in manufacturing and allied services – such as construction, transportation and logistics, and leisure – which require a physical presence especially in factory and leisure environments.
Wherever possible, we have tried to minimise physical presence and adopted WFH. In the Sri Lankan context, a balanced approach is required.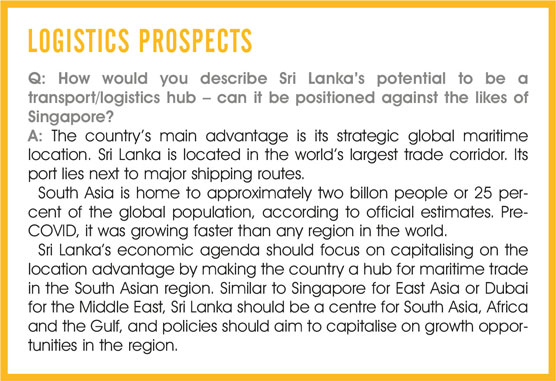 Q: How do you see the world economy panning out in the next 12-18 months? And to what extent does this hinge on the availability of vaccines to stop the spread of COVID-19 – including their distribution and administration?
A: We think the gradual normalisation of the global economy will happen with the availability of vaccines as many vaccine candidates reflect a high level of accuracy.
In terms of business, the normalisation will enable us to refocus on our agenda. The COVID-19 vaccine distribution will open up a whole heap of new challenges as well as many opportunities for the transportation and logistics sector, and healthcare.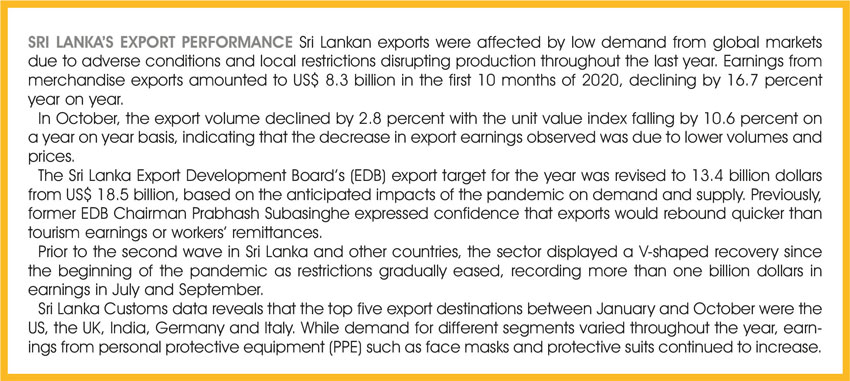 Q: Is Sri Lanka adequately prepared to address these impending global vicissitudes – what are the key sensitivities in this regard?
A: Sri Lanka is certainly moving in the right direction in improving its preparedness to address global challenges.
However, lower fiscal revenues have constrained critical development that is required in the social protection, healthcare and education systems of the nation. We need to further strengthen especially the healthcare and overall disaster management systems in the country to be more prepared for pandemic situations.