COUNTERTERRORISM ACTION
ADVOCACY IN THE RING OF FIRE 
Saro Thiruppathy discusses recent elections in Indonesia and the fight against extremism
On 17 April, 80 percent of the 193 million registered Indonesians cast their vote in one of the most complex elections in the world. They voted for a new president and parliament, as well as regional bodies simultaneously, electing 20,500 legislators from among 245,000 candidates representing 20 political parties.
It was an undertaking of mammoth proportions that eventually left about 270 election staff dead as a result of extreme fatigue and stress.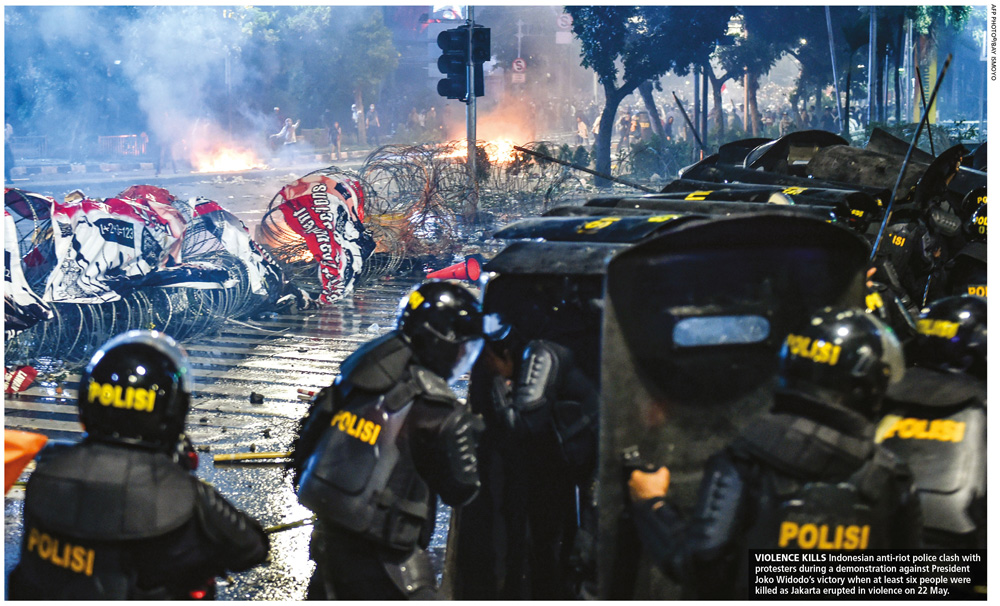 THE CONTENDERS The presidential election was contested by the incumbent President Joko Widodo (also known as 'Jokowi') of the Indonesian Democratic Party of Struggle and Prabowo Subianto of the Great Indonesia Movement Party. They were contenders for the plum post in 2014 too and Jokowi made it to the presidential palace on both occasions – this time with 55 percent of the votes.
Subianto (a retired lieutenant general and former son-in-law of the late President Haji Mohammad Suharto) is not taking his defeat lightly and has filed action claiming election fraud. His supporters took to the streets when the result was declared and rioting took place with several deaths at the hands of law enforcers.
Though Indonesia doesn't consider itself a sectarian state, with a population of 260 million people it's nevertheless home to the world's largest Muslim population that's spread over hundreds of islands.
In spite of Widodo being a religious moderate, he disappointed many by picking Ma'ruf Amin, a powerful cleric, as his running mate. Amin once headed the country's largest Islamic organisation and is considered one of the most powerful Muslims in Indonesia. Human Rights Watch says that he "has been central to some of the most intolerant elements of Indonesia's contemporary religious and political culture."
Both Jokowi and Subianto aimed to attract the traditionalists during their election campaigns. Subianto had also promised to protect Islamic leaders and increase funding for religious schools. So this election became a defining moment for the role of Islam in Indonesia and deciding who has the best Islamic credentials to lead the country for the next five years.

DEVELOPMENT Infrastructure development particularly for the mostly neglected outer islands was a key priority for Jokowi in his first term. As a result, the boom in construction of toll roads, railways and airports across the archipelago ran up a tab of about US$ 350 billion. He is expected to complete this process in his second term.
Widodo also believes in the development of human capital and will focus on this, along with education and social welfare policies, over the next five years. He intends to move the capital away from Jakarta since the city is unable to handle the stress of infrastructure and a burgeoning population.
Despite Indonesia's economy being the 10th largest in the world and prosperity growing rapidly, there's a worrying side to what will happen to human rights in Jokowi's second term. His alignment with Amin is sending out signals of religious intolerance and bigotry to a sprawling Muslim populace.
EXTREMISM Indonesia has been struggling with extremist activity since independence from the Dutch in 1949. Various extremist movements like Darul Islam – a precursor to the salafist Jemaah Islamiyah – and now ISIS have been plaguing the Muslim nation for decades. The government is using various measures to counter extremism in the archipelago on top of the traditional arrest, detention and execution routine. Understanding the push factors that drive individuals to violent extremism has helped the state implement a soft approach as well.
It's no secret that incarceration doesn't deter radicalisation but fosters it instead, as prisons provide the perfect backdrop for militants to preach their extremist ideology of hate and intolerance.
Since the Bali bombings in 2002 and 2005, the government has worked on improving its legislative and law enforcement efforts. In 2010, the National Agency for Combating Terrorism (BNPT) was established to oversee the coordination of all antiterrorism units in the country. BNPT aims to prevent the radicalisation of youth, increase deradicalisation of potential jihadists and rehabilitate those who had been incarcerated.
Detachment 88 is an elite antiterrorist unit of the police department. In addition to scores of arrests and successful prosecutions, this unit also builds and maintains relationships with former jihadists in order to reduce recidivism. It supports families where the head has been incarcerated and assists in the reintegration of reformed militants with seed money for small businesses or help to access gainful employment.
The government programme includes guidance on national and religious insights, development of life skills, mentoring and supervision, and coaching in entrepreneurship. BNPT officials also engage with community based organisations, and former terrorists and inmates like Ali Fauzi Manzi – head of the Peace Circle Foundation (YLP) – and Umar Patek, who is serving a 20 year prison term, to advocate with youth against radicalisation.
Governments of vulnerable countries should take a leaf out of Indonesia's playbook and implement similar sustainable wide spectrum interventions so that they too can dissuade rather than enable extremism among their youth.