VISION CARE
Corporates can enhance employee's welfare by requesting Vision Care's Mobile Optical Service, 'Eyes on Wheels' 
Tuesday, 23rd July 2019 Colombo: Vision Care, Sri Lanka's leading eye-care solution provider, counts 27 years of trusted excellence and aims to continue to expand its resourceful services to many parts of the island by offering premium quality eye, as well as ear care solutions on par with global standards.
Adding further value, Vision Care has successfully launched a deluxe Vision Care Mobile Optical unit under the theme, Eyes on Wheels, which extends valuable eye care service for corporates at their premises. This service was launched to evaluate whether the existing vision of employees are up to the standard vision requirements which benefit in accuracy and productivity in daily activities in their occupations.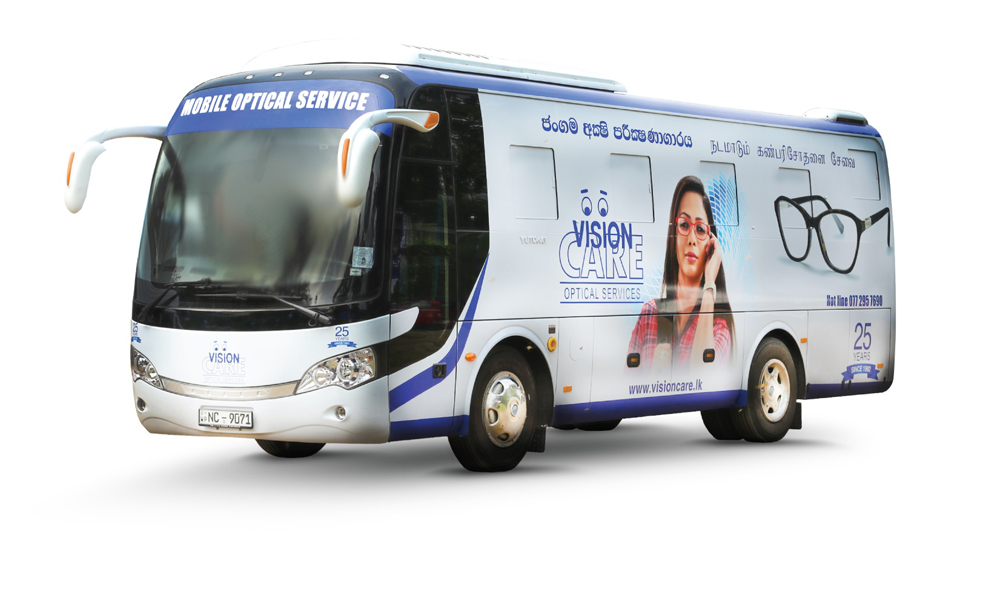 The unit comprises of professionally qualified optometrists and dispensing opticians and is equipped with modern optometric eye equipment. Under its theme of 'Eyes on Wheels', Vision Care's Mobile Optical Service offers a range of eye care services including Vision Screening (distant & near) for identify refractive errors. Correcting Refractive errors; Color Vision Screening; Binocular Vision Test (Squint test, eye muscles balancing); Inner eye examination (Funduscopy test). If any eye or vision abnormalities are found on site they are referred to eye care professionals at the Vision Care Ocular Investigation Unit located at the cooperate office at No.6 Ward Place or to the nearest Vision Care branch for further managements.
As corporates seek to add further value to employees, 'Eye on Wheels' by Vision Care is a great welfare initiative for corporates who can identify existing vision defects that might be disturbing daily activities and lowering productivity of workers in every industry. Many corporates are rushing to request Eyes on Wheels to visit them onsite at their office premises for greater convenience and to ensure better eye health.
Vision Care also possesses the ability to arrange awareness programme on how correct Vision & Eye helps to enhance productivity of their occupation and meet corporate objectives. The mobile optical unit can cater the service nearly for 100 people per day & offers the facility to upgrade their existing optical lenses and ordering new spectacles for needy. Affordable spectacles are available from Rs.2,000 and Rs.3,000 upwards, while attractive discounts are extended on the eye camp dates. Moreover, corporates can also use the services of Vision Care Mobile Optical Services for conducting CSR activities amongst their local community. Vision Care is deeply entrenched in conducting its own social responsibility projects by providing free eyecare to the economically underprivileged who many not be able to afford professional eyecare, thus giving back to society.
Priyanka Perera – Manager, Human Resources from Orel IT, one of the corporates who obtained Eye on Wheels service, says. "Being one of the largest IT companies in Sri Lanka, we have more than 4500 employees. As a result of being in the IT sector, a majority of our members spend many hours of the day seated in front of a computer screen. With the presence of Vision Care Mobile Optical Service for 5 of our locations at Maharagama, Meegoda, Kadawatha, Galle and Kurunagala, we were able to organize an annual eye campaign for our employees and provide them with optical solutions also an eye care awareness which helping on their job role."