CORPORATE LOGISTICIAN
Mohan Pandithage
Hayleys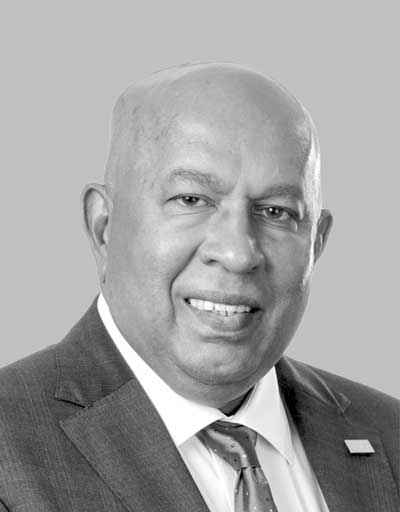 Hayleys is one of the island's oldest companies, which is now a multinational and diversified conglomerate with business spanning over 16 sectors, and catering to some 70 markets worldwide.
Founded in 1878 by Charles Pickering Hayley who rented a shop on Pedlar Street in the Galle Fort and established an import-export company – Chas. P. Hayley & Co. – to export local products such as coir, cinnamon and citronella oil, and import goods like British claret.
In 1954, the entity went public, and the Hayleys we know today has diversified into a portfolio that includes activated carbon, rubber gloves, textiles, tea and rubber plantations, leisure, and transportation and logistics services.
At the time Mohan Pandithage joined Hayleys as a management trainee in 1969, the company had for the first time in its history appointed a Sri Lankan to its board of directors (five years earlier in 1964), and was well on its trajectory to recognise and appoint local talent to positions of leadership. This was to be the beginning of a long and distinguished career at Hayleys.
Pandithage's tenure of well over 40 years at the conglomerate encompasses a wide and varied career, particularly in the group's transportation and logistics sector – Hayleys Advantis, which is a pioneer in the local shipping and freight forwarding agency business.
In 1988, the industry veteran was appointed Managing Director and elected a board member of Hayleys in the same year. In January 2007, Pandithage was appointed Deputy Chairman and in July 2009, he reached the pinnacle of his career, when he was appointed Chairman and Chief Executive of Hayleys.
Under his stewardship, the group has expanded its operations and focussed on seeking both equity and management control in all its businesses, whilst exiting from passive investments. He has paid special attention to and been instrumental in public policy development, and in drawing foreign direct investments to Sri Lanka.
Somehow in the course of his busy day, this gentleman with so many demands on his time finds time to impart his managerial expertise for the benefit of the nation's public sector especially with regard to the implementation of large infrastructure projects.
He has also been honoured by being bestowed the title of Honorary Consul of the United Mexican States (Mexico) to Sri Lanka.
But it is Pandithage's tenure as being among the longest standing chairmen and chief executives of one of the nation's leading conglomerates that will be his best and cherished accolade.
Mohan Pandithage: steward of myriad enterprises.