CORPORATE FINANCE

Nishantha Weerakoon
POLICYMAKING RULES OF THUMB
What is your take of the impact of sudden policy changes, especially in taxation, on businesses?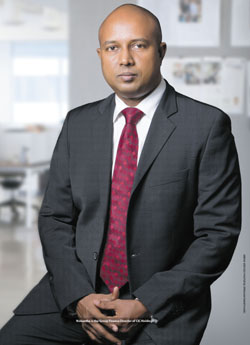 Ad hoc policy changes affect all stakeholders. When Budget 2016 was presented in parliament last year, companies made plans in response to the proposals. But a majority of these proposals were not implemented, leading to increasing uncertainty in doing business.
Such incidents adversely impact business confidence.
A case in point is the fact that the progress of the capital market was adversely impacted due to conflicting statements made by policymakers on capital gains tax on stock market transactions.
Similarly, a lack of clarity on increases in Value Added Tax (VAT) affected the purchasing patterns of businesses – sellers ensured that they had minimum stocks in hand at the time of the VAT rate change, to mitigate the risk of margin erosion by having to absorb VAT on stocks in hand.
What avenues should the country consider, to attract more foreign direct investment (FDI)?
Sri Lanka's geographical location is one of its key competitive advantages. However, in my view, this strength is underutilised.
Our policymakers need to focus on attracting FDI in the aviation and marine logistics sectors, the development of which will have a substantial spillover effect on other segments, in terms of attracting more investment.
Moreover, projects such as the Megapolis and Colombo Port City will bolster investment. Such concepts – if effectively implemented, with adequate controls – will support the island's development drive. The earnings generated from these investments will have a direct impact on all our lifestyles.
How would you describe the status of Sri Lanka's financial system?
Sri Lanka has a well-regulated banking system, with a good payments and settlements structure. The country has been able to generally withstand external pressures on the market, and there have not been any major banking crises.
For instance, we were not too affected by the Asian financial crisis. This indicates the robustness of the system, and the effectiveness of our fiscal policy framework.
What do you see as the major strengths of our corporate finance sector – and what measures should be taken to capitalise on them?
Corporate finance has remained a strong sector throughout, and there have been no major debt defaults in the past two decades.
The Central Bank of Sri Lanka (CBSL) has to be commended for this, as it has played a key role as the regulator of the local financial services industry. There are adequate controls and proper supervision, and this has resulted in enhancing people's confidence in the system.
Professional institutions such as CIMA Sri Lanka and CA Sri Lanka also produce a large number of finance professionals. Branches or affiliates of most international audit firms are present in the country, so the human resources of this sector are exposed to global best practices. They are well-equipped in terms of knowledge and skills, which is a strength for the industry.
In your opinion, how have institutions such as CIMA contributed to addressing the human capital demand of the financial services industry?
The CIMA syllabus supports the industry, as its graduates are well-moulded to meet the needs of employers.
This is possible because the syllabus is updated regularly with relevant content, taking into account current industry trends. CIMA's examination process is standardised globally, to ensure that its nearly 600 graduates who qualify annually are competent and work-ready.
In Sri Lanka, CIMA has consciously met human capital requirements and ventured out of Colombo to create awareness on the benefits of the qualification.
How long have you been associated with corporate finance?
I qualified as a chartered accountant in 1995. Since then, I've worked with many organisations, serving in various positions. I am happy to have chosen this career path; because when you work in finance, you can drive organisational growth.
 Times are changing. So aspiring finance professionals should think outside the box and be oriented towards both internal and external customers. Organisations are seeking individuals who can offer guidance to business development managers and be their partners, rather than merely being accountants.
What is your mantra for success?
To me, success is about offering happiness and contentment to all who are around me.
Describe yourself in a word…
Dreamer
Nishantha is the Group Finance Director of CIC Holdings
– Compiled by Hansani Bandara