CORPORATE CHEMIST
S. K. Wickremasinghe
CIC Holdings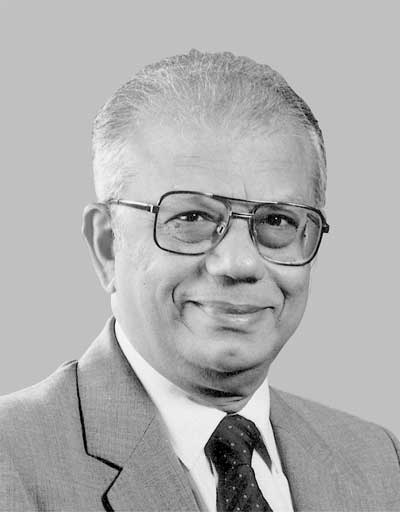 Sarath Kusum ('S. K.') Wickremasinghe could have lived in the eminent and erudite shadow of his father's towering achievements, and succumbed to the temptation of laying claim to fame based purely on that familial connection. But he carved his own pedestal of accomplishment and eminence.
He had a passion for physics and carried away the Framjee Khan Prize for best science student in his first year at the University of Colombo, which he was jointly awarded with another student.
Armed with his degree, Wickremasinghe joined the Colombo office of Imperial Chemical Industries (ICI) as a commercial executive in 1951.
The young executive rapidly rose up the ranks and in 1966, he was promoted to Chairman and Chief Executive of ICI. This may have been one of the more significant highlights of his long and illustrious career – for with 28 years at the top, he was also the longest serving chairman of any global subsidiary of the then Fortune 500 listed company.
Almost everything was imported at the time, and ICI supplied chemical industrial raw materials to the few local manufacturers there were, such as the Wellawatte Spinning and Weaving Mills (textile dyes) and sodium carbonate to Ceylon Glass. ICI forayed into the manufacture of consumer products such as baby powder and tooth brushes as it was the local agent for another multinational – Johnson & Johnson.
The 1960-65 government had decreed that all multinational entities had to constitute local companies if they were to continue importing, and ICI set up Chemical Industries Colombo (CIC) in which ICI had a 49 percent stake and the remainder was held by the local public. Only locally registered companies could have import licenses. He served as Chairman and CEO of CIC until 1980.
S. K. Wickremasinghe will also be remembered for forming Chemanex, Sri Lanka's first people's company, of which he was chairman by virtue of the fact that he was CIC's chairman and as preference had been given to CIC shareholders to purchase Chemanex shares.
In his long and illustrious career, he had served as chairman and/chief executive of no less than five top blue chip corporates (viz. CIC, Commercial Bank, Ceylon Tobacco Company, Eagle Insurance and National Development Bank), and the national carrier Sri Lankan Airlines. He had also served as Sri Lanka's High Commissioner to the United Kingdom.
He had neither outshone his father nor basked in his shadow; instead, he created his own success and indelible contribution to the nation.
S. K. Wickremasinghe: a legacy of his own making.