CONSTRUCTION INDUSTRY
SHORT TAKES
Compiled by Savithri Rodrigo
M. G. Kularatne
Harsha De Saram
Q: How is infrastructure development impacting the construction industry?
M. G. Kularatne (MGK): If projects are adequately shared with the local sector, positive impacts would ensue by way of jobs, technology and the volume of work. Conversely, the demand for materials, skilled labour and other resources must be properly foreseen.
Harsha De Saram (HDS): Government expenditure on infrastructure development has reduced over the last few years, impacting the local industry adversely. Private sector projects – especially industrial, hotel and apartment developments – have also slowed down.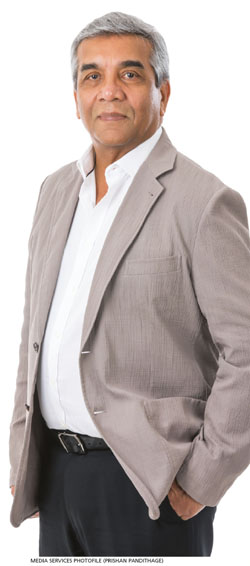 Q: What are the main requirements of modern buildings?
MGK  Safe, fit for purpose, efficient (with optimised architectural, structural and service designs) and low energy consuming (i.e. green) smart buildings use eco-friendly materials and feature modern amenities – they fulfil occupants' multi-use operational
and functional needs.
HDS  With the international trend being automation where the smart building concept is common, green buildings are the norm in a bid to reduce energy consumption and CO2 emissions, as well as facilitate rainwater harvesting.
Q: Are building standards properly adhered to?
MGK  Standards and regulatory frameworks have improved. More stringent application of standards is imperative vis-à-vis small and medium scale buildings, along with a holistic framework to address legal, commercial and safety issues.
HDS  Prominent local contractors adhere to prevailing standards including Urban Development Authority (UDA) regulations, and Construction Industry Development Authority (CIDA) standards and specifications, which are stringent and conform to international benchmarks.
Q: Is there adequate demand to justify the boom in apartment construction?
MGK  The demand for high end apartments has slowed but for any major city to develop, condominium housing is critical. Colombo has the least affordable housing in Asia, and living and working in the city is unaffordable. Therefore, demand in the low to middle income tiers is for apartment housing.
HDS  Presently, apartments account for only 10 percent of Colombo's housing stock. The average demand does not justify the boom in apartment construction due to the low financial capacity of the upper-middle and middle classes. But with land values appreciating, demand will rise in the future.

Q: How can the industry diversify to better manage risks?
MGK  By exploring forward integration opportunities in affordable housing, commercial real estate, water, wastewater, transportation and renewable energy. Sri Lanka's unique location, and growing tourism, IT and service industries, mean that infrastructure requirements (including office and retail space, water and clean energy) will increase.
HDS  To mitigate the risks, industry players may consider diversifying into real estate development and investing in R&D wherever possible. This will open avenues to introduce new products and technologies to the market. At present, 90 percent of building materials are imported.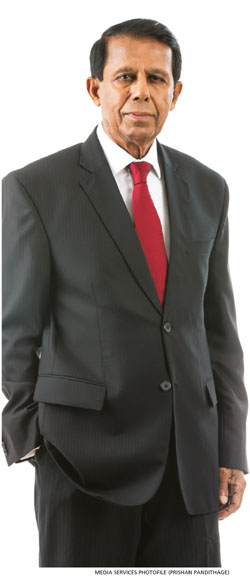 Q: What type of policy framework would fuel sustainable construction growth?
MGK  A realistic and achievable economic development plan would anchor the expansion of industries including construction, which cannot achieve sustainable growth independently – i.e. without the support of a policy framework that governs the entire economy and focusses on consistent government policies, a more streamlined bureaucracy and a long-term integrated plan for development.
HDS  Construction costs in Sri Lanka are steep compared to those of peer nations especially given the high taxes payable on certain materials. These taxes are imposed to assist local manufacturers but customers pay higher prices and receive no benefit. For the local industry to grow, foreign contractors should enter into joint ventures with their Sri Lankan counterparts when undertaking projects in this country.
Q: Should the industry place more emphasis on the environment and culture?
MGK  The entire construction industry should adopt the principles of sustainable development so that economic progress would foresee and balance the environmental and social impacts from such development, whilst augmenting positive social and cultural benefits.
HDS  It is imperative that the industry becomes more environmentally-friendly. The state should identify specific geographical areas for mining raw materials including sand, soil and aggregate so that contractors obtain them from state designated mines – this would curb illegal mining. Promoting manufactured sand and washed sea sand is another possibility.
Q: What is your assessment of the quality of construction labour?
MGK  It has declined compared to several decades ago when Sri Lanka boasted a tradition of building craftsmanship. The cascading of skills and know-how through generations has not occurred as envisioned. This is partly due to the social stigma attached to
the trade as well as transformational aspirations.
HDS  Quality isn't up to the desired standard. Most skilled workers have sought greener pastures overseas and those available are mainly semiskilled. The skilled workers who return to Sri Lanka prefer alternative employment options as construction workers do not have the desired status in society.
Q: So what steps have been taken to address the dearth of labour availability?
MGK  The state and private sectors must devise a systematic approach to promote, train and retain untapped as well as existing labour in the country, while elevating and empowering craftsmanship as a respected vocation. Recent initiatives by the Ministry of Skills Development and Vocational Training, the ADB and construction companies make for a positive start.
HDS  Presently, labour is being sourced from all parts of the island to address this issue. However, this poses further challenges for the construction industry whereby accommodation, subsidised meals and other facilities must be provided to spur productivity. Training is also offered as and when necessary.
Q: What are the latest trends or innovations in the construction field?
MGK  There have been notable advancements in precast technology, building information modelling (BIM) and associated technologies – including surveying with drone technology, green buildings and materials, and building IoT. These help cut costs, reduce time and curtail adverse environmental impacts from construction while making way for increasingly complex structures.
HDS  The latest trend is to minimise the use of natural resources and use recycled materials. This is based on the concept of sustainable and green construction practices. For example, manufactured sand is used in lieu of the more commonly used river sand. New techniques and technologies are also being introduced to ensure that construction is quicker and more efficient.
M. G. Kularatne is the Chairman and Managing Director of Maga Engineering

Harsha De Saram is the Chairman of  International Construction Consortium (ICC)