CONSTRUCTION INDUSTRY

Farzana Khan
PILLARS OF SUSTAINABILITY
Sri Lanka's construction industry must build with sustainability in mind
How is Sri Lanka embracing sustainable construction?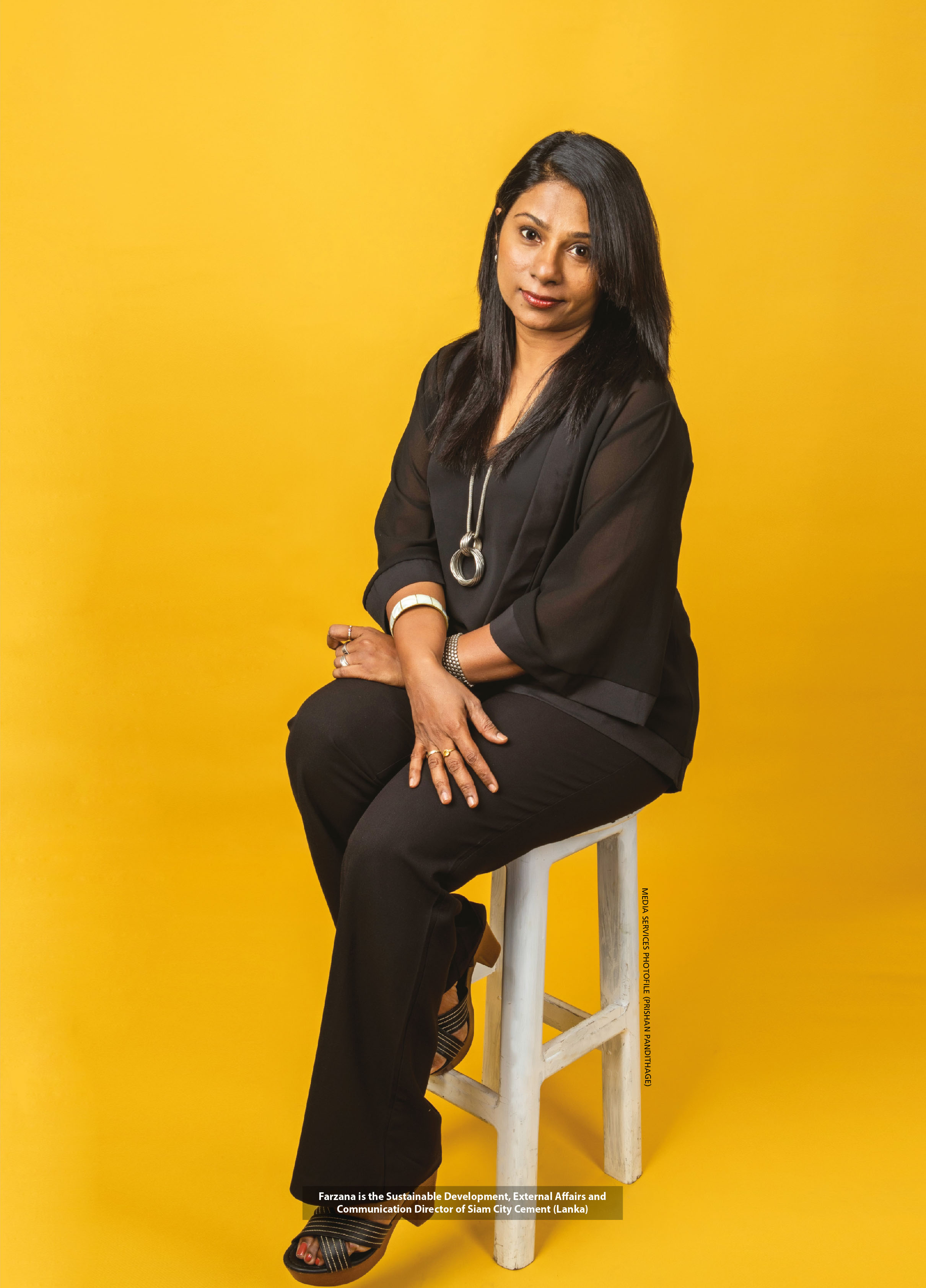 There has been a huge surge in postwar construction and we need to critically consider how sustainable all of this will be in the long term. In terms of the environmental impact, there's a relatively high demand for green buildings, eco-friendly raw materials and value additions in the industry, amid an increase in the multitude of hotel, housing, urban and highway developments.
The growing demand for sustainable construction has made the industry more competitive and it is presently experiencing a boom.
We have always promoted sustainable construction practices in Sri Lanka – recycling water, harvesting rainwater, using less water and energy in our manufacturing and kiln processes, promoting natural light and ventilation, and ensuring a greater focus on innovation to create environmentally friendly raw materials are a few such measures undertaken to become more conscious of the environment.
Our engineers are certified by the Green Building Council and we also obtain experts from overseas to conduct knowledge sharing sessions on sustainability.
Rapid development in the country has turned sustainability of the industry into a prime concern. However, innovation and government backed environmental efforts have helped change the attitude of people and businesses so as to create a positive impact.
Could you outline prevailing trends when it comes to instilling sustainability into construction activity?
Cement manufacturing releases carbon dioxide into the environment. To help reduce carbon emissions, we have set a carbon reduction ambition.
The cement industry is also one of the highest consumers of energy. To minimise this dependency, INSEE Cement – through its Innovation & Application Center – is engaged in R&D activities to create application based cement, offering specialised products in order to meet changing construction needs, and produce alternative raw materials and fuel resources such as biogas.
Recently, we upgraded our kiln operating system to facilitate efficient operations. We collect waste from around 400 companies and process it to generate energy. Currently, 35 percent of coal substitution is made by the alternative fuel – this is an innovative sustainable waste management solution provided by INSEE Ecocycle. The company is investing more to increase the capacity of waste streams to replace expensive coal by 45 percent.
What are the pain points for Sri Lanka in its endeavour to embrace sustainability?
Competition has become fierce with a large volume of imported cement coming in. As the only fully integrated manufacturer in the market producing fresh cement, we have to endlessly redefine our competitive edge by finding unique ways and means in the marketplace with imported cements.
As the only local cement manufacturer, rising costs and a depreciating rupee have had an impact on our profits and new investments.
In your opinion, are there talent issues faced by the industry?
Knowledge is limited in the available talent pool when it comes to both skilled and professional labour. We don't have many knowledgeable white-collar workers in the country. Besides, finding skilled blue-collar workers has also become a challenge. At a national level, we have to offer attractive and compelling training based learning for youth, educating them on the promising career opportunities in the industry.
INSEE Cement addresses this by working with the National Apprentice and Industrial Training Authority (NAITA) to certify at least 1,000 masons annually. In addition, we have partnered with the Vocational Training Authority (VTA) to inspire youth, and train them on special topics such as innovation, sustainable development and entrepreneurship.
Could you explain how innovation is incorporated into construction to achieve sustainability?
Innovation comes from sharing knowledge and building on it, be it with masons, engineers, architects or new entrants to the industry. As a practice, we bring down many international experts to share knowledge and work with local professionals to provide them with up-to-date knowledge on global innovations.
We also work with the Institution of Engineers Sri Lanka (IESL) and host an annual INSEE-IESL concrete challenge for state engineering university students, encouraging innovative thinking and design among the future engineers of Sri Lanka. The winning teams are sent to our overseas plants to equip them with hands-on knowledge.
What is your mantra for success?
Be sincere, meticulous and hardworking in whatever you do.
Describe yourself in one word…
Perfectionist
– Compiled by Ruwandi Perera
Farzana is the Sustainable Development, External Affairs and
Communication Director of Siam City Cement (Lanka)