COASTAL TREASURES
So Sri Lanka
The Wonders of Tangalle
Ruwandi Perera is spoilt for choice at a pristine coastal locality down south
The best thing about May is the ultra-long Vesak holiday here in Sri Lanka. A long-drawn-out holiday needs several elements such as a destination with a diverse collection of excursions to make it work.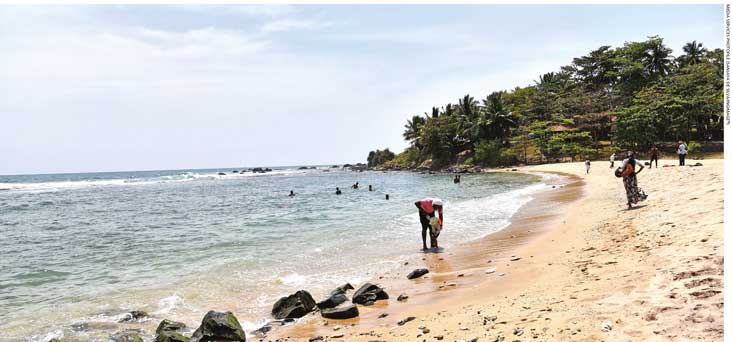 And while it may not exactly echo the hustle and bustle of Galle or Hikkaduwa, Tangalle is one of Sri Lanka's most promising destinations if you're looking for a mix of beach and non-beach fun.
One of the largest towns in the Deep South, Tangalle is about 195 kilometres from Colombo with easy access to some of the island's most sought after locations such as Mirissa and Hiriketiya. A large town with both urban and rural aspects to it, Tangalle still reflects the grandeur of its Dutch history – the iconic Dutch fort turned prison, old rest house and courthouse are examples of this.
Tangalle is home to many beaches as well with unique and interesting names. While the beaches near Goyambokka, Seenimodera, Medaketiya and Medilla are dotted with small hotels and restaurants, Kapuhenwala and Pallikaduwa are far more scenic – the latter is full of rocky coves but not recommended for swimming in.
The world renowned Rekawa Lagoon is less than 10 kilometres away from Tangalle town – you must visit this neck of the woods if you're into Sri Lanka's hard-shelled aquatic testudines.
Tangalle is neither all party nor all solitude – rather, it has the ideal mix of everything within easy reach. So start packing!
Tangalle is synonymous with the famous Mulkirigala Raja Maha Vihara that's perched on a 200 metre high boulder and accessed via flights of stone steps
Fact File
TEMPLES GALORE Tangalle is synonymous with the famous Mulkirigala Raja Maha Vihara that's perched on a 200 metre high boulder and accessed via flights of stone steps. More than 2,000 years old, this temple complex houses a cave, which sheltered the ancient manuscripts that contained the key to translating the Mahāvamsa. For a more coastal temple experience, visit the Wewurukannala Vihara. It's famous for Sri Lanka's largest Buddha statue that stands tall at nearly 50 metres (160 feet) and is reached by passing through the intriguing Tunnel of Hell with life-size models of demons and sinners.
BIRD SANCTUARY If you're a wildlife enthusiast, you must check out the Kalametiya Bird Sanctuary. Home to several nationally threatened birds such as the Western reef heron, glossy ibis and black-capped kingfisher, it's also a good place to spot water reptiles including a crocodile or two if you're lucky. The adjoining Ussangoda National Park may be less crowded with fauna but it's unique in terms of its landscape. Located on a hilly area near the sea, the park is covered with grass plateaus and a few pockets of small forests. Don't go looking for animals here. Instead, take in the scenic views that this one of a kind sanctuary has to offer.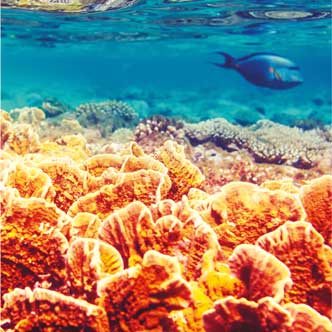 SWIMMER'S BEACH Tangalle has amazing beaches but not all of them are safe for swimming. If you're a water sports fan, head over to the Parewella Natural Swimming Area. It can get crowded during the weekend but is probably the safest beach for swim­ming in Tangalle. With shallow waters covering a white sandy ocean floor, this area is ideal if you have young kids who want to enjoy some aquatic fun. The waves aren't too powerful and if you get here in the morning, it's a fantastic place to do some snorkelling as well.
THERE SHE BLOWS Some claim that Hummanaya is the second largest blowhole in the world; but regardless of its ranking, this natural wonder is a sight to behold. You need to climb some steep steps to get there and if the sun is above you, it might not be too comfortable. Yet, the sight from the viewing platform, complete with the 'hoooooo' sound followed by the 'shoooooosh' of the foamy water, is definitely worth more than an Instagram boomerang story. Caused by volumes of seawater being pushed upwards by pressure in a submerged cavern, this foamy fountain is known to spout as high as 25 metres.
KAHANDAMODARA Even though it's not a tourist magnet as such, the Kahandamodara settlement seems like an out of this world location. Formed as a result of the Urubokka Oya delta merging with the lagoon, this is quite a biodiversity hotspot. The lagoon itself is beautiful, dotted with foliage comprising water hyacinth floating around like bunches of salad leaves tied together. An almost untouched bit of nature, Kahandamodara is best explored in the early hours of the morning. Better still, arrive in time to enjoy the sunrise above the serene waters of the lagoon. It will make your day!