CLIMATE DISCORD

TRUMP VS. PLANET EARTH
Saro Thiruppathy examines the nuances of President Donald Trump's controversial decision to withdraw the US from a landmark agreement to limit the vicissitudes of global warming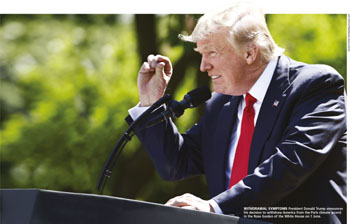 Standing in the Rose Garden of the White House on 1 June, President Donald Trump announced to Americans and the world that the US was pulling out of the Paris Agreement on Climate Change. Even though the withdrawal will only be effective from 2020, quitting not only jeopardises America's global leadership but places it alongside two non-participating countries – Syria and Nicaragua.
The withdrawal is in line with Trump's campaign promise based on his scepticism about global warming. This is best illustrated in his 2012 tweet: "The concept of global warming was created by and for the Chinese in order to make US manufacturing noncompetitive."
Appointments that are indicative of Trump's derision towards preserving the environment include that of Environmental Protection Agency Administrator Scott Pruitt (who does not believe in scientific consensus that human activity resulting in a carbon footprint on Earth is a primary contributor to climate change) and Energy Secretary Rick Perry who is a similar sceptic.
ROSE GARDEN MYTHS Trump's announcement contained a jumble of statistics and myths, some of which were selected by CNBC for fact-checking.
Analysing his claim that the Paris accord would force the United States to place its abundant energy reserves "under lock and key," CNBC found that production will continue to grow through to 2040. Natural gas will surge and account for 40 percent of US energy production while oil output will increase but level off in 2025 as drillers move into less productive areas.
Renewable energy generation will increase as it becomes cheaper, and state and federal subsidies continue to support solar and wind energy. As a result, coal production will drop due to lower exports and the tough regulations imposed by the Obama administration. Nuclear power generation will also decline over time.
Trump claimed that "the agreement blocks the development of clean coal in America." Clean coal is the result of technology that captures emissions from coal-fired plants, which are then stored underground or sold to industry. This technology is new and costly, and used in only a few commercial ventures.
Therefore, massive investment would be required to meet the tougher emission standards encouraged in the Paris agreement while lax standards would be a victory for coal companies. So the president's reference to 'clean coal' is rather confusing.
Trump also alleged that while China and India would be allowed to increase their coal production, the US will be denied the right to build coal plants under the agreement. CNBC states that "there is nothing in the commitments made by the Obama administration that spell out what type of power plants the United States can and cannot build. Instead, it has simply vowed to reduce greenhouse gas emissions to 26-28 percent below 2005 levels by 2025."
Trump quoted from a report by the National Economic Research Associates (NERA), which states that compliance would cost America as much as 2.7 million lost jobs by 2025. CNBC reveals that NERA's report was prepared for the American Council for Capital Formation – a conservative think tank with prominent Republicans and representatives from industry trade groups on its board – and that it did not consider the potential benefits from emission reductions or future technology that could influence costs in the long term.
Meanwhile, CEOs of corporations like ExxonMobil – previously headed by Rex Tillerson (now US Secretary of State) – Chevron and Royal Dutch Shell desired compliance with the Paris Agreement on Climate Change since it provides them with a level playing field on which to compete with foreign companies, as well as improve the economy and create jobs through increased investments in technology.
ALL IS NOT LOST Even as Trump's announcement drew widespread international condemnation, and China and the European Union (EU) raced to take leadership in the fight against global warming, the states of New York, California and Washington announced the formation of a bipartisan group called the United States Climate Alliance. Its aim is to reduce greenhouse gas emissions throughout the US.
The UN Secretary-General's special envoy for Cities and Climate Change Michael Bloomberg spearheaded an initiative called 'We Are Still In,' which he has submitted to the UN in the form of a declaration covering signatories from 125 cities, nine states, 183 colleges and universities, and 902 businesses that include the State Attorneys General. The group claims to represent 120 million Americans and contribute US$ 6.2 trillion to the US economy.
Moreover, in a statement prepared by the Mayors National Climate Action Agenda (MNCAA), 340 mayors representing 65 million Americans have declared their commitment to adopt, honour and uphold the commitments to the goals enshrined in the Paris accord.
So it seems that while ignorance is bliss in the White House, many in the US have understood that global warming will destroy Earth if it's left unchecked; and together with the rest of humankind, they're ready to cap emissions and fight climate change in a bid to save the planet.