CLIMATE CHANGE

THE GLOBAL CHALLENGE
Extreme weather is acutely impacting El Salvador, Guatemala and Honduras in Central America – Rajika Jayatilake reports
Leaders with insights into global issues understand the significance of protecting the environment. Former US President Barack Obama said: "No challenge poses a greater threat to future generations than climate change."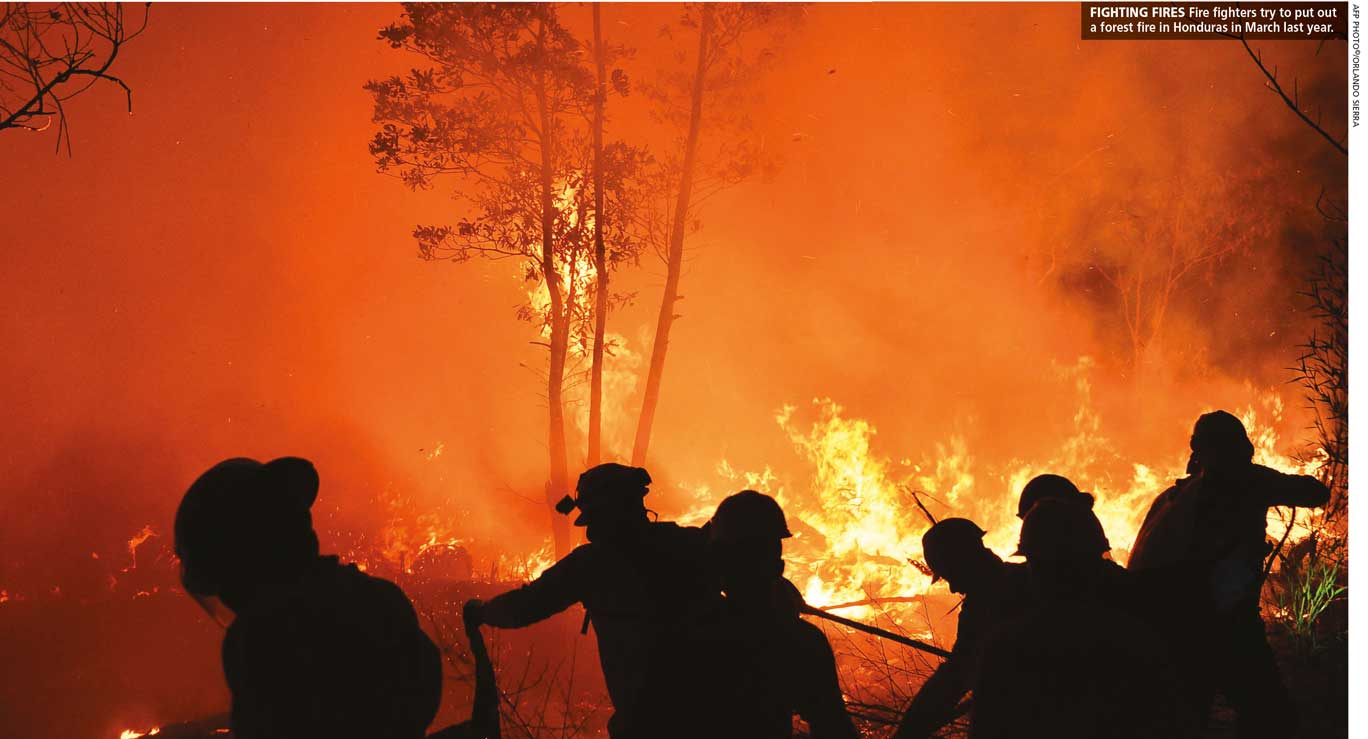 Yet, to most people, climate change is a phenomenon that will impact the world only in the distant future; and it matters little in the here and now, as pressing social and economic needs loom.
Nevertheless, Central America – which is a region that's most vulnerable to climate change – shows how extreme weather events exacerbate hunger and poverty, pushing people over the brink of survival and creating climate refugees.
In fact, researchers rank Guatemala and El Salvador as being among the countries that are most vulnerable to natural disasters while Honduras is categorised as being the most affected by climate change.
All three countries are increasingly experiencing extreme droughts and erratic rainfall, leading to intolerable situations for communities relying on the land for survival. Guatemala, El Salvador and Honduras are all located in the Dry Corridor that runs across Central America.
While hunger is extensive and severe in that region, around half of Central America's population currently lives in poverty with about a third (mostly in the rural areas) living in extreme poverty.
As the UN World Food Programme (WFP) notes, hunger in El Salvador, Guatemala, Honduras and Nicaragua has almost quadrupled to include eight million people – that's a sharp increase from 2.2 million in 2018.
WFP Regional Director for Latin America and the Caribbean Miguel Barreto says that "the COVID-19 induced economic crisis had already put food on the market shelves out of reach for the most vulnerable people when the twin hurricanes Eta and Iota battered them further."
Eta and Iota were Category 4 hurricanes that pummelled Guatemala and Honduras in November last year – they ravaged farmlands and coffee plantations, destroying about 2,000 square kilometres of food crops across the region, and leading to widespread loss of homes and livelihoods.
A substantial proportion of the three economies depend on agriculture – especially Honduras at 33 percent. With global warming preventing seasonal rains, Central American nations face exacerbated droughts as the corrupt and avaricious destroy forest cover.
In Honduras, forest cover dropped by almost a third from 57 percent in 2000 to 41 percent in 2015. In fact, all Central American countries except Costa Rica are destroying their forests.
Nonprofit environmental organisation Conservation International reports that Costa Rica is the first (and so far only) tropical country in the world to attempt to reverse decades of deforestation and leading the global effort to mitigate climate change.
While many biodiverse ecosystems of Central America face imminent danger, the countries record a steep rise in temperatures. The average temperature is projected to rise by at least another degree before 2050.
Moreover, deforestation is a major threat to the quality and quantity of water available to communities in the region. For instance, over 15 percent of Honduras' rural population and 20 percent of Guatemala's corresponding demographic have no access to clean fresh water.
Meanwhile, El Salvador is in the throes of a water crisis and faces the prospect of running out of water in 80 or so years, while 98 percent of its current water sources are contaminated and unsafe for human consumption.
Communities in the Dry Corridor that were barely able to subsist for long years are now challenged by frequent and intense episodes of extreme weather, land degradation, pests and destroyed crops. Many have fled these lands with their families.
Immigration analysts reveal that about half of the adults captured at the US border work in agriculture. The World Bank projects about four million people from Central America and Mexico could become climate migrants by 2050 and a recent WFP survey concluded that 15 percent of people from Central America are seeking to migrate to survive.
In a recent report, Canadian researcher Robert McLeman notes that "the physical impacts of climate change are set to become the fastest growing driver of involuntary migration and displacement globally, beginning in the middle of this century. States that are already politically fragile are the most likely future epicentres for climate-related violence and forced migration events."
While most decision makers opt to leave climate change for their successors to handle, leaders such as former French President François Hollande understand the significance of sustainability. He says: "We have a single mission – to protect and hand on the planet to the next generation."
But even as extreme weather wreaks havoc on the planet, there is still hope for the future as millennials and gen Z across the world take the reins of leadership. Swedish environmental activist Greta Thunberg, internationally known for challenging world leaders to take immediate action on climate change mitigation, asserts: "The climate crisis has already been solved – we already have the facts and solutions; all we have to do is wake up and change."
The world may yet be saved for posterity!