CITY PLANNING
THE JAM OF DEVELOPMENT!
Janaka Perera laments the roadblocks in the way of city development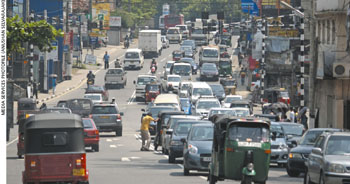 Town planning is a specialised skill. It is required in designing settlements from the smallest towns to the largest cities. Sri Lanka's town planning history dates back to the 3rd century BC when King Pandukabhaya established the nation's first city Anuradhapura in the North Central Province.
The evolution of the island's city planning principles can be traced to the British colonial period with the invention of railways, the automobile and aircraft posing new challenges to town and city planners worldwide.
In this country, the rapid expansion of motorised transport in parallel with urbanisation created problems that have worsened in the post-independence era. A lack of foresight, ad hoc solutions and unwarranted political interference are to blame for this.
Following 1948, several regional and master plans were introduced, beginning with Sir Patrick Abercrombie's regional plan for developing metropolitan Colombo and surrounding areas.
But how effectively successive governments and town planners implemented these plans, considering the vehicular traffic, slums, high-rise buildings, pollution and health hazards – all of which urban dwellers have experienced in the past several decades – is in question.
Colombo's high population density not only creates transport and other infrastructure issues but many socioeconomic problems too. Traffic congestion in urban areas has become a virtual nightmare, and causes economic losses to both the state and private sectors.
Despite the construction of expressways, our road network is not geared to meet the increasing volume of traffic in towns and cities. In a TV interview, a motorist who had travelled 94 kilometres on the Southern Expressway from Pinnaduwa in Galle to Kottawa in less than an hour said it took him nearly two hours to reach the city of Colombo from Kottawa!
A major threat to proper town planning is the encroachment on available state land that includes environmentally sensitive areas. The informal sector has been encroaching rapidly on public spaces in all conceivable urban areas and become a headache for municipal administrators.
Some construction, though supposedly legal, raises questions as to how permission was obtained for them, violating all norms of town planning. The public should be empowered to demand answers to these questions.
One example is the Mount Lavinia junction in the island's second-largest municipality. Until the late 1970s, it had a CTB bus terminus and small market building. Today, the space meant for the bus terminus is occupied by a high-rise building that is under construction.
There is virtually no space for parking CTB buses that begin or end their scheduled routes in Mount Lavinia. The area meant for parking private buses is hardly adequate, and obstructs the movement of other vehicles and pedestrians.
The large supermarket market building that replaced the old one around 1980 is an eyesore. Within the same municipal area, the flyover at Dehiwela junction hasn't reduced traffic congestion with heavy vehicles including buses not being allowed on it unlike the one in Nugegoda.
Another problem is haphazard and disorganised road construction. As one media report states: "Pavements cannot be built till the roads are carpeted; roads cannot be carpeted till they are properly built; roads cannot be built till the pipelines are made; pipelines cannot be made till the cables are pulled out; [and] the boundary to pull the cables cannot be obtained till the pavements are built."
In other words, there is no coordination between the responsible authorities.
In February last year, the Chief Minister of the Central Province criticised the Ceylon Electricity Board (CEB) for being a stumbling block to resolving the severe traffic congestion that had become the bane of Kandy. He charged that the CEB had not taken action to reposition electricity supply pylons that were obstructing the smooth flow of traffic.
According to Moratuwa University's transport and logistics management expert Professor Amal Kumarage, a bus rapid transit (BRT) could be established fairly soon and at a much lower cost to address the gridlock in Colombo.
A light rail transit system circling the city too will reduce urban traffic congestion and wastage of man hours. Modern light rail technology has proved to be flexible and adaptable for this purpose. In cities such as Hong Kong, railways are the key to reducing traffic congestion.
Kumarage stresses the need to implement a pro-public transport policy as road widening and constructing expressways, elevated highways and flyovers, and one-way traffic schemes, will not provide adequate solutions to urban traffic congestion.
Proper town and city planning is linked to a wide range of requirements that involve economics, ecology, sociology, geography, legal measures, land use, transportation and curbing pollution, all of which must be balanced to reach the desired goal.