CIOB
7th World Construction Symposium
The seventh edition of the World Construction Symposium 2018 was successfully held from June 29th to July 1st 2018 at Hotel Galadari. The World Construction Symposium is organized annually by the Ceylon Institute of Builders (CIOB) and the Building Economics Management and Research Unit (BEMRU) of the Department Building Economics of University of Moratuwa.
The World construction symposium is a congregation of researchers, academics and industry professionals involved in the area of sustainable construction worldwide. The main theme of the 7th Symposium was "Built Asset Sustainability: Rethinking Design, Construction and Operation".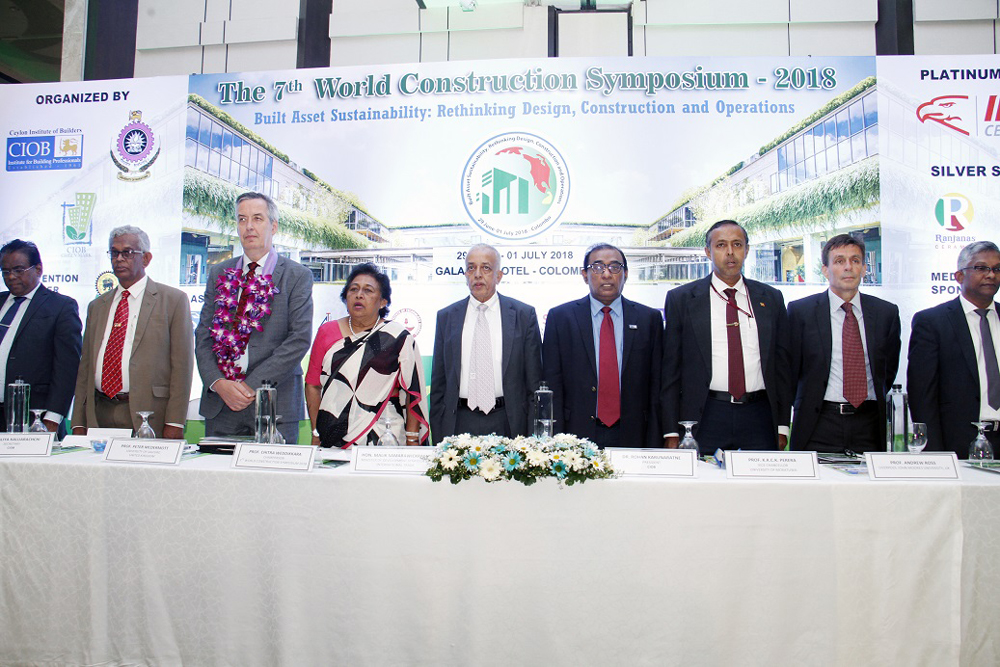 The extensive technical programme at the Symposium included over fifty research papers being presented by academics and industry professionals from countries such as United Kingdom, United Arab Emirates, Nigeria, India, China, Hong Kong, Malaysia and Sri Lanka. The papers presented were based on 26 sub themes covering a wide spectrum of areas such as affordable sustainable construction, building information modelling, innovative Green technologies, energy management, waste management, cost management & disaster management to entrepreneurship in sustainable construction, public private partnerships, legal aspects, sustainable procurement & green rating. Over 50 foreign delegates and over 200 local delegates attended the symposium. The Symposium concluded with a Panel discussion on 'Challenges for creating livable cities' where representatives from city planners, private sector, Govt. officers and officers from donor agencies took part and aired their views.
Hon.  Malik Samarawickrema, Minister of Development Strategies & International Trade graced the inaugural session of the symposium as the Chief Guest. Professor Peter McDormett, an eminent academic from the University of Salford, United Kingdom delivered the keynote address. This was followed by informative speeches by Prof. Andrew Ross of Liverpool John Moores University, Prof. Srinath Perera of University of Western Sydney and Prof. Mohan Kumaraswamy, Editor-in-Chief, Built Environment Project and Asset Management (BEPAM) and CIB W122: Public Private Partnership.
Other notable participants of the symposium were Prof. Kapila Perera, Vice Chancellor of University of Moratuwa, Prof. Lalith De Silva, Dean, Faculty of Architecture, University of Moratuwa and Research Scholars from Liverpool John Moores University, University of Hong Kong, Indian Institute of Technology Madras, Northumbria University, East Carolina University, Western Sydney University and Colombo School of Construction Technology (CSCT).
In his address at the inaugural session, the Chief Guest Hon. Malik Samarawickrema alluded to the vision of the Government 'To make Sri Lanka the most preferred investment destination in the region and to be among the most globally competitive trading nations in the world by 2020' and outlined the initiatives taken by the Government in strategizing development, promoting investment and improving export competitiveness. He emphasized the massive development programme that is being carried out by the Government in various parts of the country including projects such as Colombo Kandy highway and Colombo financial city. He stressed the importance that the Government will place on sustainable infrastructure development and mentioned the measures taken by the Government to ensure that the contractors involved in these projects follow internationally accepted Green construction standards".
Prof. Peter McDormett in his keynote address on 'Putting sustainability at the heart of an industrial strategy: social value for the construction and infrastructure sectors' drew upon his own and others' research work, demonstrating how effective procurement can be the lever for improved social and economic performance in the construction and infrastructure sectors.  He also discussed about the measures taken by the North West Construction Development Hub of UK in developing their strategic framework to increase emphasis on social value.
Dr. Rohan Karunaratne, President of CIOB,  in his welcome address, while expressing his happiness over being able to host the World Construction Symposium for the seventh year, mentioned the importance of collaboration between industry and academia 'to support improvement and innovation in the industry and to ensure industrial relevance in academic research'. In this regard, he invited the Construction Industry Development Authority (CIDA) and the industrialists present to select relevant research papers presented at the Symposium for further development and implementation in our local construction industry.
Expressing their views on the concluded 7th World Construction Symposium, the Vice Presidents Mr. Ruwan De Silva and Mr. Jaikish Tudawe of CIOB said:
"We are extremely pleased to have hosted the World Construction symposium for the seventh consecutive year in Sri Lanka. They further said that they are thankful to the Conference Chair Person Prof. Chitra Weddikkara, Symposium Organising Co-Chairs Mr. Sagara Gunawardena & Mr. Kalana Alwis, Scientific Committee Co-Chairs, lectures and students of the Department of Building Economics of the University of Moratuwa and staff of CIOB for their untiring effort in making this important international symposium a grant success."
When asked, Dr. Yasangika Sandanayake, Head of Department of Building Economics, Moratuwa University has said;
'We are happy to be associated with CIOB in organizing this prestigious annual event, 'World Construction Symposium 2017', as the joint organizer. The 7th World Construction Symposium provides a platform for both local participants and international delegates to share their knowledge and ideas with regard to the sustainable design, construction and operations of built assets. The essence of sustainability and eco-innovations are emerging in modern constructions as a fundamental necessity to sustain the country's future. In this context, the symposium theme 'Rethinking design, construction and operations for built asset sustainability' is timely. I, along with my other co-chairs of the Scientific committee Dr. Sachie Gunatilake and Dr. Anuradha Waidyasekera  are grateful to all associate partners, keynote speakers, members of panel discussion, scientific committee members, session chairs, all presenters and participants who contributed to make this event a success. "
About the Organizers:
The Ceylon Institute of Builders is the premier professional body of building and construction professionals in Sri Lanka. Its membership is comprised of Architects, Engineers and allied building professionals. CIOB is affiliated to the Chartered Institute of Builders of UK and the Council of Research and Innovation in Building and Construction in the Netherlands and has partnerships with Construction Federation of India (CFI) and Building & Construction Authority of Singapore. In addition to disseminating modern building practices among builders and promoting competencies for the builders to reach professional standards, the institution plays a key role in providing feed back to the Government on their policies affecting the industry.
In order to promote sustainable construction in Sri Lanka, CIOB introduced the Green Building certification scheme in Sri Lanka in 2014. This certification evaluates & rates buildings, building services, building products and equipment for their environmental impact & performance. The CIOB Green Building Certification (CGBC) is awarded to following categories:
Constructed Buildings (New & Existing)
Building Products and Materials
Green Building Professionals Accreditation
Green Builders (Contractors) Certification
In addition, CIOB conducts training courses and workshops to equip the construction community with knowledge related to emerging concepts in Construction industry such as Green buildings and Lean Construction Management.
Department of Building Economics and Research of the University of Moratuwa aims to produce graduates who are capable of managing resources in the industry with perception; the ability to innovate; the ability to respond to new and unfamiliar situations with a creative use of knowledge and skills; and the ability to take advantage of new opportunities.
The Department was founded in 1983 and currently the pioneer Sri Lankan institute to offer undergraduate degree programmes in Quantity Surveying and Facilities Management. The Department is unique in nature as it is the only department which offers degree programmes in Quantity Surveying and Facilities Management fields in the whole national University system in Sri Lanka.