CINNAMON LIFE
Cinnamon Life is open for business-Office Tower of the landmark development to open early 2020
This week, John Keells Properties announced a major milestone in Colombo's landmark development project Cinnamon Life, sharing that the office tower of the complex will officially open for business in early 2020. In May the real estate developer announced the completion of structural work on all towers of its skyline-transforming development; the office tower is the first to be ready for occupation, with space already being snapped up by top corporates in the city.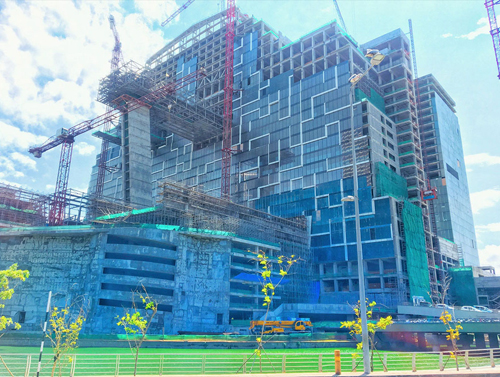 Cinnamon Life is the largest real estate development project in modern Sri Lankan history and considered a significant vote of confidence in Colombo's trajectory forward as an economic and tourist hub. The integrated hotel and mixed-use development beckons a new era of work and play in the city, with the office tower, a 30-storey A-grade workspace. It is linked to an 800-roomed five-star Cinnamon Hotel and a mall spread across five levels, housing iconic international brands and exclusive dining experiences.
In addition, the development will be home to a premium residential abode with 'The Residence' and 'The Suites'. The residential towers are expected to attract expats working and living in Colombo, with the commute home only a few brisk steps away from their offices at Cinnamon Life. Moreover, the inflow of MICE travellers, particularly from India, is expected to bring in further demand for short to medium term rentals at the residential towers.
The Cinnamon Hotel will be Colombo's largest such property, also expected to host business travellers in the city. Those based in The Offices at Cinnamon Life can entertain clients at the hotel, with the availability of banqueting and conference facilities. Banquet style seating capacity is available for 3300+ individuals and conference style seating can host 5000+ individuals at any given time across the hotel's five conference venues- making these some of the largest such spaces in the city.
Cinnamon Life benefits from a unique and highly coveted strategic locational advantage. The Offices at Cinnamon Life is situated along the city's main road network and with proximity to all major corporate hubs in Colombo. It can be easily accessed via three entry points; a new 50m long and 35m wide bridge built across the Beira Lake, and via Justice Akbar Mawatha as well as Glennie Street.
All users of the office building will have access to well-secured and convenient vehicle parking facilities, easy access to the retail and entertainment mall as well as a wide range of restaurants, cafés, pubs and bars within the Cinnamon Life integrated resort. The 254,000 sq.ft of rentable floor space in the office tower has been customized to suit the needs of its occupants. Each floor consists of a usable area of 10,564 sq. ft.
"We're very pleased to announce that The Offices at Cinnamon Life will soon be ready for occupation," says Suresh Rajendra, President of John Keells Properties. This is the most modern and iconic dedicated network of workspaces in the city, underpinned by its exclusive address in central Colombo. "This tower will be the hub and driver of innovation and vibrancy in Sri Lanka's corporate arena. We hope to create an environment for the professionals working in this tower to have everything they need to live the modern, progressive lifestyle they aspire to at their fingertips."
For further information on Cinnamon Life, visit www.cinnamonlife.com or call +94-112-152152.