CINNAMON FUTURE OF TOURISM 2017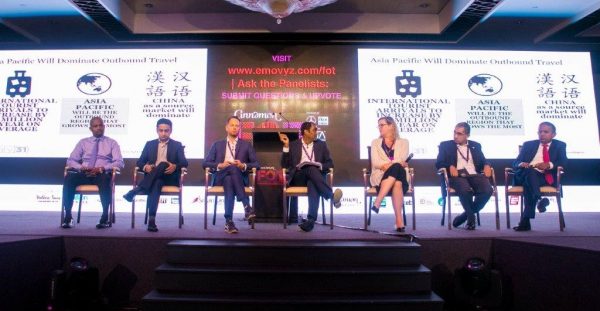 Organised by the Cinnamon Hotels and Resorts, the second installment of The Cinnamon Future of Tourism Summit successfully concluded on 26 September 2017 at Cinnamon Grand Hotel Colombo. The hallmark event in the region's travel and tourism calendar, this year attracted about 400 local and foreign participants which deliberated and drew examples from the best practices around the world on the theme Innovation, Technology and Authenticity. The summit presided by Sri Lanka's Prime Minister Ranil Wickremesinghe was attended by the Chairman of Sri Lanka Tourism Promotion Bureau Udaya Nanayakkara and other dignitaries.
Prime Minister Ranil Wickremesinghe addressing the summit noted: "The Indian Ocean has full potential for cruise tourism.  Which means that we must have our own triangle for tourism; where the cruise liners can come in, that triangle is Colombo – Trincomalee –  Hambanthota. We can have Yachts that can go around the country and start rebranding Sri Lanka. Look at all the aspects of tourism that must be developed. As the future tourism turns to Asia, aiming 5 million tourist arrivals in 2025, the best of some of those properties and destinations are going to be in Sri Lanka."
Speaking about the summit Vice President – John Keells group and Head of Brand Marketing Cinnamon Hotels and Resorts Dileep Mudandeniya noted; "Future of Tourism is a thought leadership of Cinnamon hotels and resorts. When we started this event, we felt that Sri Lanka is going to be a booming tourism destination. In that context when we open this discussion with the Tourism Authority, Sri Lanka Tourism Promotion Bureau and the Honorable Prime Minister's office, they were very supportive of this whole event. It was very encouraging to see the Honourable Prime Minister coming today and making a policy statement. What is important is also to make sure as an Island nation, that we also protect our environment and protect our very own reasons that tourists are coming for their own culture. So that we don't go and destroy those elements in the rapid development of the tourism or any other industry."
This year's summit was curated by Founder SHS Swiss Hospitality Solutions Wilhelm K Weber and featured; Executive Editor CNN Travel Brekke Fletcher, Brand Ambassador TrendOne Rene Massatti, Head of Creative Innovations TrendOne Sebastian Rassmann, Director of Research and Innovation at the Emirates' Academy of Hospitality Management Dr. Sanjay Nadkarni, Google Country Director Fazal Ashafaq, Managing Director Mocinno International Hospitality Management Jereon Gulickx, Partner Twenty 31 Consulting Inc. Oliver Martin, CEO Minor Hotel Group Limited Dilip Rajakarier, Managing Director Dragon Trail Interactive Roy Graff, Co-Founder booking.com and Founder/CEO Roomlr Bas Lemmens, Euro Monitor Jocelyn Cheung and STR Global Matthew Burke.
This year's summit was powered by Mercedez Benz and was endorsed by PATA with International Media Partner – CNN Travel, official Airline Partner – SriLankan Airlines, Destination Partner – Sri Lanka Tourism Promotion Bureau and Mobile Partner -Mobitel. Other partners included: National Media Partner – Daily Mirror, Daily FT and Sunday Times, Digital Partner – Xiteb, Supporting Partner – MillionSpace, Strategic Partners – the Ceylon Chamber of Commerce and STR Global, Inbound travel partner Walkers Tours, Domestic Airline partner  Cinnamon Air AV production partner – Citrus Events, Media Partner – Hotels News Now and Outdoor Media Partner – Emerging Media