CHINESE PRESIDENT SEES A VICTORY AGAINST CORONAVIRUS
Coronavirus 'victory in sight' for Wuhan as Xi Jinping visits front line
President Xi encourages medical staff and patients to be confident the epidemic will be overcome during tour of city at centre of outbreak
Several indicators emerged on Tuesday to suggest Wuhan's containment measures are paying off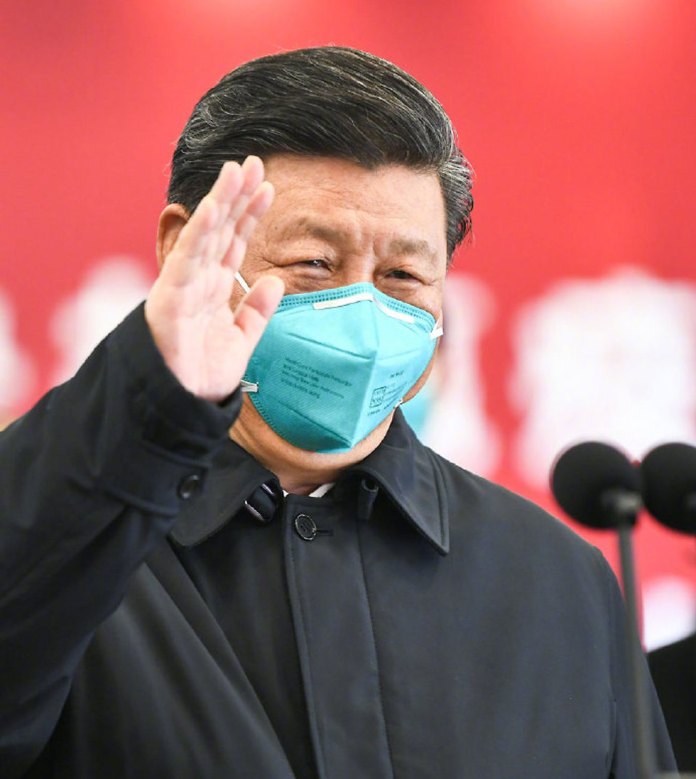 Chinese President Xi Jinping arrived in Wuhan on Tuesday morning – his first visit to the city at the centre of the
– as state media assured the public that "victory was near".
Among his first stops was the military-operated hospital Huoshenshan – one of two specially built facilities which were constructed at speed to deal with the outbreak – where he encouraged doctors, nurses and patients to be confident that the epidemic would be overcome.
The announcement of Xi's visit was closely followed by numerous articles highlighting China's growing success in containing the coronavirus. A commentary run by state news agency Xinhua underscored Wuhan's importance as a "decisive" place in the country's battle against the virus.
"A victory in Wuhan is a victory for Hubei, a victory in Hubei is a victory for China," the commentary said, repeating a phrase that has been used previously in official party media. "The battle continues, but victory is near," said another commentary published by Xinhua on Tuesday morning.
State media reported that during his visit to Wuhan, Xi "would inspect the prevention and control work" in the city and visit medical workers, military commanders, community workers, public security officers, grass-roots and frontline cadres, as well as volunteers, patients and residents.
There were several signs on Tuesday morning that the situation was improving, including a further downturn in the number of new cases announced by China's National Health Commission. Of the 19 new infections reported by the commission, 17 were in Wuhan and the remaining two were "imported" cases of the disease.
It was also the lowest daily number of new infections since China started making daily reports on January 20, as well as the third consecutive day on which all new domestic cases were restricted to Wuhan.
Also on Tuesday, the last of Wuhan's 14 makeshift hospitals – converted from sports stadiums and convention centres – was closed, in a further sign the outbreak in the city was now largely under control.
Hubei's state media reported on Tuesday that provincial Communist Party chief Ying Yong – appointed to the role after local officials were sacked for their initial handling of the outbreak – had declared "positive progress" in the province's containment strategy meeting a day earlier.
Ying also urged officials to start planning for business in the province to return to normal.
"[We should] fully support companies that have a global export chain, flagship engineering projects and agricultural-related corporations to return to work, and [we should] assist other companies to gradually resume business at safe and suitable times," Ying said, according to provincial newspaper Hubei Daily.
Professor Zhu Lijia, from the Chinese Academy of Governance, said Xi's visit to Wuhan marked the Chinese leadership's belief that "major progress has been made and a fundamental turning point has been achieved in China's coronavirus battle".
Zhu said the challenge for the leadership, once Wuhan was completely out of the woods, was to strike a balance between controlling the epidemic and restarting the economy. "How do we continue to allow the flow of people within China and internationally, but contain the imported cases, that will be difficult going forward."
A cumulative total of 80,754 confirmed cases of Covid-19 have been reported in China to date, with 49,965 in Wuhan alone. The national death toll surged to 3,136, with 17 new deaths as of midnight Tuesday. More than two-thirds of China's fatalities were in Wuhan.
 brought to you by SCMP Research and enjoy a 20% discount (original price US$400). This 60-page all new intelligence report gives you first-hand insights and analysis into the latest industry developments and intelligence about China AI. Get exclusive access to our webinars for continuous learning, and interact with China AI executives in live Q&A. Offer valid until 31 March 2020.