CHINA'S ECONOMIC GROWTH SLOWS DOWN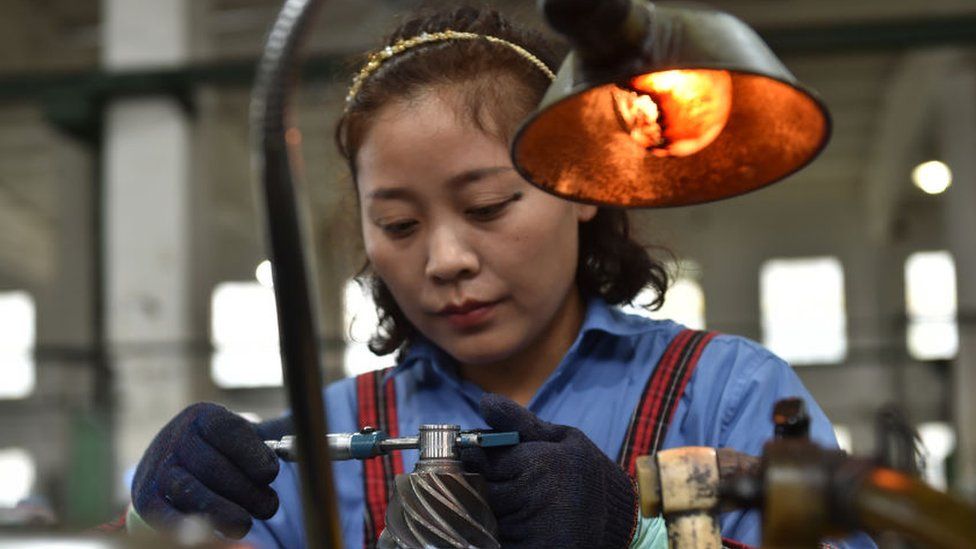 BBC: 18 October 2021
China's economy grew 4.9% in the July to September quarter from a year earlier, the slowest pace in a year and worse than analysts had predicted.
This was far slower from the previous quarter when growth was almost 8%, suggesting the recovery is weakening.
Power shortages, outbreaks of Covid-19 and pressure from Beijing on a number of industries are taking their toll.
These developments may dampen growth for the rest of the year and should not be underestimated, one expert said.
The world's second-largest economy has faced a number of challenges in recent months.
Power crunch
Firstly, when it has come to power supply, soaring global commodity prices have affected the cost of raw materials.
This has come at the same time as Beijing has increased the pressure on regional governments to reduce their carbon emissions in line with the country's goal to be carbon neutral by 2060.
Many provinces implemented electricity rations, causing blackouts for homes and factories to close.
This coincided with the country's largest coal producing province suffering from torrential flooding. The Shanxi region produces about 30% of China's coal.
The heavy rains have led the coal price to hit fresh highs and the government to abandon production caps.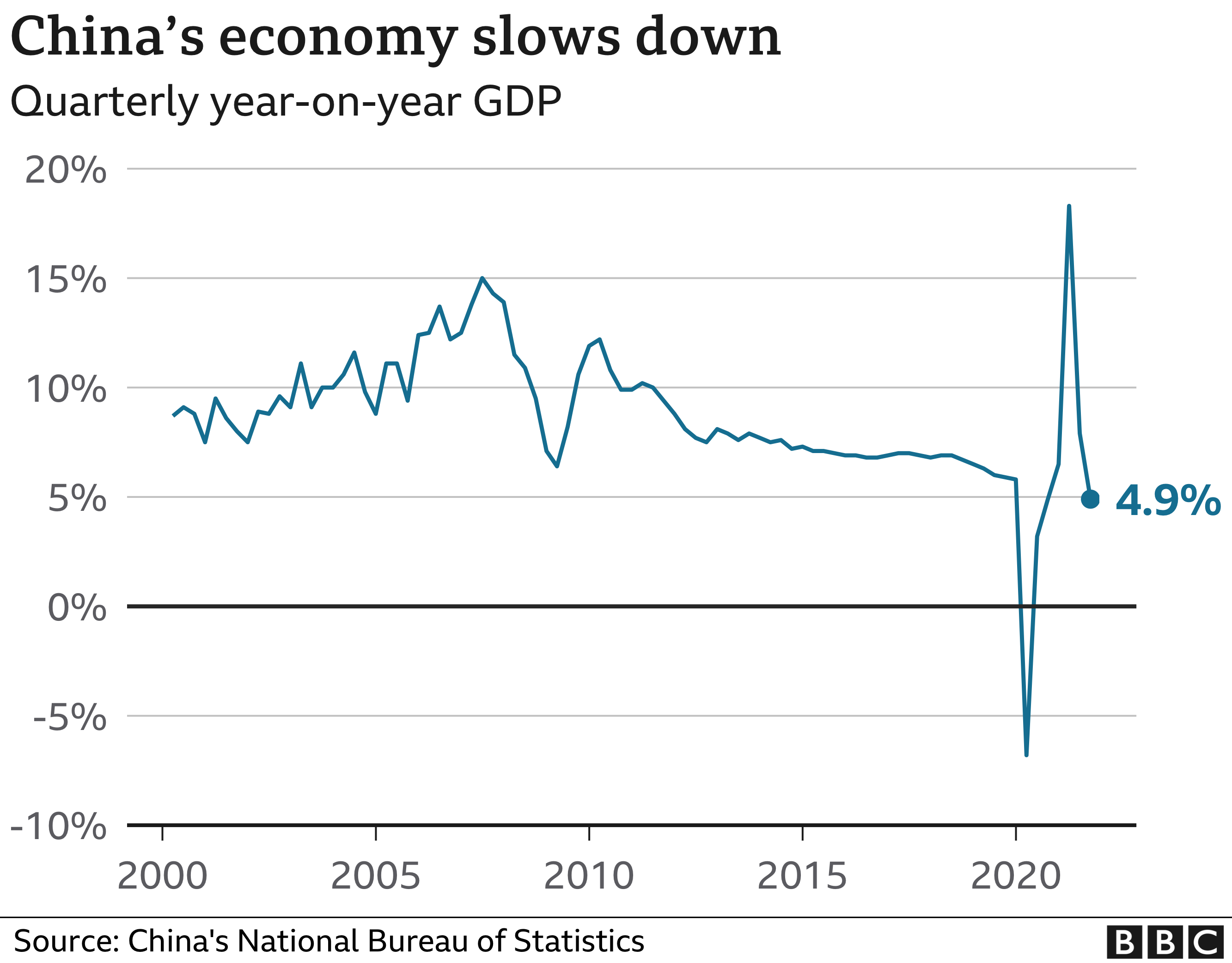 The power cuts have disrupted many industries in the country, particularly those that use a large amount of energy, including cement production, steel and aluminium smelting.
China's "factory gate" prices – a measure of what manufacturers charge wholesalers for products – have felt these effects, growing at the fastest rate since records began 25 years ago.
"The downturn in industry looks set to deepen," said Capital Economics' senior China economist Julian Evans-Pritchard, with thermal coal prices still climbing.
China GDP graphic
This has come at the same time as China's property sector has faced increasing pressure to rein in its debt.
The most notable example, the China Evergrande Group, owes more than $300bn and finds itself on the brink of default.
Another property developer Fantasia defaulted while Sinic Holdings has warned it is at risk of going down the same path, sparking fears of wider problems.
"The slowdown in the property sector will affect the activities of firms in areas such as construction contracting, building materials, and home furnishing," said Yue Su from the Economist Intelligence Unit.

Despite this, China's central bank has downplayed the risk of contagion over the weekend, breaking its silence on the crisis.
Evergrande's "financial liabilities make up less than one-third of its total liabilities, and the creditors are diverse," said Zou Lan, a director at the People's Bank of China.
"Individual financial institutions are not at high risk exposure to Evergrande. Its spillover risks on the financial industry are overall controllable."
Woei Chen Ho, an economist at United Overseas Bank in Singapore, says the energy crunch and crackdown on the property sector means the bank is likely to downgrade its growth forecast for China for the year.
"The numbers are actually much weaker than what we thought. I think in the fourth quarter it will be even slower because we will see more impact from the energy crunch."
From big tech to gaming to the education sector, a number of China's biggest companies are facing policy curbs aimed at social transformation.
The Chinese government has unveiled a five-year plan indicating that this crackdown will go on for years.
While these reforms are aimed at long-term growth, they are currently weighing on domestic consumption and investment, according to Chaoping Zhu from JP Morgan Asset Management.
"Short-term shocks seem inevitable when a variety of policy measures have been introduced in a short period since July," he said.