BUSINESS SENTIMENT
BIZ CONFIDENCE TRENDING DOWN
Corporates are visibly perturbed by the uncertainty clouding the macro landscape
Sri Lanka's long history of protests was upheld when railway unions decided to strike in mid-August, much to the displeasure of commuters. According to reports attributed to Sri Lanka Railways' Additional General Manager (Operations), the Railways Department incurred a loss in excess of Rs. 70 million as a result of the trade union action.
These and similar events have seemingly added to the state of despair among corporate executives – and this is reflected in the responses to the latest LMD-Nielsen Business Confidence Index (BCI) survey.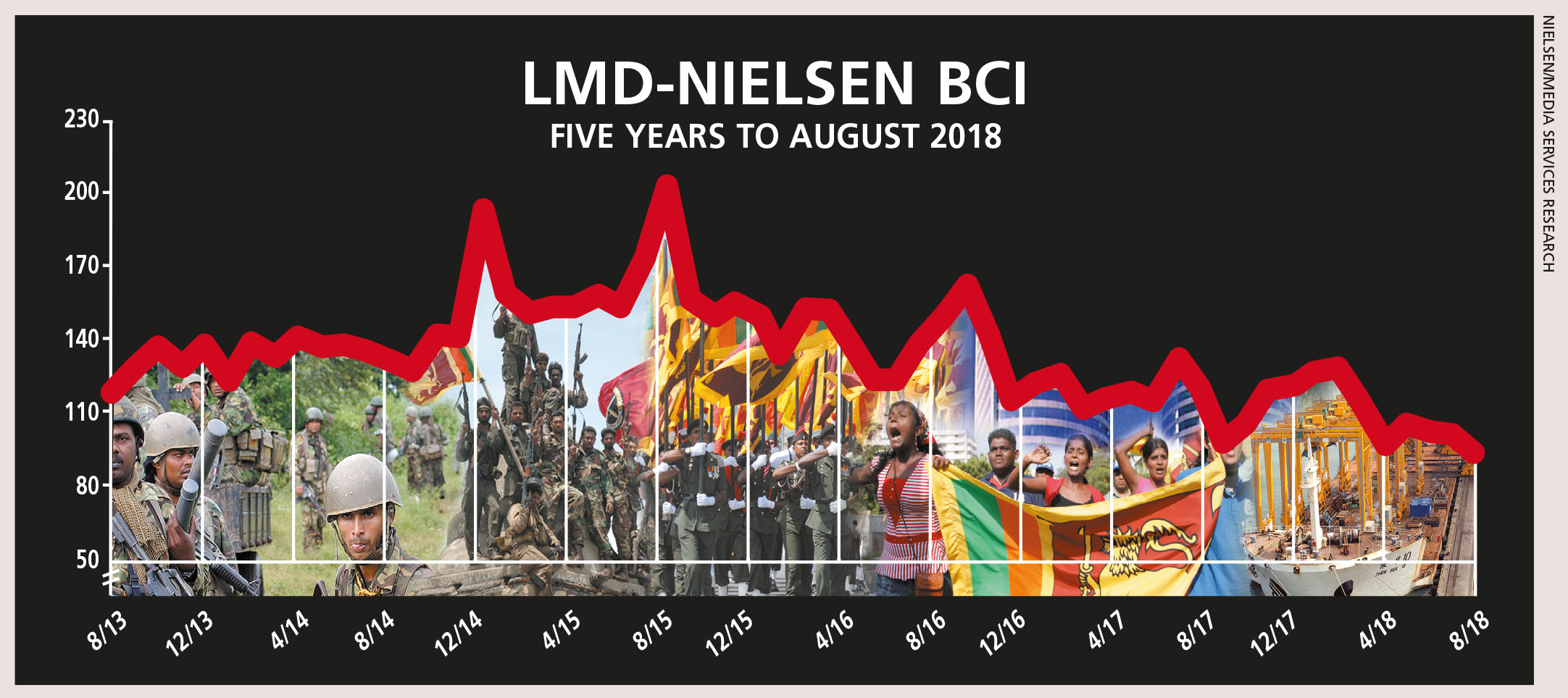 THE INDEX Anxiety in the corridors of business seems to have returned, following a relatively stable period of around three months, with the BCI dropping to 95 in August – that's six points less than where the barometer of corporate sentiment stood in July (101). Moreover, the BCI is now at its lowest level for the last 12 months, and well below its 12 month and all-time averages of 110 and 129 respectively.
Nielsen's Managing Director Sharang Pant notes that "while exports grew by nine percent in the first four months of 2018, and tourist arrivals and earnings rose by a healthy 15 percent in the first six months of the year, businesses are yet to witness an uptick in demand – and consumer wallets remain under pressure from the impact of tax revisions and inflation that is rising again."
"New personal income taxes came into effect in April and there have been two rounds of fuel price increases. As a result, the National Consumer Price Index (NCPI) has crept upwards," he remarks.

SENSITIVITIES High taxes, the policy regime and inflation are among the major concerns for corporates. Businesses are calling for policy stability and clarity, and strategies that would enable them to seek opportunities for growth and profitability.
A survey respondent laments: "We do not see any proper direction in the planning and development process… This in turn has a major effect on the country's business climate."
"There is no consistency in the policies that are implemented by this government. Every three months, there are policy changes. How can you expect businesses to have medium to long-term plans when there are such high levels of uncertainty?" asks another member of the business community.
Furthermore, global trade uncertainty is exerting pressure on currencies across the board and the Sri Lankan Rupee is no exception – it has hovered above 160 rupees to the dollar in recent weeks.
PROJECTIONS Our take on the outlook for the index last month stands in good stead as the BCI failed to gain any ground amid a lack of tangible optimism on the part of corporates.
In fact, it has fallen to below the psychologically important mark of 100 basis points and that's not good news.
Sentiments expressed by survey respondents as well as a perceptibly lacklustre economic outlook suggest that an uptick in business sentiment is unlikely to materialise at least in the short run – subject to what transpires in the minefield we call 'politics' and the countdown to Budget 2019, which may bring some good news… albeit in the name of politics.
– LMD