BUSINESS SENTIMENT
THE BIZ BAROMETER GAINS GROUND
The exclusive business confidence index teases with a notable rise – but for how long?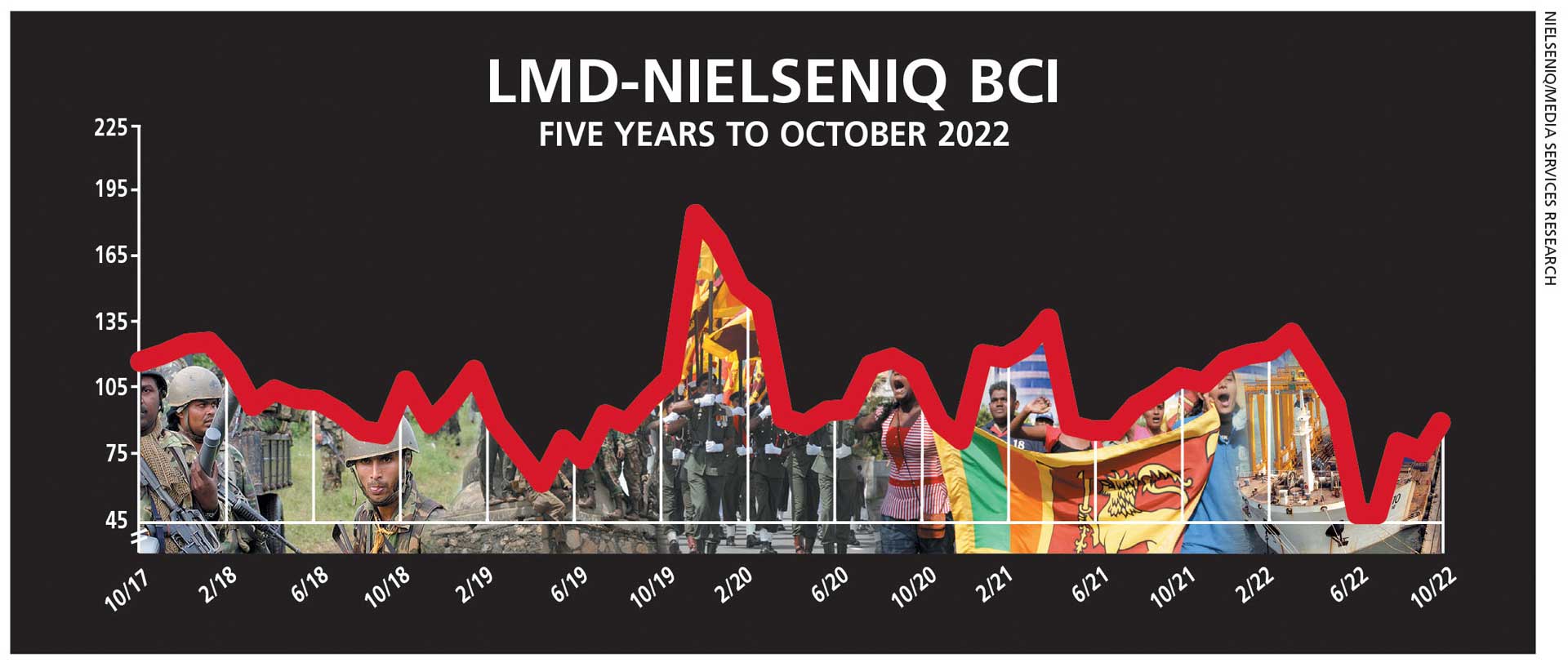 The race for survival is on. Daily life has acquired a dystopian air as people from all walks of life countenance the possibility of privations to come – or which have already arrived. The anxiety of whether or not the discussions around debt restructuring will prove fruitful is exhausting and even the possibility of failure of the IMF bailout doesn't bear contemplation.
And little comfort is to be had from news that other nations – including many rich nations – are struggling as much as we are.
THE INDEX In the midst of all this, the exclusive LMD-NielsenIQ Business Confidence Index (BCI) provides a semblance of relief: it has climbed a heartening 13 basis points to 89 from September's 76.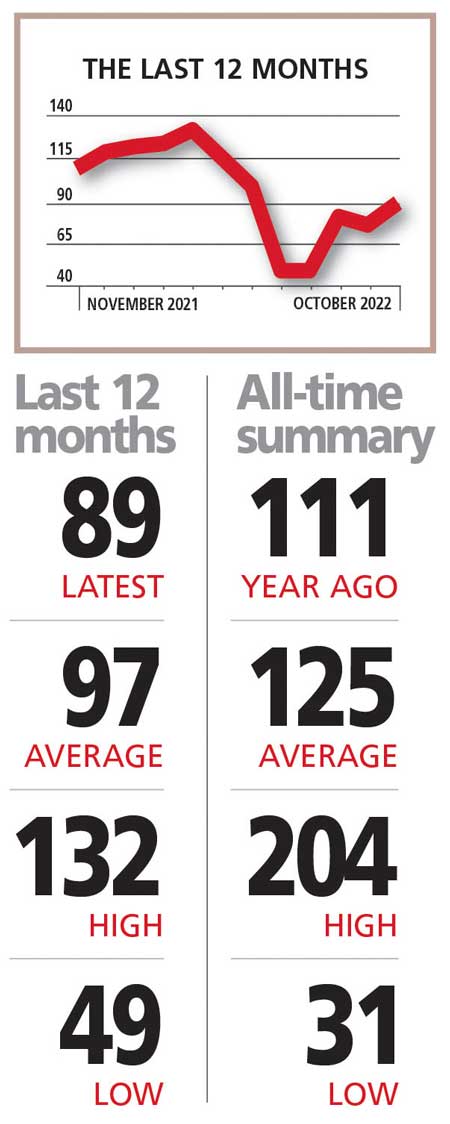 Little comfort though as we must acknowledge that two in five households are reportedly poorly nourished today.
But yes, cautious optimism is permissible…
It seems hardly believable that only a year ago, the unique barometer stood at 111 basis points and the nation basked in an ascent that continued for five months. It's hoped that the uptick 12 months later will set the trend for the index's trajectory.
NielsenIQ's Director – Consumer Insights Therica Miyanadeniya asserts: "Concern over the socio-political status of the country is waning as businesses and people are in a race to survive against a backdrop of extreme economic hardships."
SENSITIVITIES Even though fuel supplies have improved and a better consciousness is emerging with regard to consumption (also influenced by soaring prices), the new utilities tariffs and tax rates have kicked in, and left both businesses and the people in dire straits.
There is uncertainty in the air everywhere and though no one wants a nuclear blowout, the Russia-Ukraine conflict shows no signs of winding down, which poses a perilous threat to the planet as a whole.
Inflation continues to preoccupy businesspeople as does the forex crisis, and other heavy burdens such as taxation, interest rates and debt repayments. And as the real value of disposable incomes diminishes for ordinary citizens, more and more businesses supplying 'nice to haves' could be forced to shut down.
PROJECTIONS Budget 2023 is anticipated – albeit with mixed feelings – and it's hoped that the measures to be outlined will be sufficient to appease the IMF's qualms with regard to granting Sri Lanka the Extended Fund Facility (EFF) of US$ 2.9 billion.
And while sealing the IMF deal will bring some respite, the debt restructuring process that is apparently underway together with seeking new sources of funding and investment hold the key to Sri Lanka's immediate future.
Some rather Dickensian hard times stretch out before us – and there's little comfort in acknowledging that we will not be alone in our hardships.
It goes without saying therefore, that despite the uptick in business confidence in October, the nation and its businesses are in for a rocky ride – and that doesn't bode well for the citizenry.
And it follows that it's unlikely the index will gain too much ground – if at all – in the near term.
– LMD