BUSINESS RECOVERY

POST COVID-19 BLUE OCEAN
Ruchitha Perera urges businesses to recreate their post-COVID future immediately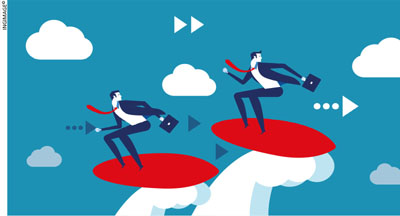 As the local economy prepares to adapt to the 'new normal,' the obvious question for local businesses would be how to compete post COVID-19. A proven theory that can be practically incorporated to move beyond these challenging times may be worth exploring.
Swimming in the Blue Ocean As an island surrounded by a blissful blue ocean, local businesses will have a choice of either swimming in a 'bloody' red ocean filled with cutthroat competition (the known marketplace) or apply lessons from the Blue Ocean Strategy (markets untainted by competition).
Popularised by professors W. Chan Kim and Renée Mauborgne in 2004, blue oceans are industries not in existence today – they're unexplored territories. Incorporating this strategy will enable businesses to reposition their products and services to create an innovative marketplace from a new dimension.
This is vast, deep and powerful in terms of transforming businesses with profitable growth, and breaking away from the competition. Consisting of several tools, the blue ocean strategy offers guidelines to local businesses to create uncontested markets and new demand, and adopt activities by either reducing costs or differentiation.
the six-path framework The norm in local business is to beat the hell out of the competition.
However, if applied intelligently this framework will allow organisations to go beyond simply beating the competition but creating new value innovation where actions will favourably impact operating costs and value propositions.
If businesses are to compete in the future, they must keep their costs down and enhance customer value.
PATH 1: Alternative industries Rather than operating within the industry, look outside and challenge the status quo beyond the traditional marketing mix of product, price, place and promotion.
Businesses currently in manufacturing might do well to explore how technology can assist in driving customer value – i.e. by enhancing the manufacturing and delivery processes to increase revenue. Businesses in B2B may want to explore B2C or even strategise in backward and forward integration to develop a competitive advantage.
Path 2: groups within industries Businesses have the option of discovering new markets by improvements across strategic groups in the same industry. They can merge traditional and digital marketing combinations to attract new customers.
The financial services industry can consider alternative digital customer touchpoints (methods through which consumers can interact with a business) through traditional consumer journey maps (visual representation of customer experience).
In distribution, businesses can explore both online and offline methods of engaging with customers to increase innovative value through new markets.
Path 3: RedefineD buyer groups The local market consists of a range of buyers from influencers and purchasers to users who are directly or indirectly connected to the purchasing process. It is important to shift these buyer groups for good use.
Targeting social media influencers is the norm now but businesses can also engage in an omnichannel (multichannel) approach to improve user experience across audiences. This will minimise the reliance on intermediaries.
Manufacturing and retail businesses must monitor consumer habits to increase engagement and create new growth opportunities.
Path 4: products and services Untapped value is hidden in complementary products and services. Businesses can add value to customers before, during and after purchase. Digital integration with online channels is a great example where 24/7 customer engagement can be an effective way to increase revenue.
Many businesses with 9-5 operations will have the option of longer operating hours through digital channels, and offering complementary products and services. Perhaps a bookstore or an art gallery in cafes in and around town might be an idea to enhance value.
Path 5: functional-emotional Businesses must identify the emotional and functional attributes of their products and services to maximise profits. Those who only compete on price (functional) may drown in red oceans. Businesses that compete on emotions will sustain.
The psychology of consumers is ever-evolving and businesses that consider emotional orientation will enjoy more growth opportunities. All businesses in any industry must incorporate emotion into their integrated marketing communications.
Using images and storytelling has proven to be direct influencers in innovative marketing strategies.
Path 6: external trends Businesses must envision the latest trends that can be exploited in moving to blue oceans. It is vital to predicting trends that offer a high probability of impact creating value innovation and avoid competing head-to-head.
AI, chatbots, video, augmented reality and virtual reality are a few concepts that businesses should embrace for stronger sustainability.
Keep in mind that blue oceans can turn into red oceans over time. Therefore, businesses must be consistent in creating and delivering value, to stay ahead and make competition irrelevant.