HUMAN RESOURCES
BOTS AND BEINGS WORK IT OUT   
Sanjeewaka Kulathunga highlights the evolving challenges of managing human resources
The accelerating pace of change across the business landscape is driving corporates to be more strategic and proactive in achieving sustainability in their respective markets. And it is for this reason that human resource (HR) leaders are entrusted with a critical role in revolutionising the business model in a way that meets the needs of a future workforce.
Incessant shifts in demographics and the advent of disruptive technologies have brought about major changes to how organisations manage their human resources for a more sustainable existence. Furthermore, traditional HR practices are not flexible enough to embrace these changes.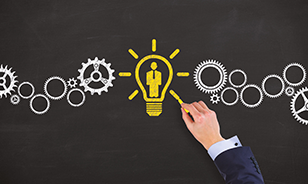 Therefore, the ultimate task of HR leaders is to strategise their human resource management (HRM) practices as part of a holistic approach.
HR leaders should be sufficiently proactive to gain an external view of the latest trends and a balanced perspective of their impact on organisational performance. There appears to be a dramatic shift in the nature and demographics of workforces around the world. Millennials are entering the workplace at a rapid pace, and their specific work and lifestyles – as well as professional requirements – have created new talent within organisations.
Due to the disruption of technologies, working styles have also been affected. And technology has penetrated virtually every aspect of organisational life. Accordingly, human resources should be technocratic and embrace technology as being part and parcel of their professional careers. Cloud computing, social media platforms and AI are some of the technological innovations that cannot be ignored by HR leaders of the future.
While it is true that human resources are the most invaluable assets of any organisation, they might be inefficient and ineffective without the use of innovative technology in the future.
There should be symbiotic synchronisation between human talent and technology to gain a competitive edge. The HR division is the neural network of an organisation; it can connect all the other financial, physical, information and technological resources to generate expected business outcomes.
One of the HR disruptions already identified is that most millennials don't remain in the same organisation with a view to long-term employment. While reaping the benefits of fresh ideas and the digitally savvy millennials in the evolving workforce, the HRM function is in a position to create an attractive employee retention plan for them to be bound to their organisations.
Thanks to the advancement of ICT, physical work locations have become virtualised workplaces connected through the internet – and it follows that tech savvy millennials could be employed from their preferred locations. This is called telecommuting. Furthermore, HRM could take the lead in designing flexible work arrangements so that employees aren't restricted by rigid working hours.
AI will be a nightmare for many labour-intensive industries around the world. Many grievances and issues related to unemployment have been reported due to AI and automation. Yet, HRM is endowed with the best opportunity to be the infrastructural function that transforms human talent into being as important as the increased application of AI and automation.
AI is an emerging technology that has already begun to influence the manner in which human resources are managed. In this context, HR leaders should be endowed with a set of skills and knowledge that is in keeping with the modern era, to strike a balance between employees and technology. This will lead to an optimal level of production.
In addition, a huge responsibility will be placed on the shoulders of HR professionals to design synchronised plans and scheduling methods, considering that humans and machines will work together.
Creating an organisational culture where employees are trained and developed to work alongside AI without negatively impacting either party will be a major challenge faced by the HRM functions of a business.
Life priorities and social trends are also changing more rapidly than ever before. The retirement age of baby boomers is being extended, and millennials are marrying and having children later in life. This is causing dramatic changes in the demographics of the modern workplace.
Accordingly, HRM should consider a broad spectrum of demographic trends when designing and executing HR strategies. These changes have a great impact on every aspect of HRM – for example, compensation, benefits and career development.
With the use of statistical data, HR leaders should be able to forecast the most feasible models based on workforce preferences and proactively change the organisational value proposition for specific working groups in the decades ahead.