BOOKRACK
By Vijitha Yapa 
A daring rescue is always a good read. But when the tale is told by someone who took part in it, the story becomes even more interesting. And if the narrator is a former Mossad agent, the narrative is fascinating. This is what Gad Shimron has achieved with his remarkable book, which details the rescue of thousands of Ethiopian Jews who were refugees in Sudan.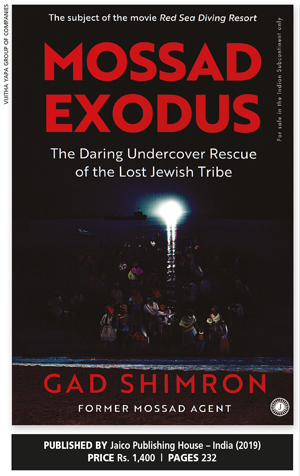 In 1977, Mossad – Israel's famed security service – was given an extraordinary task by Israeli Prime Minister Menachem Begin. He wanted it to rescue thousands of Jews of the lost Jewish tribe Beta Israel from Ethiopia. Although the spy agency was reputed for its cloak-and-dagger activities, this mission was different.
Shimron says: "There is no other example of an intelligence body that is ready to turn the world upside down and postpone other operations of an intelligence nature to save refugees." The mission was codenamed Operation Moses.
A movie based on this famous rescue titled The Red Sea Diving Resort – starring Chris Evans and Ben Kingsley – was released in July.
The book contains many fascinating cases handled by Mossad but a particularly interesting factor affecting recruitment was marital status. Because the author had divorced recently, Mossad refused to recruit him – it believed that divorced men would try to flirt with the local women and compromise the mission's success.
If this rule had been applied to Britain's Secret Intelligence Service, commonly known as MI6, we wouldn't have had the pleasure of watching the sexploits of James Bond on our screens!
Though Shimron's qualifications were notable, the fact that he had worked as a journalist also caused concern. In Mossad terminology, 'journalist' is synonymous with 'a dangerous element that must be avoided at all costs' – nevertheless, he was recruited in spite of his marital status and former profession.
Mossad invested in the Arous holiday village in Sudan, which is where the clandestine operation was based.
The deserted complex, which had originally been built by Italians, provided an ideal front as a diving resort. During their rescue preparations, the agents encountered practical problems such as those posed by several antiquated fibreglass boats. These had been used in an earlier operation but were useless because they were unstable and had leaks. In addition, the Ethiopian Jews panicked when they were put into these boats because they hadn't seen the sea until then.
In order to conduct a successful rescue mission, Mossad procured inflatable dinghies for the short sea journey under the protection of the Israeli Navy, which transferred the refugees onto a ship bound for Israel. Subsequently, transport aircraft took off from makeshift airstrips in the desert to fly the Jews home to Israel.
A person is considered a Jew if he's born to a Jewish mother or converts, according to Halacha – the Jewish law. But sometimes, doubts arise about a person's Jewishness. In the case of these Ethiopian Jews, since there was intermarriage, it wasn't always clear whether a person's mother was Jewish. In such cases, the person was required to take a few additional steps to clear
any doubts.
For a male, these steps include circumcision; or if already circumcised, then hatafat dam brit is performed. This involves letting a drop of blood flow from the area of circumcision and then immerse in a mikvah, which is a ritual bath in Judaism, to gain purity. There also needs to be an acceptance of the laws of Torah.
Shimron also mentions instances that piqued his interest during the preparatory period – like when the builders at the Arous village in Sudan asked for a small seawater desalination system. One day, a convoy of trucks showed up carrying pipes and crates containing a Danish made system that had been donated by Kuwait.
The Italian engineer realised that the desalination system was too complex since it had the capacity to provide drinking water to an entire city and sufficient water to irrigate several large agricultural farms. And because the running costs would be very high, the machinery was left unused in their crates.
Shimron had been curious as to why Denmark was manufacturing desalination plants and checked the boxes looking for clues. He found his answer in the form of a small Hebrew inscription, which the contractor had failed to take away or dispose of, and was rather amused to see that Israel was cleverly making a small profit during the oil crisis of the mid-1970s!
This book illustrates the lengths to which Israel will go to take care of its people – wherever they are in the world.