BOOKRACK
By Vijitha Yapa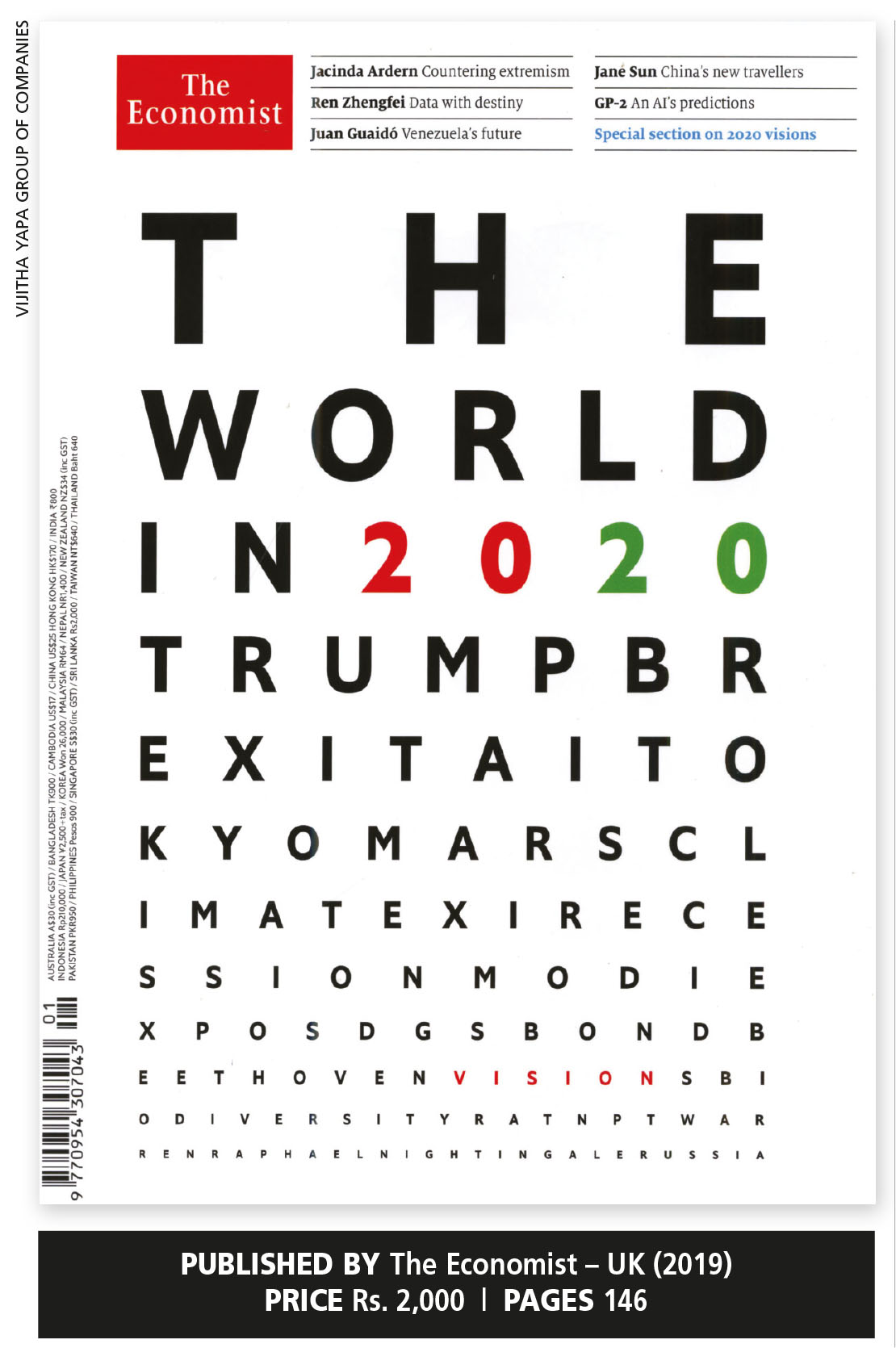 The Economist's annual forecast is available once again; and this year, there's a significant reference to Sri Lanka. So the editorial team completed its special publication by end October and under Sri Lanka, it stated: "Presidential elections in late 2019 will deliver victory to Gotabaya Rajapaksa of the SLPP, returning to power the clique that dominated under the previous president Mahinda Rajapaksa, Gotabaya's older brother."
Where are the Sri Lankan astrologers who predicted otherwise? They should have consulted The Economist's gurus!
The publisher predicts economic growth of 3.4 percent and a per capita GDP of US$ 4,360 for Sri Lanka – nearly double that of India, which currently stands at 2,480 dollars. Other South Asian countries are way behind with Bangladesh at US$ 2,080 and Pakistan at 1,220 dollars.
Executive and Diplomatic Editor Daniel Franklin says in his editorial that in the case of President Donald Trump, the Democrats in Congress will try to remove him but he will be saved by the Republicans in the Senate. Franklin predicts that it will be a febrile election and  Trump will lose.
On China's increasing global power, he believes that nations will have to choose how to position themselves between spheres of influence of China and the US.
The Economist's Editor-in-Chief says that the US election campaign and the weakening global economy will influence each other. Susan 'Zanny' Minton Beddoes feels the 2020 election will affect the very fabric of the US and democracy will be at stake.
She also warns that Germany will be close to recession in 2020 while the EU would face a budget shortfall due to Brexit.
On the matter of Sino-US relations, Beddoes feels a deal could be reached where America lowers tariffs, and China allows more market access and less pillaging of intellectual property. But the US wants China to stop offering aid to state owned enterprises, which affects the link between the Chinese state and its economy. Meanwhile, events taking place in Hong Kong are of concern not only to China but Taiwan as well. The 'one country, two systems' concept was designed to work in Hong Kong and woo Taiwan in the process. But Beijing's handling of the protests in Hong Kong is worrying Taiwan.
President Tsai Ing-wen who believes in an independent Taiwan wants to run for a second term and is likely to succeed. Her rival Han Kuoyu says that independence is "more scary than syphilis." But younger voters will hold the key if they believe that being dictated to by China is scarier.
As Japan's longest serving prime minister, Shinzō Abe is keen to showcase the 'new Japan' that its leaders have painstakingly built. The 2020 Summer Olympics to be held in Japan will help the country and Toyota's plans for a flying car (it will light the Olympic flame) are exciting prospects.
In Malaysia, the dramatic election victory of 94-year-old Mahathir Mohamad led to a change of fortunes for Anwar Ibrahim who was in jail on trumped-up charges for sodomy.
Mahathir arrested former PM Najib Razak on alleged corruption charges and said he would hand over power to Ibrahim in two years. He also dealt a deadly blow to corruption in a few weeks after taking office – something that the 'yahapalana government' couldn't do in five years!
There is a moving article by New Zealand Prime Minister Jacinda Ardern on the steps she took with French President Emmanuel Macron to stop the spread of terrorism and violent extremism online, following the attacks in Christchurch.
She has a simple message that's relevant to all politicians: "Politics is a place where we should make decisions based on the kind of values we teach our children."
In the meantime, Tibetans want the Dalai Lama to choose a successor who will lead them in the event of his demise. Where will his successor be found? Could it be in Tibet or the northeast of India in an area claimed by China?
The President and CEO of Nasdaq Adena Friedman laments that many high growth companies are choosing to boycott public markets to avoid dealing with regulatory burdens, negative media and frivolous lawsuits. She believes that when companies go public, the wealth they create is democratised.
This annual publication, which is a goldmine of information on what may await us in 2020, has many interesting insights by well-known personalities in the business world.
One observation that particularly interested me was the article by the founder and CEO of Huawei Ren Zhengfei. Battered by US legislators, he talks about chips continuing to scale down to even one nanometre and sees a 6G beyond the current 5G. But how will we channel this surge of data?