BOOKRACK
By Vijitha Yapa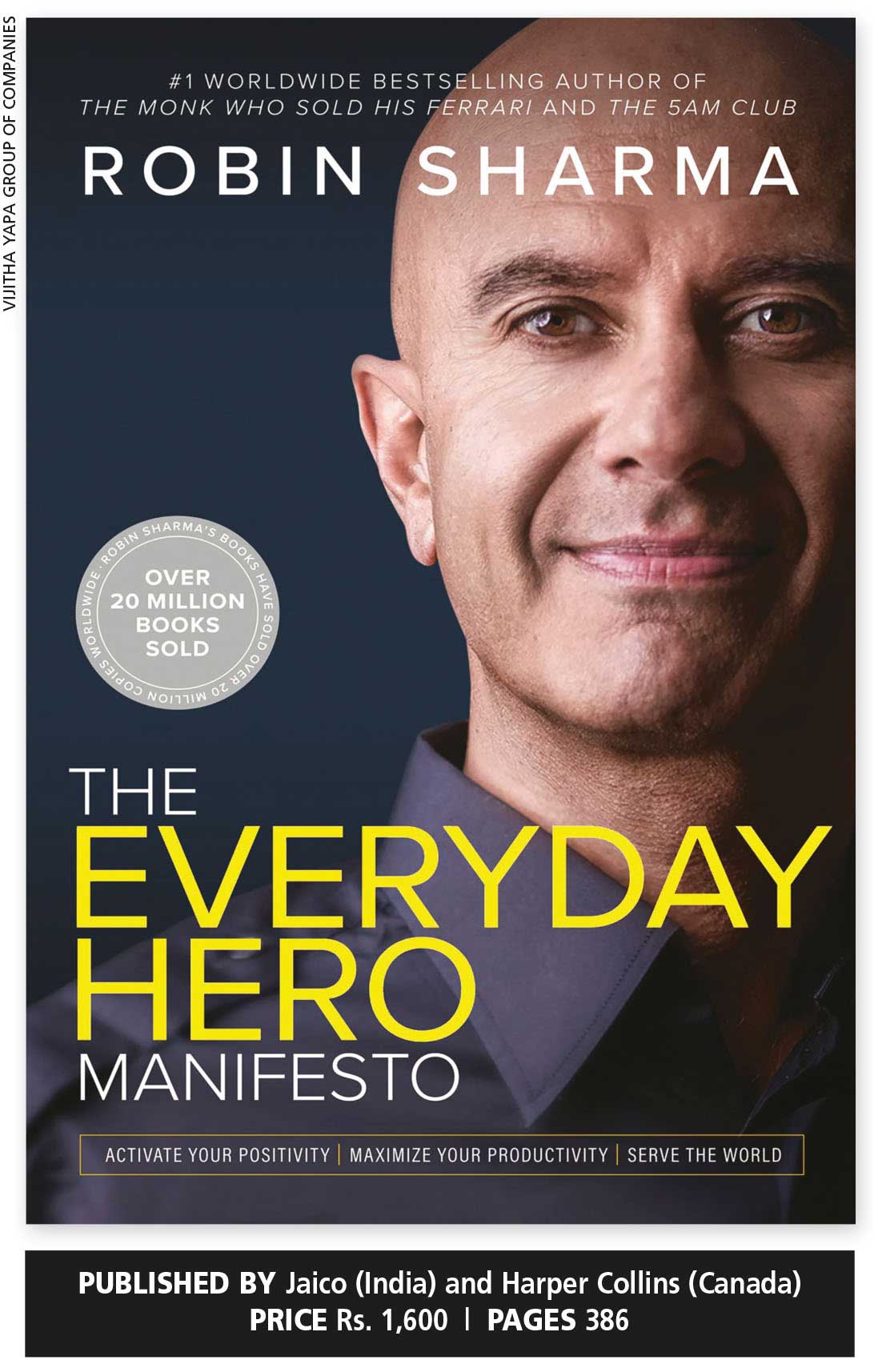 Robin Sharma, who made a name for himself with his bestseller titled The Monk Who Sold His Ferrari says that his new book – The Everyday Hero Manifesto: Activate Your Positivity, Maximize Your Productivity, Serve The World – may be his last.
His books have been inspirational to many and the fact that he has sold over 20 million copies is an indication of Sharma's reach. He is a true manifestation of American humorist Mark Twain's words: "Thousands of geniuses live and die undiscovered – either by themselves or by others…"
On the front cover, Sharma says: "Activate your positivity, maximise your production and serve the world." He is one person who has helped many to emerge from their shells and awaken to their true destinies.
The author describes the book as a chance to "discover a calibrated philosophy to materialise your finest talents, a revolutionary methodology to produce masterwork and a steady stream of insights to lead a life of breathtaking beauty, enduring joy and spiritual freedom."
He believes that taking an honest look at our failings helps us turn them into wisdom while embracing hurt allows us to transform it into strength. Sharma doesn't seem to be a strong believer in karma since he feels that "your past need not prescribe your future."
To him, time is precious and he posits that it's only too easy to spend one's existence climbing a series of mountains – only to end up realising the wrong ones had been scaled. He feels we are addicted to distractions and seduced by diversions that give us a false sense of progress.
His personal experiences are recorded to show how he set out to rebuild, rewire and recreate the person he was into a human being who drew power from an inner system of navigation rather than outer attachments such as position, material goods and prestige.
Sharma urges people to contribute to the construction of a culture where encouragement rather than criticism, leadership and not victimhood, ideas trumping gossip and love over hate will win the day.
He notes that while many in the personal development realm have a 'mindset is everything' mantra, each of us has an emotionality called a 'heartset.' And Sharma wants people to free themselves of any suppressed toxic emotions such as fear, anger, sadness, disappointment, resentment, shame and guilt.
Health is another important factor. As the English historian Thomas Fuller once said: "Health is not valued till sickness comes."
To tap into creativity, the author asks his readers to bend the rules that they once believed were the only paths to success. He warns that this may lead to misunderstandings, as well as being unappreciated or criticised, and perhaps even reviled.
Sir Winston Churchill once said: "You will never reach your destination if you stop and throw stones at every dog that barks."
Striving for success is everyone's plan. But once you achieve your immediate goal, one more comes up – and life becomes one challenge after another. So Sharma poses a very pertinent question: where does one's quest end?
His family, flowers and walks in the woods bring the author more happiness than cars, watches and houses ever could.
Another personal insight he elaborates on is that some people in business may say they would do amazing things for you; but once the deal is signed, they end up doing nothing.
Building relationships is a key to the success of any organisation. Sharma gives many instances of going that extra mile… but one that struck me most was about a hotel in Mauritius where the staff say before a question is asked: 'The answer is yes! Now, ask me the question…"
Another incident was at the Hotel du Cap-Eden-Roc on the French Riviera when a guest requested a tarte tropézienne, which is a brioche bun filled with cream. It was named by Brigitte Bardot when she was making the film And God Created Woman. The client was informed that the pastry was not on the menu, being a specialty of Saint-Tropez, which is almost 100 kilometres away.
But when the client insisted, the chef chartered a helicopter and flew to the finest bakery in Saint-Tropez and brought back the bun. The client was pleased and paid the bill, which amounted to 2,005 euros. That is five euros for the bun and 2,000 euros for the charter. The wish of the guest was more important than saying 'no.'
How is it that Sri Lankans give gifts to temples and expect their names to be enshrined as the giver? Sharma says that giving a present and expecting a return is not a gift at all. The author believes that if you want something in return, you corrode the splendour of the present you are gifting.