BOOKRACK
 By Vijitha Yapa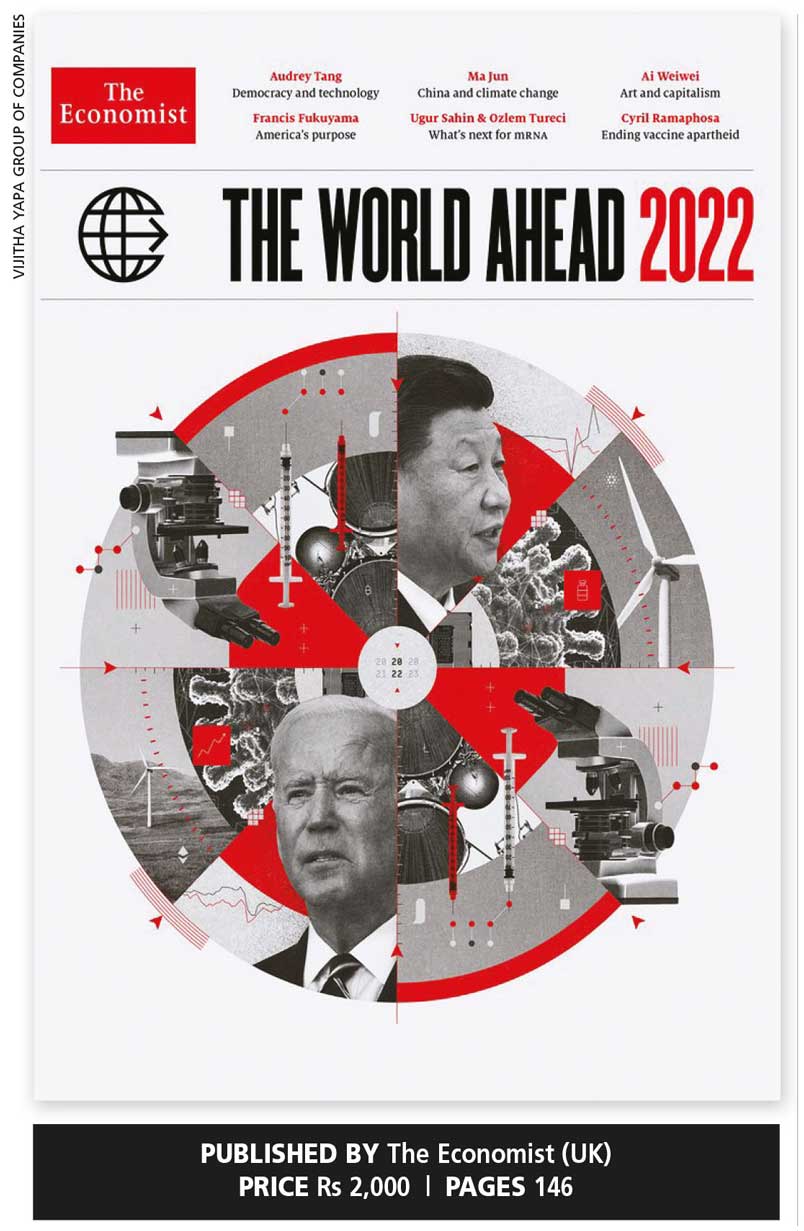 The Economist publishes an annual edition that previews the year ahead; it's an opportunity for the journal's editorial staff to offer their perspective on what may eventuate. And though not all their predictions come true, they do offer readers insights into and analyses of global events by some of the best brains in journalism.
Taking priority are elections of the US Senate and Communist Party of China's (CCP) Congress.
America has been preaching about the merits of democracy for years, advocating that nations across the globe should pay heed to human rights. It seems that the lessons it should have learnt after its defeat in Vietnam in 1975, not to mention the scenes of despair and chaos at Saigon airport, have taught the US nothing.
Events in Iraq and Libya, and the Americans' disastrous policies in the Middle East and their blind backing of the regime in Saudi Arabia, have led to a lack of trust. And most recently, there was the chaos in Afghanistan…
President Joe Biden is now trying to rally nations under the flag of democracy; but one wonders how many countries trust Uncle Sam. The Economist opines that America is a dysfunctional and divided land, and not a great advertisement for democracy.
Biden's popularity slumped to single digits at the end of November. And some Republicans are looking forward to Donald Trump being their presidential candidate once more in 2024. Apparently, a few Republicans  believe that the Democrats pose a bigger threat than Russia!
Meanwhile, China is making rapid economic advances; and Beijing feels it's much better at showcasing the advantages of stability, growth and innovation. The People's Republic has been defending itself on its poor record of human rights, and the internment of and action against Uyghur Muslims, but is currently singing a different tune…
The Chinese are trying to promote their model of governance as having delivered better results for its people in comparison to the hectic factions and individualism of America.
Chinese President Xi Jinping has established himself as the 'Great Leader' of China, surpassing even the reputation of Mao Zedong. The next congress of the CCP may see something akin to the coronation of its leader.
Xi has gradually taken control of China and broken with precedent by not naming a potential successor. It's a Chinese custom to set the stage five years ahead for the politician who will be its next president to emerge from the shadows and enter the spotlight. No one really knows who will succeed Xi – the man who wants to bring about changes not seen in the last 100 years.
There are also columns by well-known personalities in this edition.
In a special article that focusses on the horrifying images of desperate Afghans trying to flee Kabul when the Western-backed government collapsed in August, a Stanford University Senior Fellow says they seem to signify a turning point in world history as the
US turned away from leading the way.
He suggests the end of the American era had come much earlier than expected and that long-term sources of US decline are more domestic than international. Fukuyama surmises that America will remain influential for a while longer but this would depend on its ability to resolve internal problems rather than its foreign policy.
In India, Prime Minister Narendra Modi is riding high as he prioritises Hindutva. However, Modi has no children to hand over the reins of power. Meanwhile, there's little challenge to him as the opposition Congress Party is controlled by the Gandhi family and no immediate change is anticipated.
South African President Cyril Ramaphosa has called for an end to 'vaccine apartheid' if the world is to overcome the pandemic in 2022 – ironically, the Omicron strain of SARS-Cov-2 was discovered in South Africa in November. The urgency of vaccinating as many people as possible is being widely discussed since some countries continue to run more successful programmes than others.
The Economist says that unless vaccinations are stepped up globally, COVID-19 will become another of the world's many endemics. And since richer nations are better vaccinated, the virus may afflict the poor rather than the rich.
Another issue that the pandemic has created is more people working from home (WFH). In the new year, assessments will begin to find out how WFH has affected life at work.
Women are already showing signs that they aren't keen to return to the workplace. Sri Lanka has also had many government offices allowing their staff to work from home… but it's not clear whether this has been monitored to measure its effectiveness.