BOOKRACK
By Vijitha Yapa
Italian photographer and author Giovanna Silva seems to have decided in somewhat of a hurry to visit Sri Lanka, and click away while researching our extraordinary architect the late Deshamanya Geoffrey Bawa.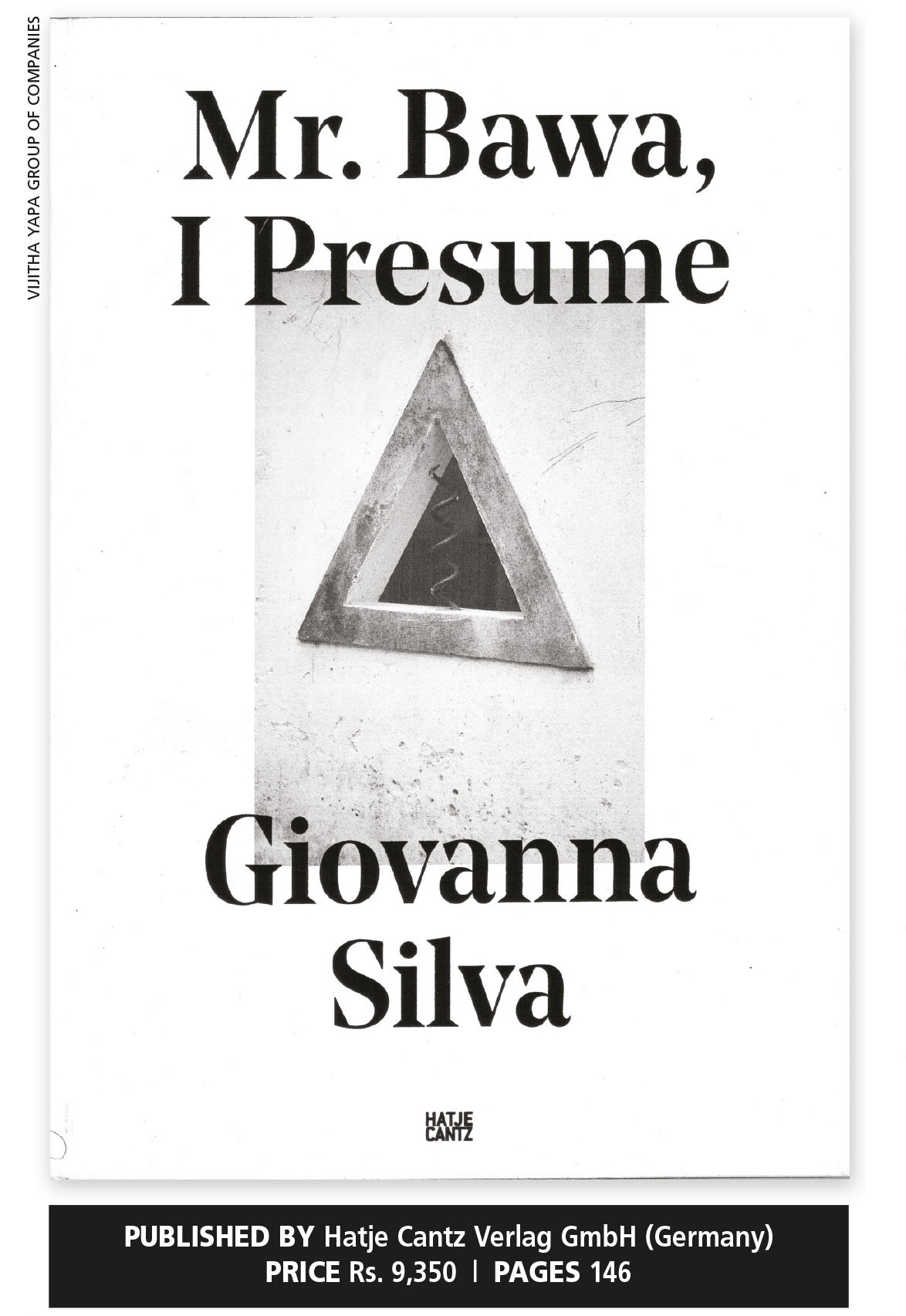 That is the first impression upon opening this large format book with a plain white cover and the title printed on it.
Architect, educator and professor at the Confluence School of Architecture in Lyon Luca Galofaro has written the introduction to the book. He
says that the photographs made him wonder whether the narration of architecture can be photographed since a sequence of physical sensations linked to the space and nature of places can be found here.
Silva presents a mixed bag of photos in black and white, and colour; but the reasons why some photos were included is a mystery. But I'm not an architect. Luca explains that in this work, Silva didn't simply photograph Bawa's architecture but travelled through her imagination in an attempt to tell us quite another story.
The author discusses Bawa's family, his studies at the University of Cambridge and how he nearly bought a villa in Italy near Lake Garda. Luckily for us, that didn't happen – Bawa invested in a property near Bentota in 1948 where he built Lunuganga.
She describes how it wasn't easy to purchase it as there were 45 owners. Bawa had to ask his lawyer to summon all of them for a meeting and tell everyone they couldn't leave the room without reaching an agreement. She provides some details of what he did in the context of the landscape rather than the buildings.
The rubber trees on the property were axed, and replaced with indigenous trees and plants, which is why Lunuganga estate has an English style country house, the Sandela Pavilion and an Italian style garden. He was obsessed with black and white, and this colour combination was seen in his Dalmatians, doors, floors, fittings and stairs.
Silva also writes about his creation Heritance Kandalama and calls it a 'da Vincian' landscape: "One that melts away into nothingness." She describes the greenery as a monument to "eco-sustainable architecture conceived long before anyone came up with such a word and far more extreme than its shy, insipid metropolitan replicas."
The author then discusses some of the school buildings designed by Bawa. For instance, at S. Thomas' Preparatory School, his mandate was to create a cool environment where there was plenty of light and very little glass. Silva was also intrigued by how he had used the services of a local artist when designing Bishop's College.
She explains how he lived a life surrounded by friends, collaborators and artists who contributed to what is traditionally known by the unpronounceable term 'Gesamtkunstwerk,' which means a work of art that uses all or many art forms. The term is a German loanword that has come to be accepted in English as a core term in aesthetics.
At St. Bridget's Convent, he reinvented traditional and essential construction methods. She points out the Béton brut that was used to model the curved lines of balconies and spiral staircases, also noting that the rounded walls and pitched roof give the appearance of a rural school building, which from a distance looked almost as if it was made of mud and straw.
Upon visiting various hotels, which had commissioned Bawa as the architect, she had been treated to umpteen sickly sweet cocktails but had managed to arrive in Bentota with a stable level of blood sugar.
She says what was designed with two hotels – Bentota Beach Hotel and Serendib Hotel – the railway station, the bridge leading to the beach, a square, a police station and a bank plus an artificial lake was what we might refer to today as a shopping mall, a tourist resort before the concept was even fully fledged.
The Seema Malaka at the Gangaramaya Temple is also described but she laments the replacement of the original black and white tiles with blue ones. Silva adds that the introduction of Thai Buddha statues hides the structure of the prayer area from sight.
Silva writes about Jetwing Lighthouse Hotel with its spiral staircase that comes to a dizzying end but has regrettably not provided any pictures to support her claim. The same is true of Heritance Ahungalla. The most beautiful sight upon entering the reception area is the infinity pool that merges with the sea in the distance. Alas, here too there isn't a picture of that area although there are plenty of other images of the hotel.
The author has devoted 140 pages to photos that would have been enhanced if they had suitable captions and an explanation as to why she decided to select them for publication.