BOC
BOC's 3rd "Aaradhana"-Live stage Performance- Showcasing Sri Lankan Classical Music with a breath of New Life.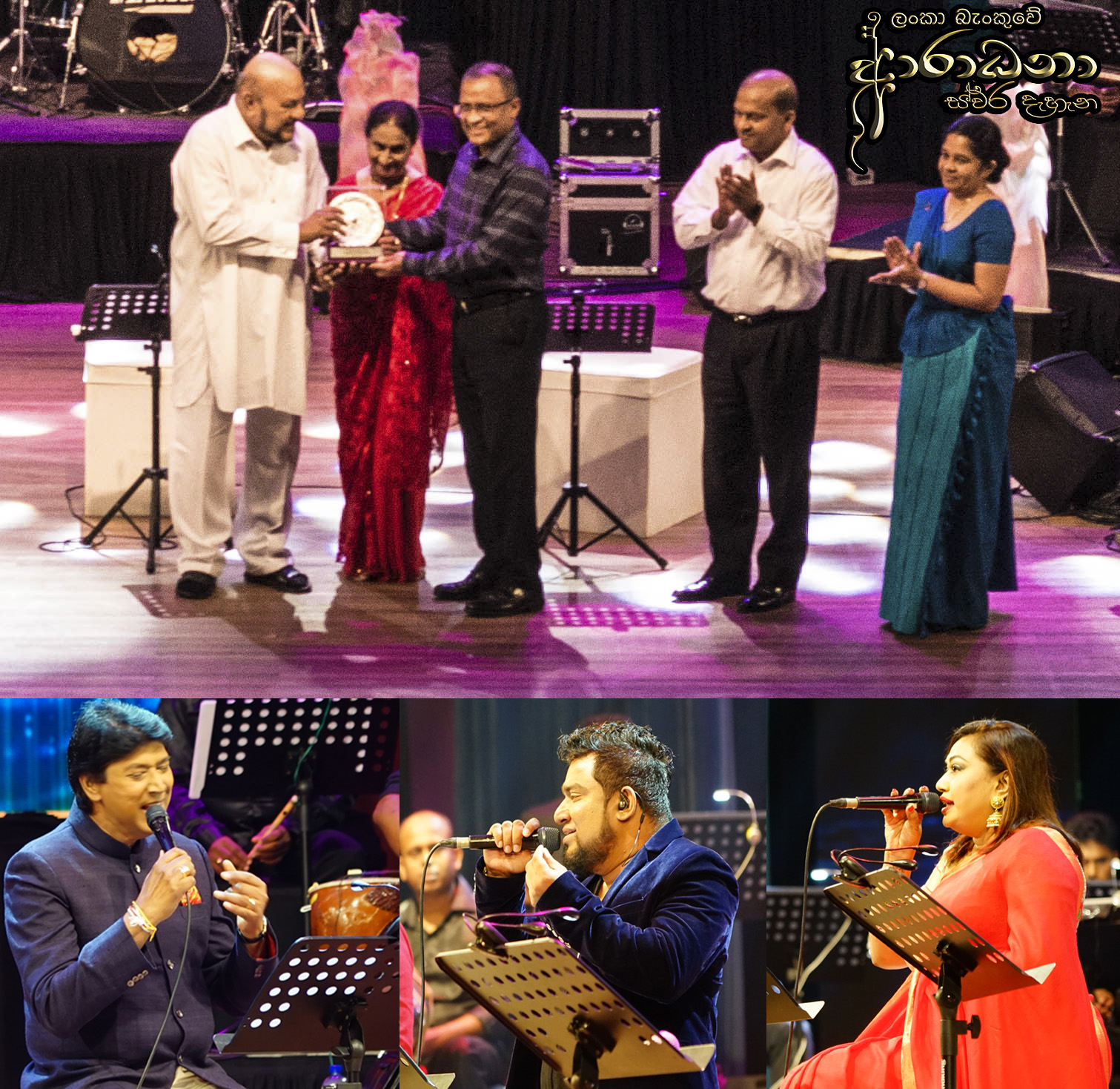 The Bank of Ceylon's "Aaradhana" Sri Lankan Classical Music concert was recently staged at the BMICH Colombo. The event took place on Tuesday, January 29th 2019 with the patronage of the Bank's CEO/ General Manager Mr. Senarath Bandara. . This was the third live stage performance presented and was made into a memorable spectacular evening with  maestro Prof. Sanath Nandasiri, Malkanthi Nandasiri, Keerthi Pasqual, Nirosha Virajini and Kasun Kalhara performing live for the audience including customers of the Bank of Ceylon and well wishers of the Bank adding colour. The event turned out to be a special occasion for music maestro Prof. Sanath Nandasiri as he was felicitated by bank's CEO/ General Manager Mr. Senarath Bandara, CFO/ Deputy General Manager Corporate and Offshore-Mr. Russell Fonseka and Assistant General Manager Marketing- Mrs. Priyanthi Wijesekara with a special token of recognition for his long-term contribution for the Sri Lankan Classical music. A special occasion was celebrated during the event as it was the birthday of the maestro Keerthi Pasqual.
A classical music program aired by Sri Lanka Broadcasting Corporation (SLBC) that was dedicated to Sri Lankan Classics for over forty years was rejuvenated and brought to a new level by upgrading the concert as a live-stage performance of renowned Sri Lankan artists. Dedicated to Sri Lankan classical music, this program was started with the patronage of the Bank of Ceylon and was produced by the SLBC. Now it has been transformed into a television program with the partnership of Sri Lanka Rupavahini Corporation (SLRC) engaging classical music enthusiasts across the country.
The very first program to take to the stage live was the one staged at the Bank of Ceylon Auditorium with the participation of maestros of music Victor Rathnayake, Dayarathna Ranathunga, Sunil Edirisinghe and Neela Wickramasinghe. The second live performance took place at "Nelum Pokuna" auditorium in August 2018 in line with the Bank's 79th Anniversary celebrations. It was performed by maestro T.M. Jayarathna, Somathilake Jayamaha, Amarasiri Peiris and Deepika Priyadarshani Peiris. It was evident from the feedback received by the organizers that these programs were warmly received by classical music enthusiasts opening a new platform for true Sri Lankan classics to re-emerge and be restored its proper place. The first episode of the latest live program will be aired in February and will continue to be telecast along with the other episodes consequently on Rupavahini  from time to time. The Bank together with SLBC and Rupavahini Corporation invite enthusiasts of Sri Lankan classical music to stay on course and enjoy.