BOC
Mr.Senarath Bandara appointed Bank of Ceylon's GM/CEO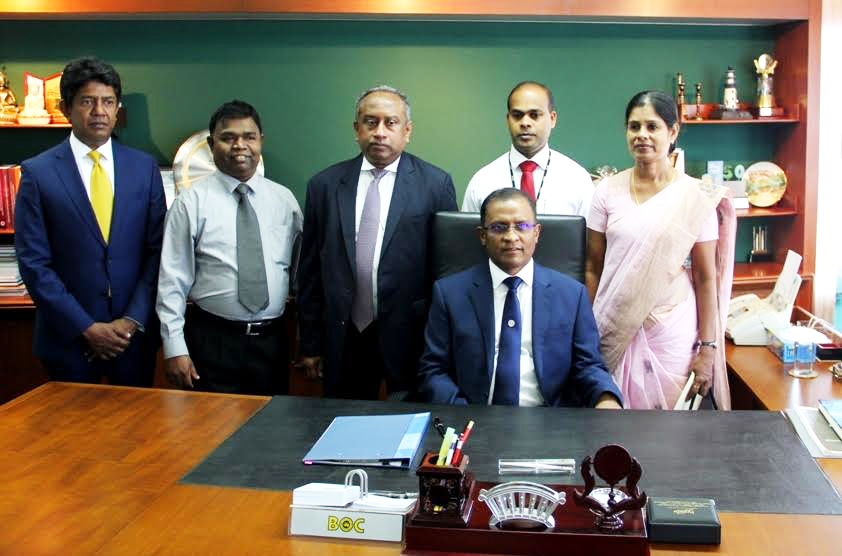 Colombo, Thursday, February 22, 2018: The Board of Directors of Bank of Ceylon (BOC) appointed Mr. Senarath Bandara as the Bank's General Manager and Chief Executive Officer on Thursday, 22 February, upon receiving approval from the Central Bank of Sri Lanka and other relevant authorities. The appointment comes in the wake of the retirement of Mr. D.M. Gunasekera, a career banker completing 34 years, who was appointed GM/CEO in January 2013.
A senior banker with an illustrious career at Bank of Ceylon spanning 28 years, Mr. Bandara was the Bank's Deputy General Manager (Sales and Channel Management) before assuming duties in his new position. He joined the bank as a Management Trainee in 1990.
He now becomes the 20th General Manager of the Bank and has gained considerable experience in key areas of banking such as treasury and international, retail and corporate banking, development banking, electronic banking and technology initiatives associated with these areas. He was the CEO of the Bank of Ceylon (UK) Limited from 2011 to 2012.  He successfully led several key projects including the London Branch subsidiarisation, core banking system upgrade and the Bank's transformation project.
He is on the Governing Board of the Institute of Bankers of Sri Lanka and is a Director of the Merchant Bank of Sri Lanka and Finance PLC. He is a Council Member of the National Chamber of Commerce of Sri Lanka and the incumbent President of the Association of Professional Bankers in Sri Lanka. He has also served as a Director of the Regional Development Bank.
Prior to joining the Bank, he was a Temporary Assistant Lecturer at the University of Kelaniya and was a Statistician at the Planning and Monitoring Unit of the Mahaweli Authority. He was also a resource person at the Institute of Bankers in the field of Credit and Investment Management.
Mr. Bandara graduated in Physical Science with a Second Class (Upper Division) from the University of Kelaniya and went on to acquire a Master's Degree in Business Administration (MBA) with a Merit Pass from the Postgraduate Institute of Management, University of Sri Jayewardenepura. He has completed the Advanced Management Program at Harvard Business School, USA and is a Fellow Member of the Institute of Bankers of Sri Lanka where he obtained a Postgraduate Diploma in Bank Management, achieving the Best Student Award.  Born and raised in Kurunegala, he studied at Indulgodakanda Central College. Mr. Bandara's wife is a teacher by profession.  His son is a Manufacturing Engineer with Tata Steel Europe in the UK and his daughter is a second year undergraduate reading for a biology degree.
Commenting on his aspirations in his new role, Mr. Bandara said "BOC's role in the economy goes beyond that of being a commercial bank.  It plays the vital role of being a catalyst in the country's economic development.  In recognition of this role, BOC will continue to strengthen developmental and SME lending.  In BOC's role as a commercial bank my focus is on proving a customer centric service and my mission would be to infuse the Bank's products and services with the latest technology so as to meet and exceed the expectations of Bank's customers ranging from individuals to corporate clients and to expand our overseas presence beyond its present level.  BOC has achieved a tremendous milestone by opening BOC Digi, taking digitalization to new heights for the benefit of our customers and I intend to take this momentum forward."
He also added "Therefore, last but not least, my sincere ambition is to achieve all of the above through harnessing the human resources of the bank in a way that creates a happy work force across all of BOC."