BUSINESS SENTIMENT
BIZ BAROMETER TAKES A TUMBLE
Businesspeople recoil in the face of post-poll concerns and mounting civil unrest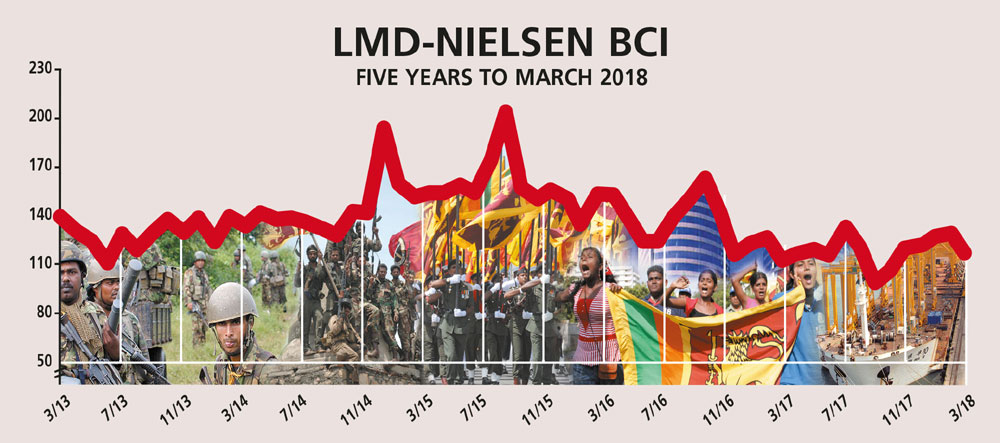 A tumultuous period followed the recent local government (LG) elections, which saw a perceived shift in power within the government and led to uncertainty regarding how the coalition partners might proceed.
The climate of uncertainty was soon exacerbated by racially motivated riots by extremist sections of the majority Sinhalese-Buddhist community targeting minority Muslims in the Kandy District, resulting in a government instigated state of emergency and social media blackout.
Social unrest creates uncertainty, which erodes business sentiment and investor confidence especially in an emerging market such as Sri Lanka – which as we know has faced similar challenges in the past. The Ceylon Chamber of Commerce (CCC) released a statement in which it notes that the reoccurrence of similar conflicts would have an adverse economic and social impact on the country.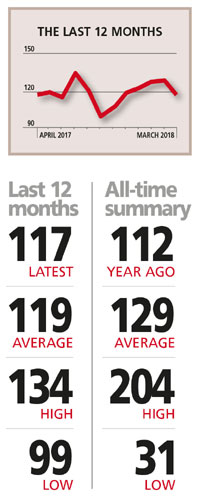 The government was urged to lift the state of emergency, as well as the ban on social media, by citizens and businesses alike. As the US Ambassador to Sri Lanka Atul Keshap said, the social media blackout impacts tourism, the IT industry, business and the country's reputation.
Unsurprisingly, the cloud of uncertainty stemming from political instability and civil unrest has had a telling effect on business as well, and this is reflected in the downturn in the latest LMD-Nielsen Business Confidence Index (BCI).
THE INDEX Following five months of slow but steady growth, the BCI shed 11 basis points (to register 117) in March. As a result, the index is now two basis points lower than its 12 month average of 119 – and worse still, it is 17 notches shy of the median during this time.
"The drop is probably a reaction to the local body election results… and the resultant anxiety of political instability," explains Neilsen's Managing Director Sharang Pant.
He adds: "The outlook is still cautious on account of political instability and the need for inflation to drop further … Positives from government policies are now emerging and it needs to stick to the course despite the electoral setback."
"Consistency will help build confidence and trust in the economy for businesses as well as consumers, which will result in a much awaited revival," he remarks.
SENSITIVITIES Taxation, political interference and inflation are among the major concerns for business although inflation has displayed signs of improvement in January, having declined to 5.4 percent from 7.3 percent in December.
Commenting on the impact on industry, a businessperson states: "Due to the country's adverse economic situation and unstable government policies, I do not foresee an improvement in our business in the current year."
PROJECTIONS Our prediction of "a U-turn from the BCI's recent trend" last month has turned out to be right and unfortunately, it is unlikely that the index will record any major gains in the near term.
So we would be content if business confidence doesn't head further south – such is the state of the nation at this time.
– LMD