COVER STORY
BEST WORKPLACES IN SRI LANKA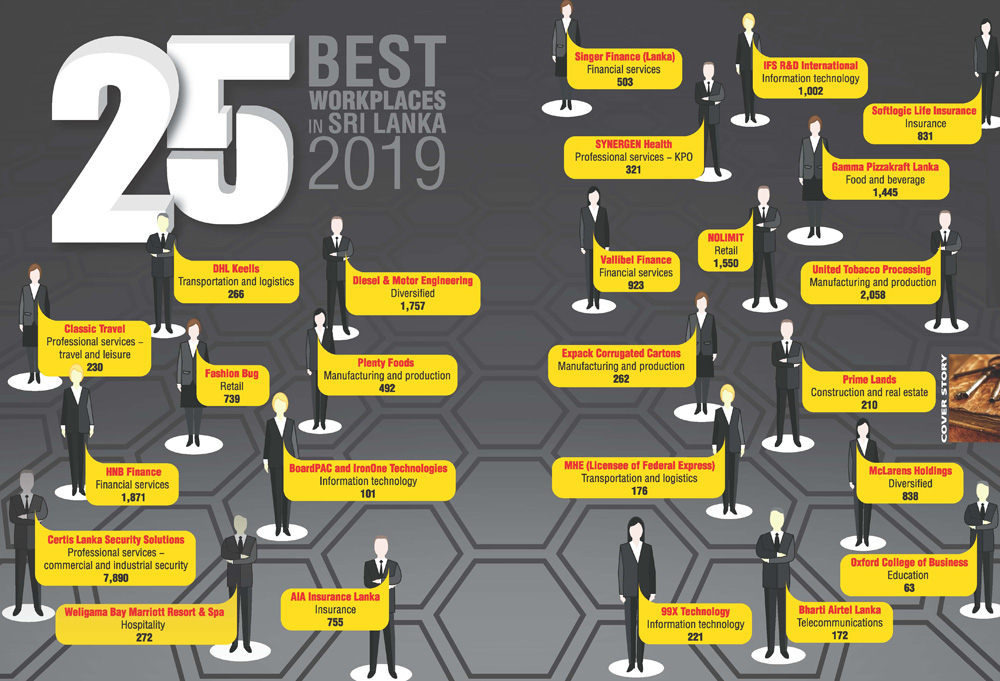 STUDY METHODOLOGY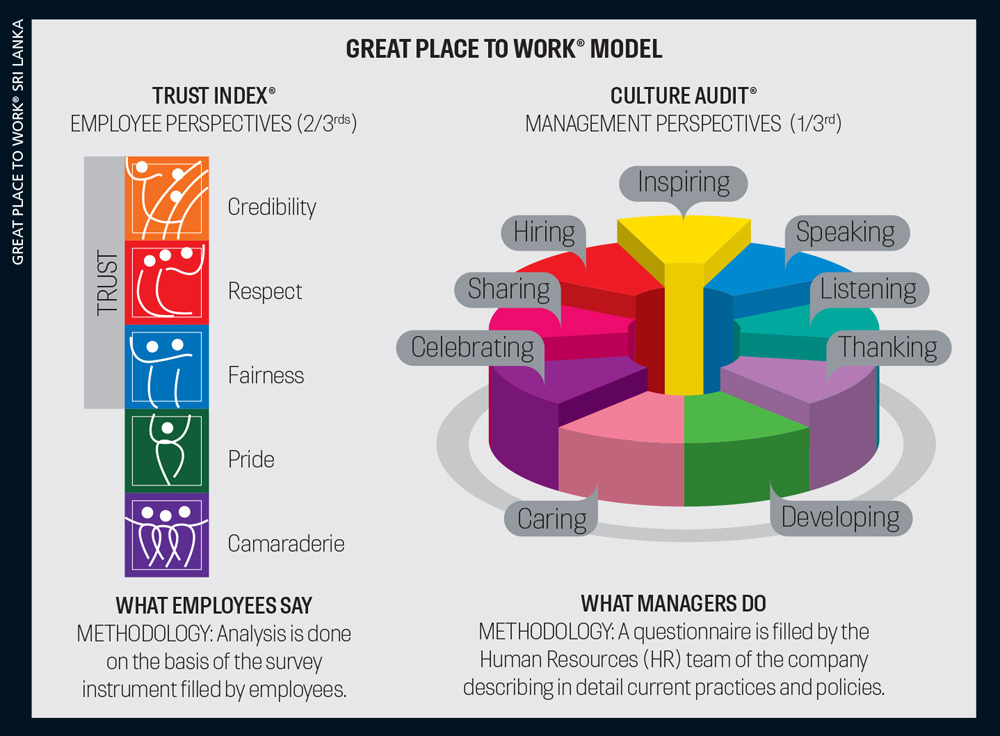 Great Place To Work® Institute is a pioneer in studying and recognising the best workplaces around the world. For more than 30 years and in 58 countries, Great Place to Work Institute has been conducting studies to understand and recognise the best workplaces.
Its study in Sri Lanka is based on the global model and a rigorous methodology, which has been researched, tested and carried out in similar studies around the world – including the Americas, Europe and Asia.
This model applies across all geographies, industries, and types and sizes of organisations, as it primarily measures the hygiene factors of trust, fairness and respect, which are considered the requisite foundation on which to create a 'Great Workplace.'

THE FIRST STEP The first step to being recognised as a great workplace is to voluntarily undertake a paid assessment with a view to being certified and opting to participate in the 'Best Workplaces' study.
While all organisations undertaking the Great Place to Work assessment have the opportunity to be certified upon meeting global standards, participants who submit their results to the Best Workplaces study and meet the global grades will additionally be considered for inclusion in the list of the 'Best Workplaces in Sri Lanka' each year.
To qualify for the national Best Workplaces study, an organisation must have 50 or more employees and be a registered entity in Sri Lanka for two or more years.
TWO LENS MODEL The Great Place to Work Model considers organisations from two perspectives: the employee perspective – whereby the employee's perceptions of the workplace experience are averaged using the Trust Index© survey; and the manager's perspective – to evaluate the culture of the organisation, and practices established by management for which the Culture Audit© tool is used to measure intent and quality of interaction with employees.
EMPLOYEE EXPERIENCE A unique employee centric framework is adopted to measure the levels of trust (viz. credibility, respect and fairness), pride and camaraderie that prevail in an organisation through the Trust Index survey, which is a proprietary employee tool developed by Great Place to Work.
Comprising 56 statements and using a Likert scale, the universal instrument measures employee experience through the five dimensions of the Great Place to Work model. Another five statements – customised to suit Sri Lanka – have been included to capture the local context and other cultural nuances.
Administered in multiple modes – i.e. online, paper and pencil or kiosk depending on the organisation's requirements – the survey is available in all three languages.
A rigorous methodology for maintaining anonymity is followed so that individual responses cannot be tracked by organisations participating in the survey.
This provides employees with an opportunity to provide candid feedback on the organisation and corroborates the credibility of the assessment.
Through two open-ended statements, the tool also captures employee comments about what makes their workplace great and what would make it better. And it encourages employees to submit their opinions and suggestions through anonymous responses.
All organisations that participate in the study are evaluated and selected primarily on the basis of their employees' responses to the Trust Index survey, which carries two-thirds of the weight in the overall score.
MANAGER'S VIEW The manager's perspective as well as practices established by management are measured by a pro­­­­prietary tool and evaluation fra­­mework called the Culture Au­dit. This is a comprehensive questionnaire in which the organisation submits detailed material on the practices it has adopted, which are subject to rigorous evaluation through the global Culture Audit EvaluationTM framework.
This instrument helps gauge not only an organisation's structure, demographics, compensation and benefits, but also its philosophy and values, and the manner in which they're integrated into their people practices. The remaining third of the overall score is derived from this Culture Audit.
PARTICIPATION For organisations that employ between 20 and 200 people, all employees are selected to participate in the survey by default to be considered for the first step of certification. Organisations with 200 or more employees have the choice of everyone participating or a stratified sample of randomly selected employees undertaking the Trust Index survey.
Sample selection is performed statistically by Great Place to Work systems. The eventual sample – which has a confidence level of 95 percent – is dependent on the total number of employees from the full list of staff members working in the organisation.
THE EVALUATION In order to maintain the accuracy and validity of the study, stringent audit processes are followed during and after completion of the survey. In addition, communications by the organisation to its employees are templated and pre-approved to ensure that the authenticity of responses isn't compromised.
The Trust Index survey scores are tracked and an audit requirement is triggered whenever abnormal trends are observed in the employee survey scores. There have been instances of employee opinions being solicited in a controlled environment if required – especially where the audit team has felt the need for further verification of employee survey data.
Furthermore, as Great Place to Work uses the two lens model that evaluates both employee perceptions and established practices, it can relate employee feedback to identify practices that may not be in effect, or are inaccurate or not implemented, which triggers a separate verification and audit of the practice itself.
There are also examples of organisations that have been disqualified from the process or not been considered for listing because they didn't adhere to the standard survey process established and accepted by Great Place to Work globally.
Maintaining and enhancing the rigour of the study is the topmost priority at Great Place to Work Institute, which prides itself on upholding this process.
---
IT'S ALL ABOUT TRUST
Great Place to Work® presents key insights derived from its study on the Best Workplaces in Sri Lanka for 2019
Great Place to Work® is considered a global authority on high trust, high performance workplace cultures. Through proprietary assessment tools and advisory services based on 30 years of research, Great Place to Work provides the benchmarks, framework and expertise needed to create, sustain and recognise outstanding workplace cultures.
Sri Lanka is one of the 58 countries that contribute to the largest global study of its kind that continues to validate the standard for being a 'Great Workplace.'
STUDY IN A NUTSHELL The seventh consecutive annual study in Sri Lanka surveyed a sample of 23,280 employees at a response rate of 83 percent, which represents a population of 50,950 employees. Over 90 organisations across 20 main industries registered for the study. Selecting the list of Sri Lanka's 25 Best Workplaces for 2019 and the accompanying analysis were conducted using the sample data.
A 'Great Place to Work' is based on three key relationships whereby employees trust the people they work for, have pride in what they do and feel a sense of camaraderie among those with whom they work. A great workplace is one that sustains a high trust culture.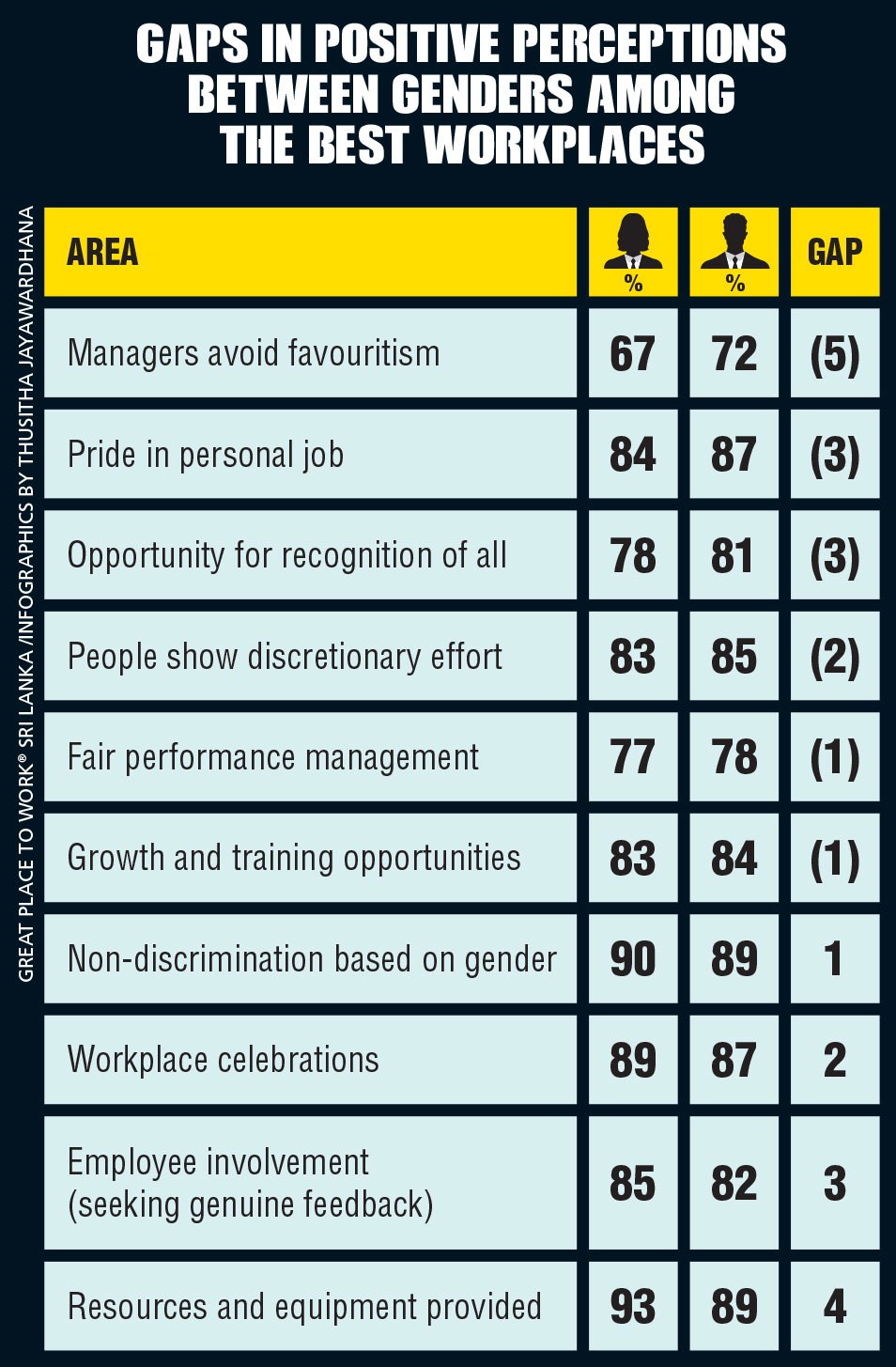 BEST WORKPLACES When the workplace experience was collectively averaged through the Trust Index©, employees of the 25 Best Workplaces asserted 84 percent positivity. These employees also rated the pulse statement of 'taking everything into account, do you believe your organisation to be a Great Workplace?' with an average 88 percent positivity.
According to Great Place to Work research, a positive gap of five to 10 points between the pulse and collective perception indicates a healthy workplace as it reflects a bond that employees have with the organisation over and above the daily experience. The 25 Best Workplaces have consistently maintained a positive gap. Moreover, the gap has been decreasing as the positive perception regarding the daily experience of employees improves yearly.
Five dimensions are central to building trust and creating a great workplace culture: credibility of management, respect for the individual, fairness in the organisation, pride in work and camaraderie among colleagues.
Pride (87%) continues to be the highest scoring dimension for which employees of the Best Workplaces are very vocal – by way of comments on pride in the organisation's brand, story, culture and achievements.
On the other hand, fairness (81%) remains the lowest scoring dimension with employees being sensitive about elements such as equity and impartiality. This trend in dimension scores is matched by global and regional workplaces too.
Whereas all the dimension scores ranging over 80 percent are perceived as healthy and reflect a personal best for Sri Lanka's Best Workplaces, a comparison with Asia's Best Workplaces reveals that there is room for improvement.
Areas that are highly correlated with the overriding perception of a great workplace are considered key drivers, which are significant in the context of Sri Lanka and its 25 Best Workplaces. They are focus areas for organisations that wish to be recognised among the best in Sri Lanka.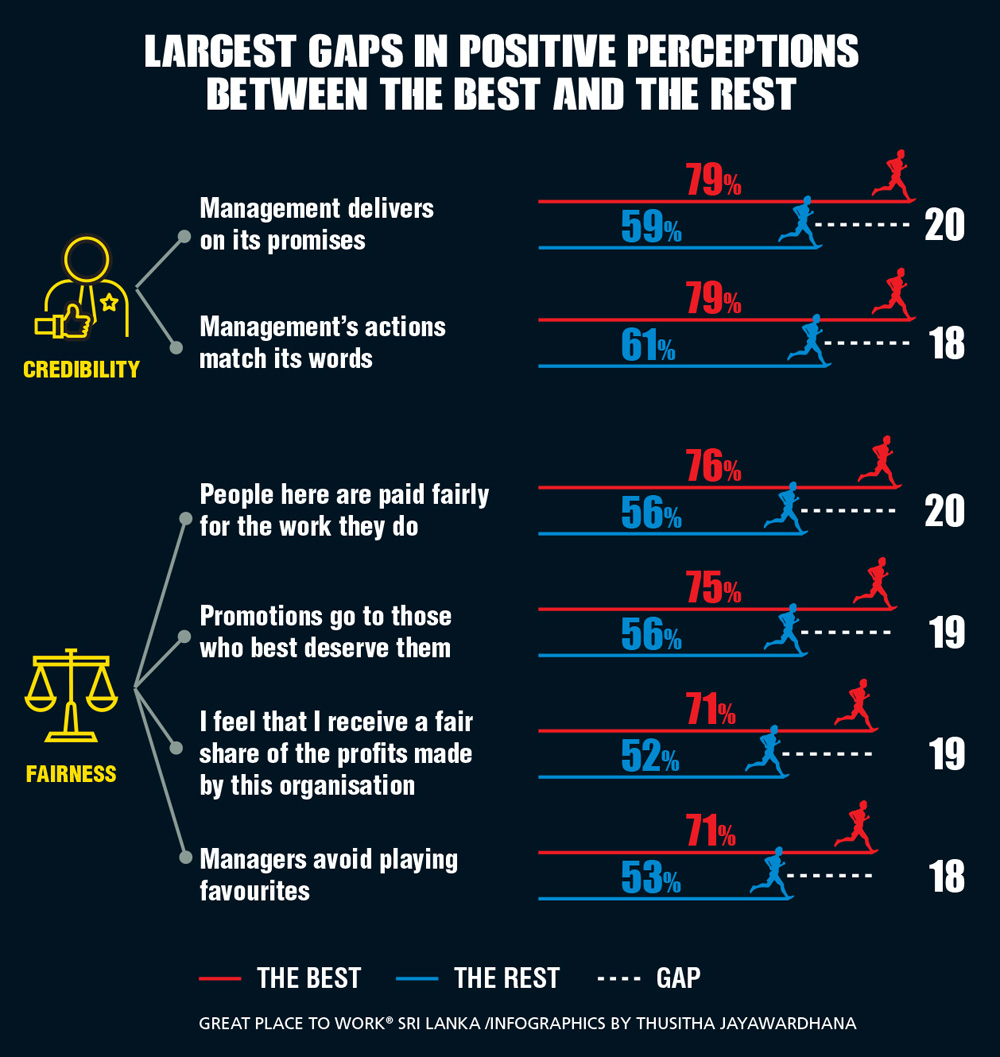 DEMOGRAPHIC HIGHLIGHTS It is commendable that the overall positive perceptions of males and females among the 25 Best Workplaces are equal (84%). And a more in-depth look at the areas measured reveals that the perceptions of the genders vary – but not by much.
The main differences relate to perceptions regarding manager favouritism (-5%) and pride in making an impact (-4%) where females are less positive compared to males. The largest gap by which women are positive (4%) is for being satisfied with resources provided for the job.
However, there is room for the 25 Best workplaces to advance by including greater numbers of females in the workplace. The study participation indicates that only 27 percent of respondents are female, which doesn't reach the national average of 33 percent in the workforce.
The average perceptions of age groups among the 25 Best Workplaces highlight 26 to 34-year-olds as being the least positive (81%). This is noteworthy given that it represents 37 percent of respondents among the Best Workplaces and is composed solely of millennials.
There isn't a single area that this age group marks higher than others, indicating it to be the most critical of the workplace experience. Millennials highlight fairness as an area of concern, and fun and inclusive workplaces as key points of appreciation.
Comparing results to the two previous studies reveals that there has been an average two point drop in employee perceptions among the Best Workplaces when it comes to the availability of career opportunities (83%), avoiding workplace politics (78%), workplace fun (80%) and celebrating events (88%).
And there was an unusually high negative perception (14%) in the case of workplace politics. Therefore, it is important for the Best Workplaces to focus on these areas to halt the slide in positive perceptions.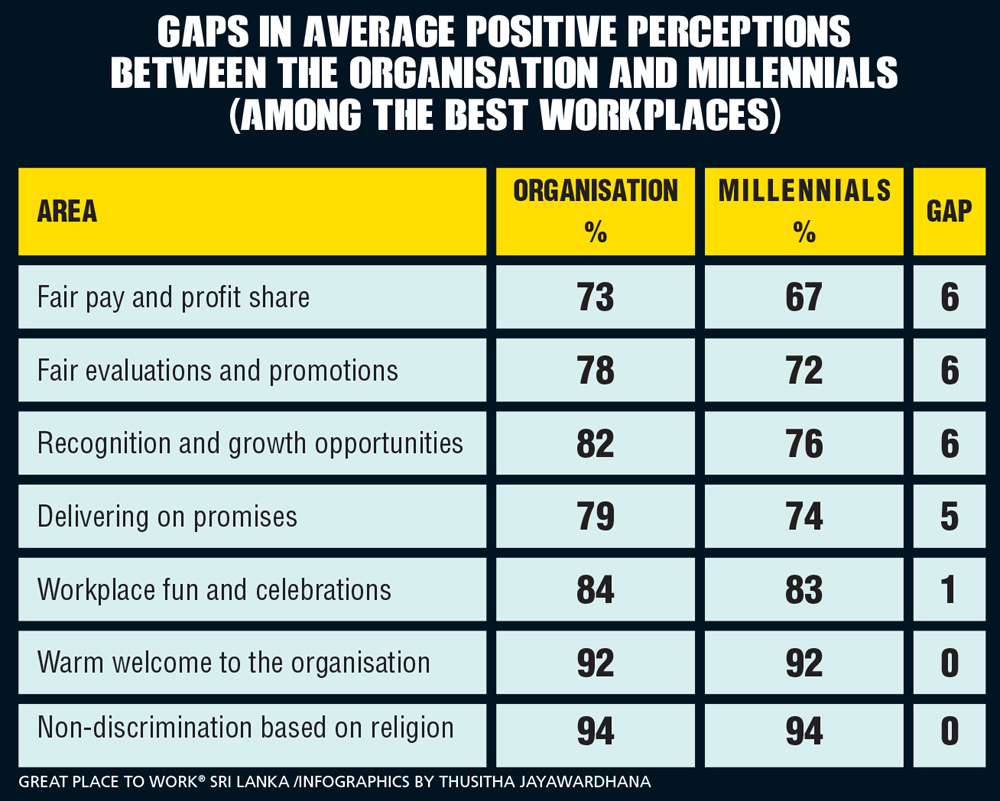 BEST VS THE REST While non-discrimination, physical safety, a friendly workplace and pride in the organisation are areas of the study with the highest employee perceptions, they're common strengths for both the best and the rest. Therefore, the differentiators between the best and rest are of major interest.
The key differentiators between the best and the rest are represented by the dimensions of credibility and fairness. Manager reliability and favouritism, as well as fair pay and promotions, remain the lowest scoring areas of the study for both the best and the rest. However, as the best are on average of 19 points ahead of the rest in these areas, these are clear separators that offer the best a competitive advantage.
As the list includes 20 repeat list makers, it is also notable that the best have demonstrated continuous improvement in these areas over the years. This confirms that remedial action is resulting in better results over time.
A fundamental question that arises when comparing the best with the rest is whether managers play a role in differentiating the workplace experience.
Scrutinising the nine areas of people manager capability measured by Great Place to Work confirms that the answer is yes, managers of the best garner an average of 15 point higher employee perceptions in contrast to the rest. Of these areas, the strongest differentiator was observed to be that of 'leadership.'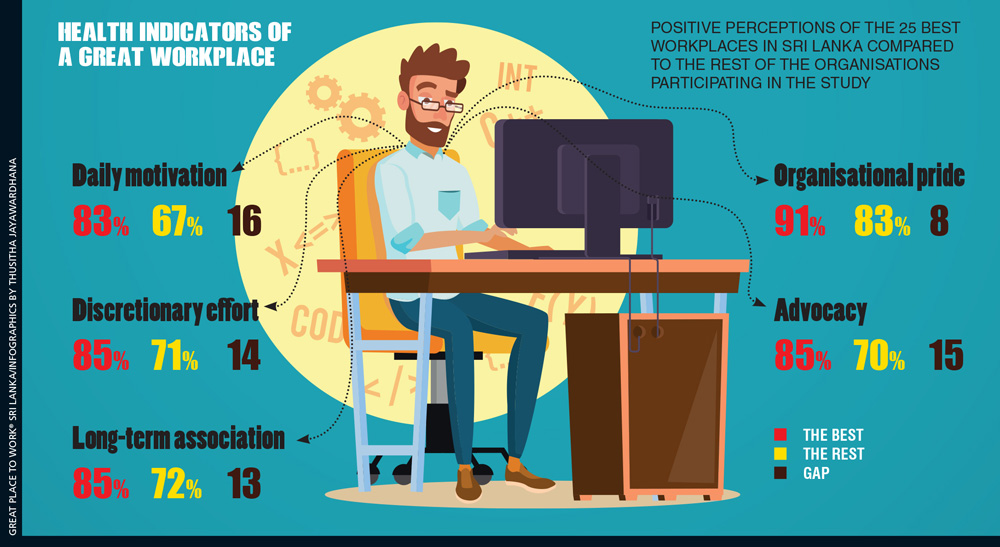 Among the many statements measured in the Trust Index survey are five that are of great significance as they indicate the health of the work environment. These reconfirm the health of the Best Workplaces compared to the rest.
Overall, the 25 Best Workplaces (84%) maintain an average 14 point lead over the rest (70%) in the 2019 study. Both sets of organisations have witnessed an increase in average employee perceptions compared to the previous year. Notably, the average for the rest has increased by more, thereby reducing the average 17 point gap in 2018 by three points.
In comparison to 2018, the largest gaps have also reduced by about four points each. This highlights the fact that competitors are continuously working to catch up, and it is up to the Best Workplaces to find new and creative ways of maintaining a lead or face the threat of being replaced.
Great Place to Work's mission is to support in building a better society by helping organisations transform their workplaces and create a high trust, high performance culture. No matter where you are in your journey, you're invited to join in and contribute to achieving the vision of making Sri Lanka a great place to work.
FOOTNOTE For more information on how to begin your journey in creating a great workplace, contact 4545594 (or visit www.greatplacetoworksl.lk).
---
CATEGORY AWARDS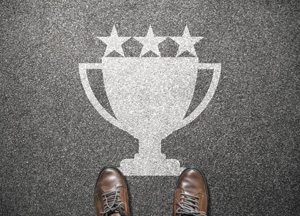 Every year, the Great Place to Work® category awards distinguish organisations that demonstrate excellence in specific areas of people management that contribute to the primary goal of inculcating a great workplace culture in Sri Lanka.
Organisations that best demonstrate the criteria under consideration are acknowledged under four award clusters: Excellence in People Initiatives (three selected practices), the Cube Awards for Special Recognition (two selected areas), Organisation Size and Classification, and Laureates (organisations listed for five years in a row).
This year, organisations have been evaluated on the basis of focus areas that are applicable to the present workplace culture in Sri Lanka.
EXCELLENCE IN PEOPLE INITIATIVES Great Place to Work in Sri Lanka considers the Excellence in People Initiatives recognition as an opportunity to build awareness and inspire best practices that support in creating and sustaining a great workplace.
Winners in these categories score high in both people practices (two-thirds of the final score) as well as their respective employee perception scores (one-third of the final score).
Great Place to Work's research over the last 30 years has categorised nine practice areas that an organisation's managers must focus on to generate an impactful employee experience that engages employees and offers them an advantage over others.
The three practices selected for this year's awards are of particular relevance to areas that can be better managed within the Sri Lankan workplace culture to foster superior employee engagement – viz. employee appreciation, employee grievance management and CSR.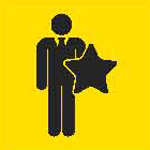 EXCELLENCE IN EMPLOYEE APPRECIATION This award revolves around the practice of thanking employees. Recognising employees' good work and extra effort is essential in motivating them to continue to strive to provide their best performance at work.
Great workplaces build pride in consistently delivering personal bests by creating an appreciation based climate of approval. These organisations also utilise a variety of peer, team and community level appreciation initiatives, to promote team bonding and camaraderie among the workforce. Such schemes can be tailored to inject some fun into the workplace too.
Overall, employees are more enthusiastic about their work when they feel recognised as contributors.
Additionally, appreciation of professional accomplishments supports the professional development of employees thereby displaying respect for employees. Showing respect improves employees' perceptions of how they're treated by management and increases their trust in the organisation. Such an environment fosters smoother execution and increased productivity.
Furthermore, public acknowledgement of discretionary effort through a fair process inspires other employees to perform better as well.
EXCELLENCE IN MANAGING EMPLOYEE GRIEVANCES Effective employee grievance management is vital to avoiding demotivation of employees arising from unresolved or mismanaged complaints. It supports employees to address undesirable workplace situations and resolve conflicts with their managers in an equitable manner.
When employees are assured of justice in an environment that supports fair treatment of all, it builds trust and enables people to focus on work contributions rather than on politics or personal defence. This enables management to avoid wasting time overcoming prejudices and benefit from smoother execution.
Best practices include not only a fair hearing but a fair process for employees to appeal decisions as well, thereby not only ensuring that justice is done but all involved are in agreement. In some organisations, grievance redressal is managed by employee courts to share decision-making power.
Typical schemes incorporate measurement and elements of natural justice such as a sense of proportion, hearing both sides of the conflict and equal application of the process to all.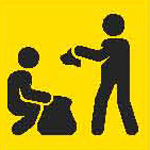 EXCELLENCE IN CORPORATE SOCIAL RESPONSIBILITY Contributing to society showcases an organisation's commitment to be of service to the communities in which it is located. This builds the brand around being a responsible corporate citizen, increasing public goodwill and employee pride in association with the organisation.
Great workplaces utilise this area to engage employees by making it an opportunity to build team spirit, donating generously to areas that employees are passionate about and involving them in volunteerism efforts instead of simply donating money. Contributing is a key area that aligns with millennials' need for a sense of purpose and drives motivation in that demographic.
Best practices leverage on the organisation's core competence and values, to determine focus areas and methods of employee involvement. Branding CSR initiatives around core organisational values fosters a stronger connection with the organisation.
It is important to also support a work-life balance to enable active employee participation in CSR efforts. Measuring the effectiveness of CSR endeavours helps sustain the impact of initiatives in the long run. 
CUBE AWARDS FOR SPECIAL RECOGNITION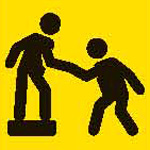 BEST IN CAMARADERIE One of the five dimensions of creating a great workplace, camaraderie refers to the relationship between employees. Great Place to Work® measures employees' sense of camaraderie by assessing the quality of intimacy, hospitality and community within the workplace.
Intimacy assesses people's enjoyment of their colleagues, sense of openly being themselves and counting on each other for support. It fosters genuine relationships based on trust so that people cooperate and provide assistance when needed.
Hospitality measures the extent to which employees feel that the work environment is friendly, welcoming and enjoyable. It contributes to a better quality of experience, maintaining positive morale and longer employee retention.
Community reflects the deepest level of camaraderie developed in a group dynamic and assesses the extent to which employees have a sense of kinship through a 'team' or 'family' feeling. This encourages employees to derive a greater sense of belonging and commitment, and work toward a common interest instead of personal agendas.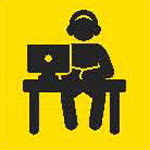 BEST WORKPLACE FOR MILLENNIALS Great Place to Work's global research through the Best Workplaces study highlights that while a high trust culture has a positive effect on all generations, the impact is much higher on millennials. Therefore, prioritising a trust based culture that engages millennials is a business imperative.
Millennials – or Generation Y – are generally accepted as a demographic group born between 1981 and 1996, and are therefore part of the current workforce in the 23-38 age bracket. However, the definition can vary in different contexts. According to Sri Lanka's latest labour force survey, approximately 32 percent of the active labour force consists of millennials (i.e. 25 to 39-year-olds).
Great workplaces focus on five key areas to keep millennials engaged.
Firstly, they focus on millennial managers. Some organisations fail to realise that a large number of managers in the workforce are millennials themselves. Purposeful work, personal connection and candid feedback are as important for them as they are for those they supervise.
Second, it is important to tie the organisational mission to employee purpose. Millennials seek professional opportunities that help them feel that they're making an impact. This is not about saving the world but understanding the purpose of work, witnessing its impact and a job fit that resonates with their personal values.
Thirdly, create an authentic experience. Management must ensure that its actions match its words. If a promise is made, millennials expect this to be reflected in their daily work experiences.
Fourth, strengthen the internal and external organisational employer brand. Many millennials shop for jobs as they do for other consumer products. Therefore, highlighting as well as living up to the employer brand is more crucial than ever to attract and retain young talent.
And lastly, build a great workplace for all. Due to the societal trends and experiences of their upbringing, younger employees expect equal treatment for everyone based on contribution, no matter what their background or role in the organisation is.
CATEGORY AWARDS BY ORGANISATIONAL SIZE AND CLASSIFICATION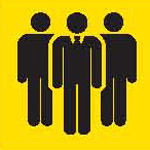 ORGANISATION SIZE (EMPLOYEE STRENGTH) The intricacies and challenges of maintaining a great workplace culture for all employees vary with the size of the employee population. Organisations ranked among the three best in class in their respective employee strength category (Small Organisations of less than 200 employees, Medium Organisations of 201 to 750 employees, Large Organisations of 751 to 1,500 employees and Extra-Large Organisations of over 1,501 employees) are felicitated through this cluster of awards.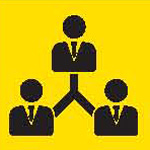 ORGANISATION CLASSIFICATION This includes the top MNCs and PLCs in Sri Lanka. The leading multinational corporation as well as public listed company in Sri Lanka have been selected on the basis of the highest combined score in terms of employee perception through the Trust Index© survey and people practices with the Culture Audit©.
LAUREATE STATUS
It takes a continued focus and commitment to a cause to sustain a great workplace culture. Organisations that have demonstrated a proven commitment to employee engagement and people management by gaining a place in the list for five consecutive years are recognised as Laureates among the Best Workplaces.
The following organisations join the list of Sri Lankan Laureates this year: DHL Keells, Gamma Pizzakraft Lanka and Prime Lands. 
BEST WORKPLACES IN ASIA
The Great Place to Work annual study of Asia's Best Workplaces recognises great workplaces in the Asia-Pacific and Middle East. More than 1,200 organisations are considered, representing the voices of over 1.6 million employees across eight countries. The list recognises the 75 Best Workplaces that fall under the categories of Best Multinational Workplaces in Asia, Best Large Workplaces in Asia, and Best Small and Medium Workplaces in Asia.
Eight organisations operating in Sri Lanka have been recognised by the Asia list for their dedication to sustaining high trust cultures for their employees: DHL Keells and MHE (Licensee of Federal Express) (Best Multinational Workplaces in Asia); Diesel & Motor Engineering and HNB Finance (Best Large Workplaces in Asia); and 99X Technology, Expack Corrugated Cartons, Softlogic Restaurants and Oxford College of Business (Best Small and Medium Workplaces in Asia).
FOOTNOTE Winners in each category will be announced at the Great Place to Work® Sri Lanka Awards Ceremony this month.
---
PROFILES OF WINNERS