BCAS CAMPUS
SOLENT UNIVERSITY GLOBAL MBA BY BCAS CAMPUS
Q: Could you tell us about the Global MBA programme offered by Solent University – UK?
A: Global MBA is one of the premium master's programmes awarded by Solent University, a public research university based in Southampton in the United Kingdom.
Solent University is a member of QAA (Quality Assurance Agency for Higher Studies – UK); and it is ranked 26th among UK universities for business management and marketing. It was awarded four stars in the latest QS Stars international rating system in 2019.
The Global MBA enables students to experience a diverse range of contemporary business subjects by engaging with businesses, and investigating real world situations and challenges.
Therefore, this programme is ideal for international students who are interested in a range of corporate management areas – such as strategic management, operations management, human resources management and so on.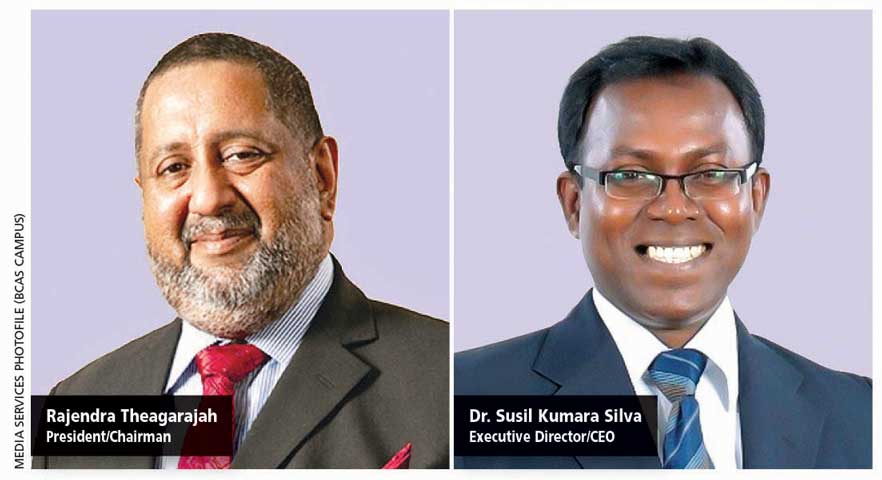 Q: How would this programme add value to the portfolio of an MBA candidate?
A: The Global MBA is designed to offer students the opportunity to acquire knowledge in all key areas of business management and an in-depth understanding of the challenges posed by the global economy.
It also helps students gain practical experience in a multitude of real-time business activities through a collective and participatory learning process.
Further, completion of the MBA guarantees advanced learning and the analytical skills necessary to take up senior management positions in any institution. By enrolling in this programme, you will be considered an internal student of the Solent University, UK. Students will also have unlimited access to the Solent online portal to access study material.
The programme duration is one year, which includes a research project, and the syllabus is delivered through convenient lecture schedules. BCAS offers flexible payment options that make the cost of education more manageable for students and their families.
Q: What is the next course of action for a student who completes the programme?
A: Completing an MBA is an excellent prospect to advance your horizons and gain competencies for a fulfilling career.
Upon completing the Global MBA, an internal degree that is recognised by the University Grants Commission (UGC) and World Education Assessment (WES) will be awarded. Completion of this degree would undoubtedly provide a pathway to a PhD and earn students Chartered Manager (CMgr) status, which is highly regarded for migration.
Q: And what is the affiliation of BCAS Campus with Solent University?
A: BCAS Campus is the exclusive local partner of the UK's Solent University. The institute provides excellent teaching, learning and other facilities to students in a friendly environment.
Established in 1999, BCAS Campus is currently one of the top ranked private higher education institutions in the country. It offers more than 30 academic and vocational courses in a wide range of market related streams – such as civil engineering, quantity surveying, computing, management, law, biomedical science and hotel management.
These courses are offered at different levels: degree foundation, BTEC HNDs, undergraduate, top-up degrees and master's.
BCAS operates in Colombo, Mount Lavinia, Kandy, Jaffna and Kalmunai, and has produced over 18,000 alumni to date. A testament to its excellent academic standards and above par teaching quality is the fact that BCAS has won more than 18 local and international awards.
Deciding to enrol with Solent University's Global MBA at BCAS could be the smartest decision you make if you aspire to reach the pinnacle of your career.
– Compiled by Isanka Perera
Rajendra Theagarajah
President/Chairman
Dr. Susil Kumara Silva
Executive Director/CEO
COMPANY DETAILS
Telephone:0778 444555
Email:info@bcas.lk
Website: www.bcas.lk