BANKING SECTOR

Compiled by Yamini Sequeira
CAPTURING PEOPLE'S HEARTS
Sanjaya Senarath believes that connecting emotionally helps build brands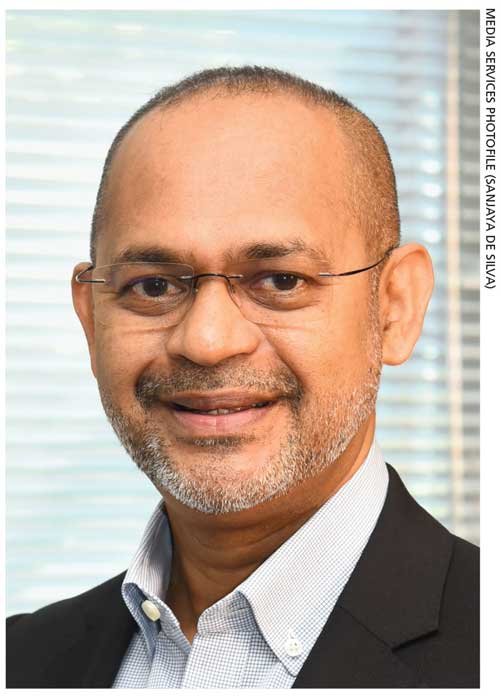 Q: What are the challenges faced by marcom in the banking sector?
A: The past couple of years have brought about many challenges due to the pandemic and economic crisis. Amid these challenges, reputation management, and retaining trust and faith in brands, has become a priority – especially with misinformation making rounds on social media.
There has been a shift in consumer lifestyles, media consumption habits and expectations. As the banking sector follows strict regulations, marcom teams had to ensure that all communications were in compliance with regard to data privacy, consumer protection, advertising standards and financial disclosures. Maintaining compliance while delivering effective marketing messages can be complex.
Q: How can strong brands connect with customers amid uncertainty?
A: Connecting with customers during such times requires empathy, sensitivity, agility and a customer-centric approach. By being proactive, transparent and supportive, strong brands in the sector can reinforce their position as trusted financial partners.
Clear, transparent and timely communication is crucial. Banks use multiple channels to reach customers depending on their audience – such as mobile notifications, social media, website announcements and media in general.
Such institutions must demonstrate that they understand customer pain points, and be supportive through personalised, tailor-made and educational messaging and content.
Banks can use effective digital tools and platforms for customers to perform transactions seamlessly at their convenience – such as mobile banking apps, online banking, smart ATMs/ CRMs, and information portals powered by AI and chatbots.
Q: And how does brand building support sales and marketing?
A: As Antonio Damasio says, "we are not thinking machines that feel; we are feeling machines that think." Humans are not rational – rather, we're rationalising beings. Most decisions are made emotionally and later rationalised.
This is part of our primal brain and if we aren't activated emotionally, the brain goes to sleep. Therefore, building a powerful brand is vital in capturing a share of mind as an emotional bond helps propel sales.
Brand custodians must create a positive and consistent brand experience at every customer touch point. They must also ensure that the brand is embraced, understood and lived by employees across the business. Internal alignment ensures consistent delivery of the brand promise.
Positioning is as or even more important than branding, and must go hand in hand. Aligning the brand identity with its audience – and implementing a compelling brand messaging strategy that communicates its unique value proposition – creates an emotional appeal. Being consistent will create a strong brand that will complement sales and marketing.
Q: What is the best media marketing mix in the local context?
A: Determining the best mix requires considering various factors including the target audience, marketing key performance indicators, budgets and media consumption habits.
Digital and social media have become strong and influential platforms in Sri Lanka. Given the level of internet and mobile phone use in the country, incorporating digital and social in the marketing mix is a no-brainer.
Influencer marketing has gained popularity and is effective among certain audiences. Television has a mass appeal and radio is popular during commuting hours. While print media consumption has declined globally, it's still relevant to certain audiences locally.
While partnering with experiential events and sports can enhance brand visibility and create positive associations, fostering community initiatives can help ensure that audiences understand your values as an organisation.
Q: Are there any marcom trends in banking to watch out for?
A: Given the pace of technology, trends are difficult to predict. We see trends that emerge and fade in a matter of months while some take off faster.
The speed of adopting new technology has grown exponentially. Instagram took two and a half months to reach a million downloads while ChatGPT hit a million users in five days. More recently, Meta's Threads took a day and a half to surpass a million downloads.
AI powered chatbots are becoming increasingly popular in banking. They are also used for data analysis, enabling banks to gather insights and deliver targeted marketing messages.
Tailored and relevant messaging based on customer journey mapping is already taking place, and will develop further with the technological advancement of the tools used. Voice and wearable technology will also play a major role.
Augmented reality and gaming are other growing areas. Banks can be embedded in the gaming world to provide services as there are three billion video gamers worldwide, which is growing by 30 percent year on year.
With many transactions likely to take place on third party platforms in the future, banks will need to integrate their services. Banking as a Service (BaaS) will become the norm.
And as data security and privacy concerns grow, banks will need to communicate their commitment to safeguarding customer information.
The interviewee is the Chief Marketing Officer of Nations Trust Bank.