BOC
Another Step Forward, Bank of Ceylon Yet Again Adjudged Among Top Ten Corporate Citizens in Sri Lanka.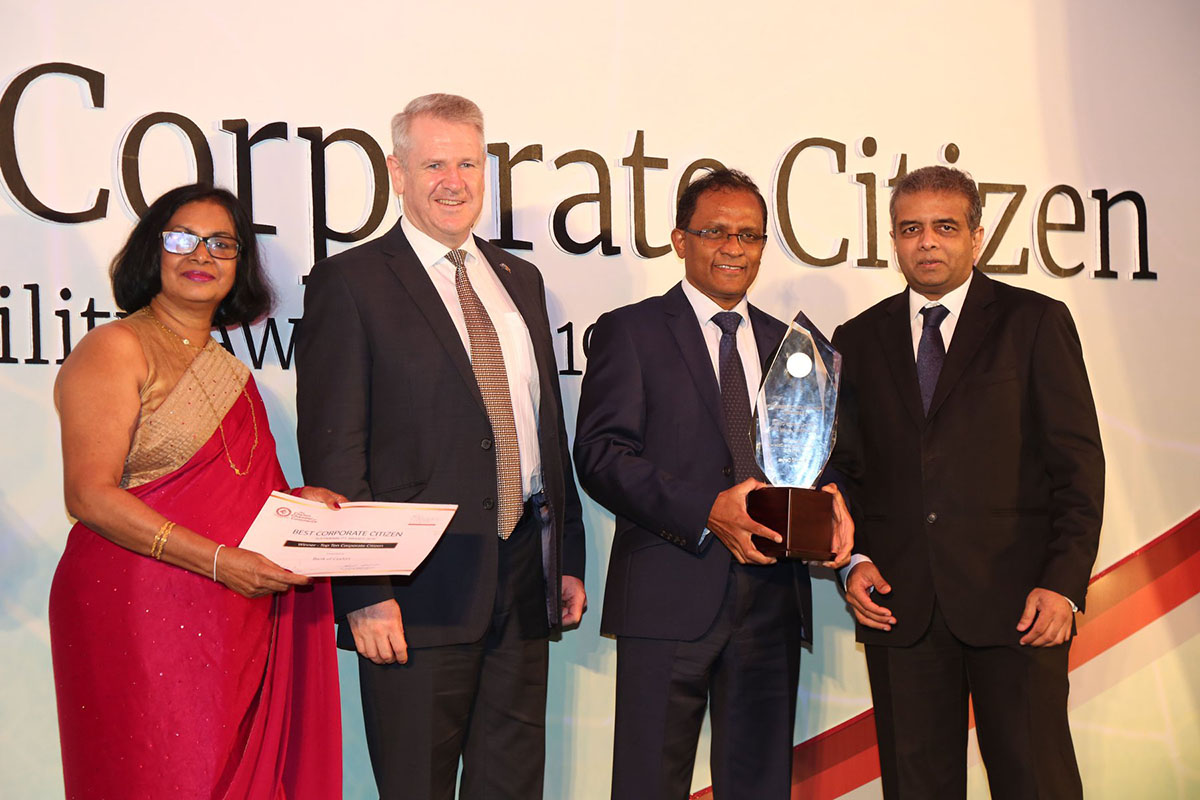 The Bank of Ceylon was yet again adjudged among Top 10 Corporate Citizens in the country with a category award for Economic Contribution and another recognition for "consistent commitment and continuous improvement in economic contribution" at the Best Corporate Citizen Sustainability Awards 2019 held recently. The 16th event of "Best Corporate Citizens Awards" was organized by the Ceylon Chamber of Commerce to encourage corporates in Sri Lanka to adopt industry best practices and norms of corporate sustainability. The Chief Guest of the event His Excellency David Holly, High Commissioner of Australia presented awards for the Top Ten award winners. The Bank of Ceylon's Chief Executive Officer/ General Manager Mr. Senarath Bandara accepted the award for "Top Ten Corporate Citizen in Sri Lanka" on behalf of the Bank. It was highlighted that Bank of Ceylon was the only state institution to be among the "Top Ten Corporate Citizen's of Sri Lanka" for the second time. BOC's Chief Financial Officer/ Senior DGM Corporate and Offshore Banking Division Mr. Russel Fonseka and AGM Finance and Planning Mr. Ruwan Kumara accepted the category award received for the Bank.
The ethos of corporate sustainable Responsibility was developed around the principle that business organizations should treat their stakeholders in an ethical manner and that this behavior should embrace environment, social and economical aspects. Being a bank that has built its bond with the Sri Lankan society for over 80 years, norms of Good Corporate Citizenship has always been in place since inception. Observing United Nations commitment to Sustainable Development, urging its member states to comply with its Sustainable Development Goals (SDGs), the Bank of Ceylon has considered incorporating these objectives when formulating its People, Planet and Profit (3Ps) of Sustainability. With this consideration, the Bank was able to comprehensively address almost all aspects of corporate sustainability in its own way. The Bank has been able to achieve more measurable/ productive results by implementing these initiatives and at each step, BOC has been creating value for Economic Sustainability, Social Sustainability and Environment Sustainability for itself and all stakeholders involved.
Being one of the driving forces of the Sri Lankan economy, BOC's contribution has been immense in terms of value generation for its main stakeholder- the Government of Sri Lanka. As the highest profit earning business entity in the country for a number of years, the Bank of Ceylon's total direct contribution to the country is over Rs.24.2 Billion, further the Bank has assisted the country's infrastructure development, renewable power generation, Water generation and Micro/ SME initiatives of the Government in a significant manner. It is noteworthy to mention that the Bank has maintained impressive financial performances and complied with industry Good Governance throughout, whilst it continued to contribute for the Government's economic and social development agenda.
Demonstrating its social commitment to the country, the Bank has aligned all its resources and operations to elevate the banking and financial landscape by penetrating into every location and economic stratum through reliable, convenient and affordable digital technology. The Bank has more than 1700 customer touch points to serve customers who prefer traditional banking modes. It also maintains mobile branches equipped with all facilities that are available in a regular branch to assist customers even in the most remote locations of the country. This has been instrumental in assisting the bank in carrying out financial inclusion- penetrating into the unbanked population of the country. Pioneering the digital transformation in banking, BOC has been instrumental in bridging the technological gap between urban and rural areas of the country in terms of banking.
The Introduction of the Environmental and Social Management Systems (ESMS), the Bank has shown its commitment towards managing the environmental and the social risk associated with its lending.  Also through ESMS, the Bank promotes green concepts among its customers.  Embarking on the green building concept and renewable energy consumption, the Bank opened-up its first Green branch in Tissamaharama as a pilot project and since then has converted 41 branches to such and now is powered with the capacity of 1.8 MW connected to the national grid with the connection of the latest in Nugegoda branch. BOC's Kekirawa Branch was recognized with a Gold Award by the Green Building Council Sri Lanka on the basis of successful adaptation of Green technologies in its construction. BOC saves resources and energy through paper recycling, digitization processes and minimizing procedures (Document Management Systems- DMS, work-flow automation), opening up digital channels to service customer (Self servicing Kiosk, ATM/CDM network with over 1000 customer touch points, Online Banking, Online Loan request processing, Mobile Banking, Social Media presence to share information and to attend to customer requests). BOC is also a signatory to the Sustainable Banking Initiative by the Sri Lanka Banks Association and represents the core group and the working groups of this initiative and in collaboratively working with the member banks in developing a guidance document on implementing sustainable banking principles into Sri Lankan Banks and to develop an e-learning platform aiming at knowledge enhancement for SL Bankers on Sustainability. BOC began its Green House Gas (GHG) Management project initially in 2017 and was able to finalise GHG emission assessment process by obtaining ISO 14064-1 certification in 2018. It also introduced GHG audits across the bank to identify improvements required in bank premises management.
Having stood strong for over 80 years as a tower of strength in the Sri Lankan Economy, the firmly established legacy of the country's No. 1 Bank is assured to grow strongly in every aspect as a genuine corporate citizen.