AN END TO CHILD MARRIAGES?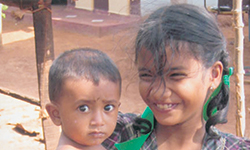 UN agencies are reportedly satisfied with Sri Lanka's efforts to put an end to child marriage and teenage pregnancies, but note that many local girls are deprived of the freedom to realise their full potential.
In Sri Lanka, nearly 21,000 girls between the ages of 12 and 17 are married or are part of sexual partnerships before they reach adulthood, according to UNICEF's child marriage baseline estimate for 2015. Teen pregnancies account for 5.3 percent of all registered pregnancies in the island.
While encouraging Sri Lanka to continue its efforts in this regard, UN agencies have promised their support for efforts in Sri Lanka to give girls the opportunity to educate themselves and lead successful lives.