AMÃNA BANK
Amãna Bank continues support towards Kalubowila Teaching Hospital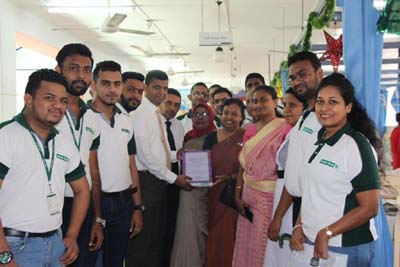 Amãna Bank continued its benevolent work towards the Colombo South (Kalubowila) Teaching Hospital, where the Bank undertook to colour wash the Children's Ward of the Hospital where over 10,000 square feet was painted including paintings of Beds and other amenities.
The ward was handed over to the hospital authorities on 26 December 2019 by the Bank's Chief Information Officer, Mr Rajitha Dissanayake to the Deputy Directresses of the Colombo South Teaching Hospital Dr Madubashini Karunaratne and Dr Upuli Wijemanne with the participation of consultant doctors, nurses of the ward, and staff of the Bank. During the event the Bank staff were also engaged in handing over schools bags and umbrellas to patients in the ward
Having taken up the responsibility of maintaining the Children's Ward in 2006, Amãna Bank has assisted the Ward in many ways in the past, including providing of medical equipment and other accessories to facilitate the timely treatment of the patients.
Commenting on the Bank's latest contribution, Amãna Bank's Chief Information Officer Mr Rajitha Dissanayake said "We are honoured to continue this relationship with the Kalubowila Teaching Hospital and feel gratified on helping this important cause. We believe providing a clean and comfortable ambience to the ward will assist the patients towards a speedy recovery."
Also sharing her thoughts senior consultant and paediatrician Dr Manori Gamage said "We are very happy to note the continued commitment of Amãna Bank towards the hospital and the Ward for which we are truly grateful. They have understood the important role we play in society and have always extended a helping hand to meet the requirements of the Children's Ward"
The overall emphasis of Amãna Bank's CSR strategy is towards initiatives that support children, mainly focusing on their health, education and general well-being amongst other key needs. Amãna Bank's flagship CSR venture OrphanCare, which was launched in the beginning of 2019, continues to make headway and has so far benefitted over 2,500 orphans in the country, irrespective of their race, ethnicity or religion.  The Bank also engages its staff in carrying out its CSR initiatives with much interest to encourage a culture of sharing and giving back to society.
Amãna Bank is the country's first and only Licensed Commercial Bank to operate in complete harmony with the globally growing non-interest based people friendly banking model. With the mission of Enabling Growth and Enriching Lives, the Bank reaches out to its customers through a growing network of branches and self-banking centres spread across the country while having access to 4000+ ATMs for withdrawals and 700+ Pay&Go kiosks for deposits. Customer can also benefit from an array of customer conveniences such as Internet & Mobile Banking, Debit Card with SMS alerts, Online Account Opening, 365 Day Banking, Saturday Banking, Extended Banking Hours, 24×7 Cash Deposit Machines and Banking Units Exclusively for Ladies.