AKBAR BROTHERS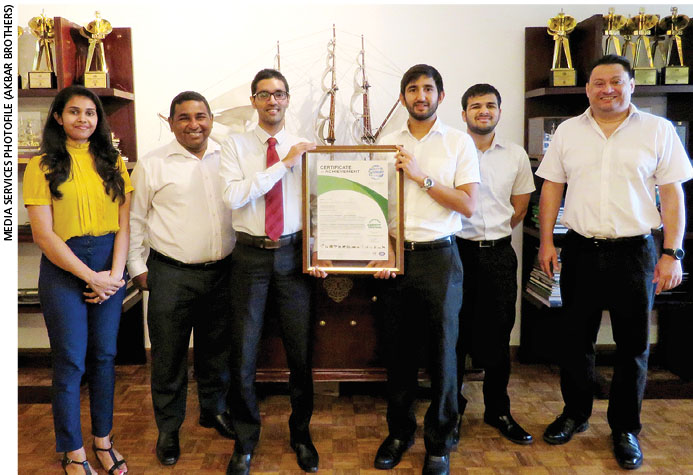 Q: How has Akbar Brothers contributed to uplifting Sri Lanka's economy in the last 12 months or so?
A: In what has been a tough couple of years for many businesses and industries, we at Akbar Brothers are very proud of the contribution our core tea business has made to the nation's economy.
Last year, we were able to bring in over US$ 200 million, distributing 43 million kilograms of tea of which 80 percent was in value added form. Our export figures reflect the strong performance of the tea industry this year with Akbar Brothers contributing over 15 percent of US Dollar revenue earned.
Akbar Brothers continues to be Sri Lanka's largest exporter of tea – a position it has held for 29 years.
Q: The pandemic and myriad other economic challenges have dampened the overall export sector of Sri Lanka. How do you assess your performance against this backdrop?
A: The year has proven particularly challenging given the pandemic and ensuing economic fallouts, which include high freight rates, logistics challenges and unstable currencies.
However, the tea industry has been remarkably resilient with companies presenting figures that are as strong as before the pandemic. We're proud to have been a key contributor to the national economy especially during this time when foreign earnings have been dwind­ling.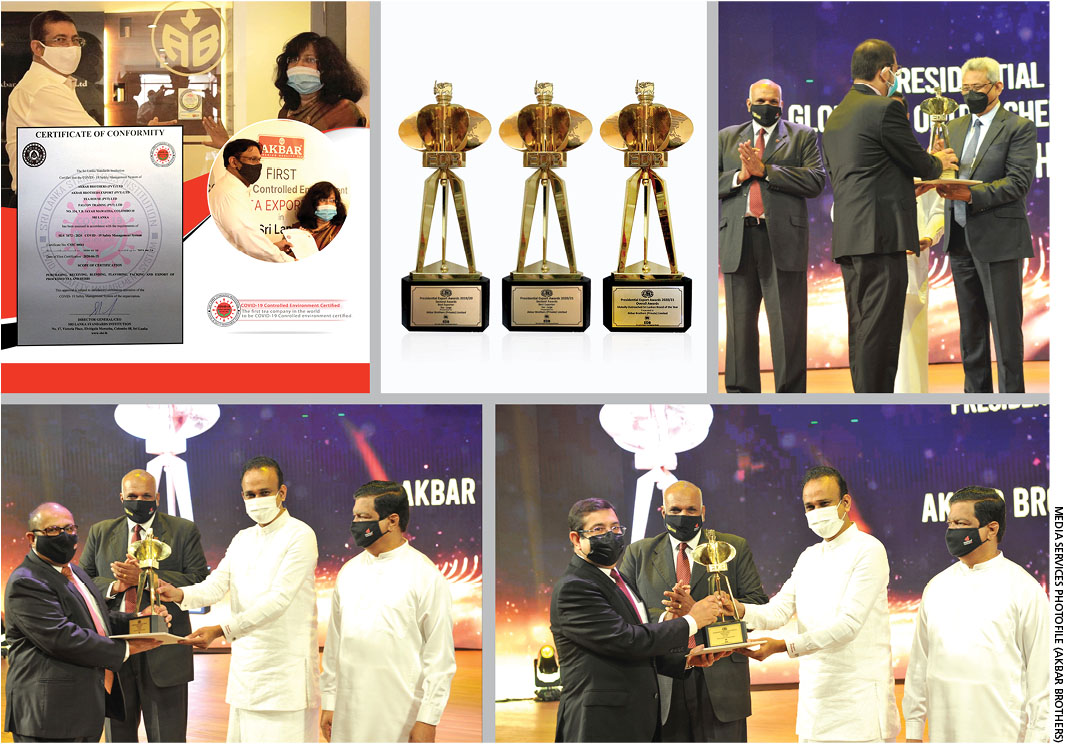 Q: Akbar Brothers has been the recipient of multiple awards over the years. How does this fuel your position as an exporter in what is a very competitive market?
A: Our drive comes from a passion to innovate and constantly do better, which excites us and our employees in terms of being on the frontlines of new ventures that push boundaries.
Combined with a commitment to the high standards that come with our core values, this has made us the humble recipient of many awards.
Akbar Brothers has won 38 Presidential Export Awards from the Export Development Board of Sri Lanka (EDB). Last year, we were bestowed the honour of being the most Globally Outreached Sri Lankan Brand of the Year 2020 and the Best Exporter in the Tea Industry for the 12th consecutive year.
It is great to be recognised; but the real reward is knowing that how we run our everyday business reflects a level of quality that is worthy of receiving these accolades. This is our 'fuel' to be the best in a market that is as competitive as tea.
Q: How important is quality in the export landscape?
A: Keeping in mind that over 60 million cups of our tea are consumed daily around the globe, quality is paramount; our founding fathers firmly believed in offering the highest quality with no compromise.
Our facilities are among the first in Sri Lanka to be awarded IFS & BRC Certifications among other accreditations, which ensure enforcement of the most stringent safety and hygiene guidelines.
We don't consider quality as being a measurement; we look at quality holistically and innovate to ensure that we're doing the best we can.
A good testament to this is our tea bag manufacturing facility – Quick Tea – being named South Asia's first Carbon-inset company in 2018; we believe that being responsible in serving the planet and our community is as important as product quality.
Q: Could you elaborate on this in the context of the Colombo Tea e-Auction and any involvement Akbar Brothers may have in this relatively new system?
A: It is heartening to see the passion for holistic quality in the tea industry. The Colombo Tea e-Auction platform, which is closing in on its second year of successful operations, is one example of this quality driven mindset.
We are happy to have been a part of this through Huzefa Akbarally heading the Technical Evaluation Committee appointed by the Colombo Tea Traders' Association (CTTA).
Q: Which unique traits possessed by Akbar Brothers drives the company to run successfully in the new era we call the 'new normal'?
A: The biggest legacy of my late father Deshamanya Abbas Akbarally to our company is its mission and core values.
These did not change because of the pande­mic; instead, they became the driving force behind how we adapted to this new normal. Aside from the importance of family in our business, we hold ourselves to the highest standards of integrity and   honesty; and we commit ourselves to provide unparalleled service excellence.
The foundation of our company is family, consisting of the Akbarally family, our employees and clients.
As soon as the pandemic took root, we consulted top medical professionals on the best hygiene and safety protocols to be implemented in all our facilities so that our employees felt safe coming to work.
This commitment enabled Akbar Brothers to become the first tea exporter in Sri Lanka to be certified by the Sri Lanka Standards Institute (SLSI) as a COVID-19 Controlled Environment. We also gave employees the confidence of knowing that they would be taken care of financially during one of the toughest economic periods.
When staff capacity at our packaging facilities was low during the lockdowns, we transparently communicated this to our clients so that they knew we were doing our best to match the demand for our tea during a very unstable time.
The close relationships we have with them meant that we were afforded the patience to recuperate and come back stronger.
– Compiled by Ruwandi Perera

Hatim Akbarally
Director
Telephone 2697151  |  Email akbar@akbar.com  |  Website www.akbar.com