AGRICULTURE INDUSTRY
PEST CONTROL

IN AGRI-FOOD
Akila Wijerathna examines several non-hazardous mechanisms to protect crops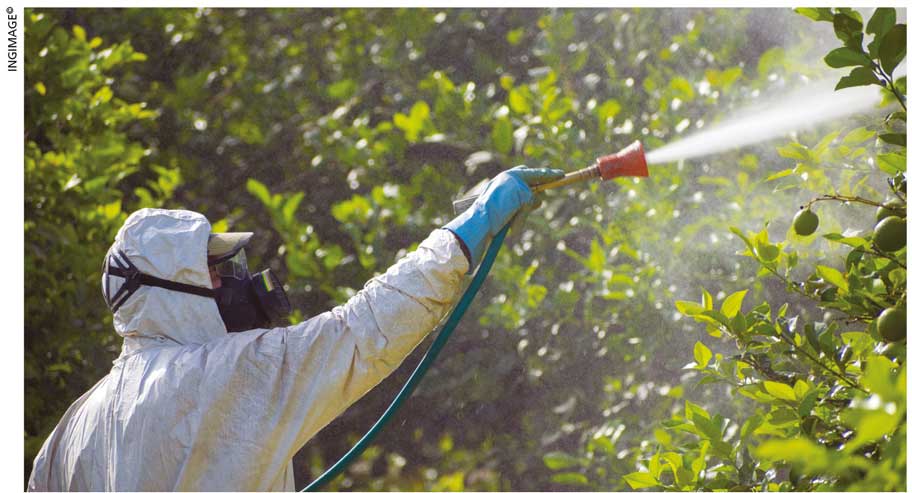 The world continues to need high levels of crop production undertaken in a sustainable manner due to threats to quality and yields. These are both biological – i.e. insects, diseases and weeds – and non-biological, such as climate and soil.
Pests and diseases are always an issue in agriculture and weeds continue to adapt to whatever is thrown at them. So we must find alternative ways to deal with these issues.
Demands and threats are greater than ever before as is our understanding of the negative impacts of chemical pest control. In this context, controls on chemical pesticides have steadily increased and many active substances that were commonplace a decade ago are no longer available.
In the past decade, an increasing number of consumers have expressed concern about the safety of traditional pesticides and expressed their support for organic farming methods.
According to the USDA's Agricultural Marketing Service, the goal of organic farming is to "integrate cultural, biological and mechanical practices that foster cycling of resources, promote ecological balance and conserve biodiversity."
However, organics are not pesticide free. Pesticides used in organic farming do contain chemicals but are derived from a different source and usually less concentrated. But it's not sustainable when farmers need to apply them more often than the chemical compounds.
Pesticides have a significant role to play in increasing agricultural production around the world and improving food safety.
However, due to increasing awareness of the potential adverse effects of pesticides on the safety of food and the environment, there's a shift from scientific to political influence and risk to hazard-based assessment.
This in turn limits the range of chemicals that farmers can use to control pests and diseases, as well as when and where these can be used.
Integrated Pest Management (IPM), precision farming and products going off-patent seem to be the most impactful in the short term. All these have the potential to reduce the revenue earning potential of agrochemical companies – especially the big five: Bayer, BASF, Syngenta, FMC and Corteva (formerly the agricultural arm of DowDuPont).
These companies reportedly sold US$ 4.8 billion worth of products containing highly hazardous pesticides (HHPs) in 2018, making up more than 36 percent of their income.
Despite the bans, restrictions and withdrawals of a small number of HHPs over the last few decades, many others are still in use – and they continue to cause damage to human health and the environment, in both low and high income countries.
A global survey of pesticide management in 2018 by the WHO and FAO found "various critical shortcomings" with countries needing to bolster rules and enforcement, to "minimise their harmful effects on humans and the environment."
WHO and FAO define HHPs as "pesticides that are acknowledged to present particularly high levels of acute or chronic hazards to health or the environment according to internationally accepted classification systems."
Environmental hazards include issues such as water source contamination or "disruption of ecosystem functions" like pollination.
As a result of growing consumer concerns and regulatory pressure, farmers are increasingly facing a reduction in the range of crop protection chemicals they can use. The development of new and safer pest control methods including alternatives to widely used chemical pesticides has become a priority for the entire agri-food sector.
Replacing one pesticide with a slightly less hazardous one won't solve the myriad problems facing agriculture. Therefore, many international organisations have been calling for the replacement of HHPs with ecosystem approaches to pest management.
As countries begin to phase out HHPs, they need to help their farmers change to ecosystem approaches to agriculture instead of reaching out for other pesticides. It will be better for the farmers, as well as communities, the environment, economies and countries.
Geared to all those working in the field of crop protection – such as farmers and growers – innovation startups, large corporations, researchers and regulators are collaborating to develop sustainable crop protection systems using a wide range of technologies.
These include applying AI, robotics, drones and 'machine vision' on farms; chemistry of crop protection (whether generic or new active substances); biology of crop protection such as bio-stimulants or bio-pesticides; genetics of crop protection including breeding, gene editing and beneficial traits; promoting good agricultural practices and agronomy; and financing new solutions through banks and venture capitalists, for those to whom crop protection is real and present.
The agri-food sector recognises the need to integrate existing and new solutions with support systems, in order to deliver measurable and sustainable impacts on crop protection.