AGILE ACCOUNTANT
Deshabandu Ajit Jayaratne
Forbes & Walker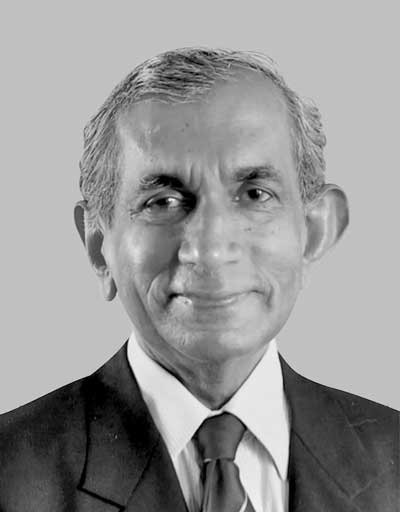 Deshabandu Ajit Jayaratne has enjoyed a wide and varying career spanning the public and private sectors, and a stint as a diplomat. As a young man, he graduated with a degree in economics and qualified as a chartered accountant. He then embarked on a career at Forbes & Walker, rising up the ranks to chairman of the company.
For others, this would have been achievement enough. But his ability and acumen were too much in demand. On his retirement from the private sector, he was appointed as Sri Lanka's High Commissioner to Singapore.
In an interview, Jayaratne has claimed that "being appointed a diplomat, because it was different from what I'd been used to," as the most memorable moment of his illustrious career. And he cites his years at the helm of Forbes & Walker as invaluable in affording him insights into the importance of a business orientation in the perspective of diplomats and public servants.
He has asserted: "Given that the world now runs on commerce in a globalised marketplace, our mission heads must have good business acumen to promote Sri Lanka – otherwise, there is no role for a diplomat to play. I found my business background most advantageous… Diplomats must be very conversant with matters relating to trade, commerce and investment…"
Once more, upon completing his term in Singapore and returning to Sri Lanka, he has been prevailed on to serve on the boards of several listed companies.
There are other moments of Jayaratne's career that are considered memorable. He was appointed by former president J. R. Jayewardene as the first Chairman of the Finance Commission from 1988 to 1996. And for his invaluable contribution to the private sector and stock market in particular, former president Ranasinghe Premadasa conferred on him the title Deshabandu.
In 2016, Jayaratne was inducted into the Institute of Chartered Accountants of Sri Lanka (CA Sri Lanka) Hall of Fame for the remarkable role he has played in both the public and private sectors, and in recognition of his service to and elevation of the profession.
Jayaratne credits his ideology of living a good, clean life and his capacity to adapt to the demands of varied careers as the keys to his myriad accomplishments. He also had an excellent role model to emulate growing up – his father, whom he has described as "a senior civil servant and former diplomat, whose administrative prowess, values, integrity and ethics should be emulated."
Ajit Jayaratne: an accountant of agile acuity.