BRANDS ANNUAL 2019
MOST LOVED BRANDS
Acquiring the power of love
The Most Loved Brands rankings, which is based on an independent market research study (refer METHODOLOGY for more details on how this is done), provide interesting perspectives on Sri Lanka's branding landscape.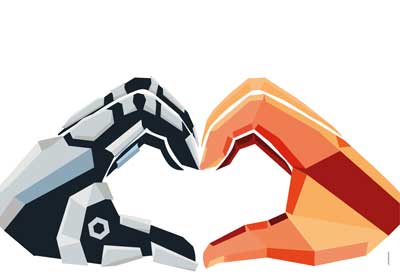 A disproportionately high number of brands are owned by multinationals; in fact, as many as six of this year's top 10 brands are multinational. So it would seem that local brands have not been able to leverage on their deep-rooted insights into consumers and heritage to occupy the top positions.
This is a challenge that Sri Lankan brands face – but hopefully, it is one that they will conquer as the tide seems to favour them going forward.
Be meaningful
Today, consumers know what they want (through easy accessibility to media) so a brand must exude empathy. Building affinity through an emotional connection with consumers that goes beyond a transactional relationship is critical to success.
This year's No. 1 brand – Unilever Sri Lanka's Sunlight – has done just that. And this is a true reflection of Sri Lankan culture.
Sunlight has come a long way since its introduction as a versatile soap bar for both personal use and laundry. It was the first product imported by Unilever Sri Lanka in the early 1900s and soon became a household name because of its multipurpose nature with great washing ability, as well as mildness towards human skin – a combination no other soap bar could offer until then.
Through foresight and in view of changing personal care trends, the brand strategy was skilfully changed from its dual purpose use to single use. Today, Sunlight offers the consumer a range of laundry soaps as well as detergent powder. And it enjoys a market share of nearly 60 percent whilst remaining the clear leader in Sri Lanka's laundry segment.
Sunlight's ability to represent the values of Sri Lankan culture is a testament to Unilever Sri Lanka's brand management system. The brand has remained true to local values and beliefs that it stood for at its inception. Celebrating 'Rural Life' and then 'Brightening up the Nation,' Sunlight has to date highlighted the beauty of Sri Lankans and their lives.
Two similar local fast-moving consumer goods (FMCG) brands are Atlas (No. 7) and Elephant House Ice Cream (No. 9), which is a 100-year-old brand. Both brands have been able to leverage on their legacy and garner empathyin the present-day context.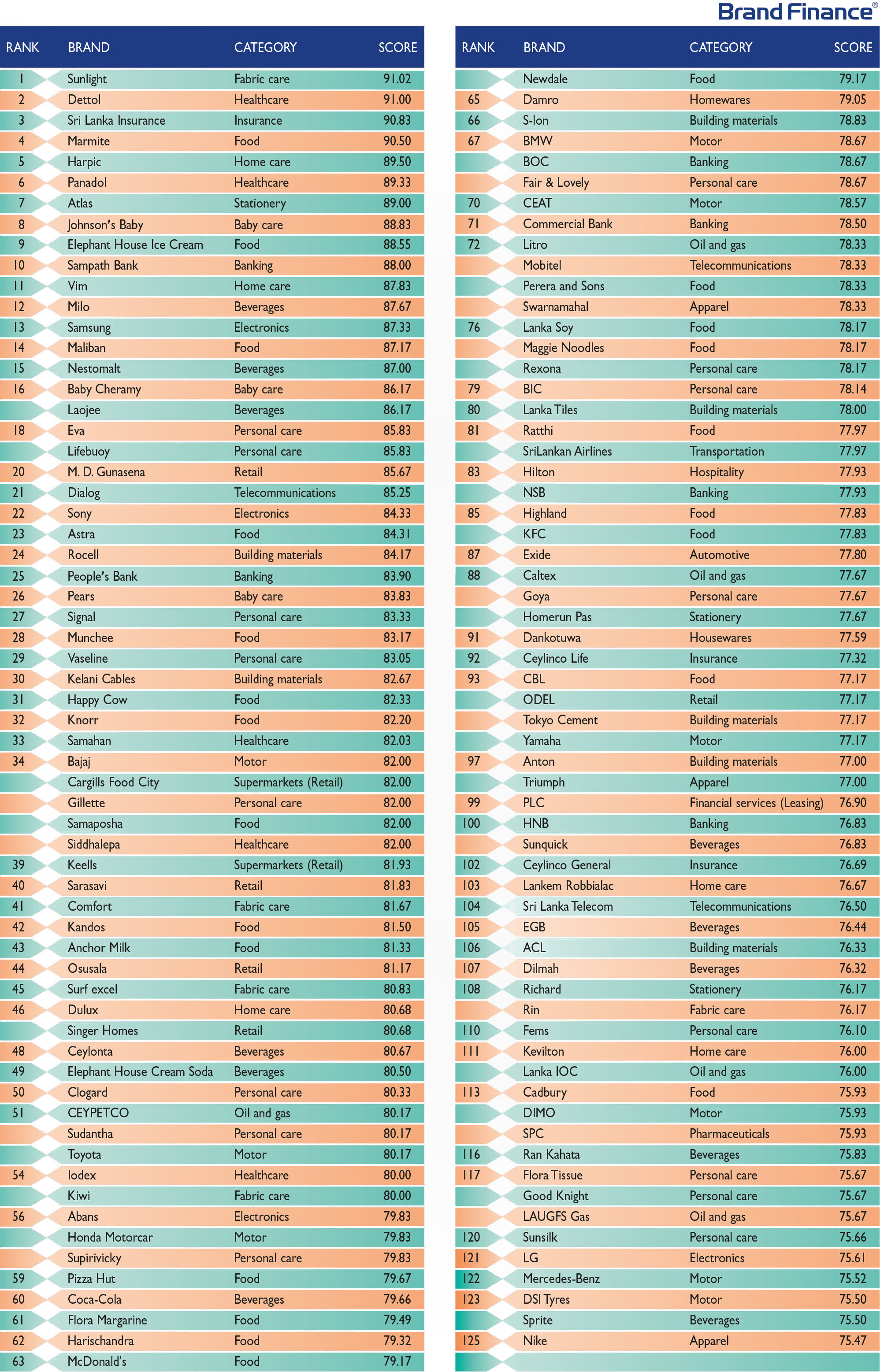 Differentiate
A clearly differentiated positioning is vital for a brand to stand out, be noticed and then be liked. Marmite (No. 4)is a great example of this. With a long history in this country, the brand could well have been marginalised; but with clever long-term brand management, it has remained relevant. In fact, Sri Lanka is among the countries with the highest per capita consumption of Marmite.
Consistency is key to a long-term brand strategy in order to ensure that a brand has the time and resources to differentiate itself. A lack of such consistency results in a largely undifferentiated brand as strategies change, and new brand managers join and want to stamp their authority by imposing fresh thinking.
Most often, they don't have a brand blueprint or clearly defined long-term positioning – one that can be used as a framework to build the brand over a sustained period. This will not happen in the case of multinationals because their brands have a clearly defined framework, which is often set by global or regional offices.
Build relevance
Rapidly changing consumer preferences now lean towards authentic produce sourced from local farms, and thought to be fresh and free of harmful ingredients. This is a far cry from consumers preferring imported products a few decades ago.
These changing needs have given local brands an advantage but we're yet to see this being reflected in our annual review.
On the other hand, MNCs have been quick to adapt and introduce local variants to compete effectively.
For example, Unilever's intention to take on local herbal and Ayurvedic brands has been abundantly clear with the launch of Lever Ayush; Nestlé's Maggi Rasa Musu is an all-purpose seasoning with Sri Lankan herbs; and Signal Herbal is following the trend towards natural toothpaste ingredients.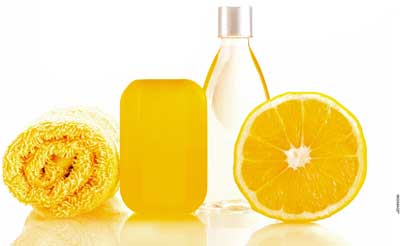 Challenges
This analysis highlights the challenges that local brands face in enhancing their branding and marketing processes. Whilst they would have many advantages (such as formulations that are based on local ingredients) and are possibly better suited to local conditions (since they have been perfected over many years), their branding invariably falls way short of customer expectations.
As a result, these brands often struggle to gain acceptance.
For example, Siddhalepa – which was once the undisputed market leader in balms – has been swamped by multinationals. MNCs have takenconsiderable market share away with Iodex and Tiger balm being two examples – Iodex is No. 54 on our list compared to Siddhalepa's 38th position.
Brands such as Siddhalepa could gain traction by taking a leaf out of the multinationals' playbook by setting a brand framework to build a long-term brand strategy and positioning.
Solutions
The dominance of MNCs is reflected in the fact that of the 125 Most Loved Brands this year, a little less than 50 percent are owned by 30 multinationals.
In response, stronger systems and principles should be established. This includes setting up well-defined long-term strategic brand positioning and a blueprint that would function as a framework for local brands to operate.