A TYPICAL ENGLISH RESIDENCE
By : Sandip Hor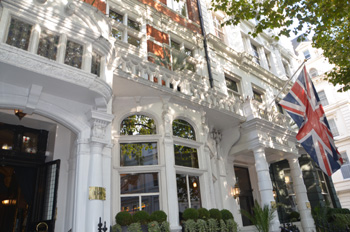 "Bar 190" inside the Gore Hotel in London is a site of pilgrimage for Rolling Stones fans worldwide, because it was at this venue in 1968 the world famous rock & roll band launched their ground breaking album 'Beggars Banquet'. The rest from there as we all know has been a journey of exceptional success. Today the glamorous venue is not only popular among music lovers , but also lures elite Londoners and visitors who desire to spend a nice evening in an intimate and cosy surrounding, enjoying nice cocktails  , tasty Tapas and other delightful dishes from the chef.
Tucked in a Central London neighbourhood, elegantly crammed with opulent white stucco terraces, The Gore Hotel is typical English in style, character and tradition. All its 50 well-appointed rooms display a perfect mix of old and new. Some rooms are small in size, which is nothing unusual in London but all are ornamented well with period fittings and furnishings to bring back nice memories of traditional English stay. Bed and pillows are okay for a good night's sleep while the squashy bathroom has everything that are necessary for modern generation travellers. All linen, towels, bathrobes and slippers provided are of good quality.
Lavish Victorian flavours are evident throughout its entire premises. The red carpeted slender staircase, the chequered floor tiles, thick curtains covering the windows, large paintings covering the wall space, leather arm chairs and the bookcase in the library filled with selected samples of English literature create a stylish old world atmosphere.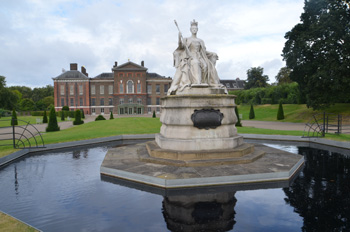 One of the major draw card of this hotel is its convenient location in the upmarket area of Kensington. The Duke and Duchess of Cambridge are neighbours as the hotel nestles pretty close to the Kensington Palace, the official residence of Prince William and Kate Middleton. It's only a short walk through the tranquil Kensington Gardens. This sprawling green space along with the adjacent Hyde Park bequeaths a pleasant green-scene to the lovers of nature. Its close proximity to Royal Albert Hall and London's Museum Quarter, which accommodate the Victoria & Albert Museum, Science Museum and the National History Museum, makes it an ideal accommodation choice for visiting music and art aficionados. Also close is Knightsbridge where Harrods, the world's most celebrated departmental store responds to the appetite of elite shoppers.
The hotels restaurant, '190 Queen's Gate' where breakfast is served in the morning, presents a menu created by Micheline Star French Chef, Daniel Galmiche, showcasing authentic French versions with a British turn. Both the bar and restaurant are popular among guests and Londoners, particularly to drop in before or after a performance at the Royal Albert Hall or after a daylong museum odyssey. Afternoon Tea', an age old English tradition still continues here with elegance.
At the end, it's the immaculate service and friendliness of all hotel staff that makes the stay memorable for every guest.
This hotel is a member of the Preferred Hotels and Resorts (www. preferredhotels.com) group and aptly fits in with their high standards
Hotel Contacts
Address: 190 Queen's Gate, Kensington, London, SW7 5EX
Phone: +44 (0) 20 7590 6725
Website: www.gorehotel.com