A TIME FOR CHARITY
SANTAS: CLICK TO ACTION!
Ruwandi Perera says that cyber donations could make the season merrier
Whether you're humming 'I Want a Hippopotamus for Christmas' by Gayla Peevey or singing Mariah Carey's 'All I Want for Christmas Is You,' there's no denying the feeling of giving, sharing and love spread in December.
While it's important that we don't limit charity to Christmastime, the season of giving probably sees the highest number of donations to everything from orphanages, the poor and cancer charities to those that help the sexually abused. With the ever increasing trend of turning to the web for just about everything, it is inevitable that charitable donations too would become 'e-easier'!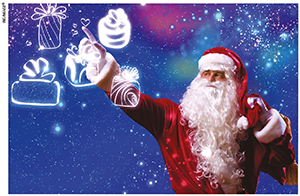 Although tills, cash drop boxes, cheque collection points and sponsored events continue to be used by charities, more donors are contributing online because it's easier, quicker and guarantees greater anonymity. In fact, the same impulsive human behaviour that's attributed to 'e-shopping' is witnessed in 'e-donating' – because after all, you don't need to have cash in hand.
For not-for-profit organisations looking to collect funds to help those in need during Christmas, not having an online presence is (almost) not an option anymore. Setting aside the obvious advantages, cyberspace is where millennials dwell, shop, share and spend endless hours.
Most charities adopt an 'empowerment' rather than a 'donation' approach when it comes to online contributions. And this seems to have worked for organisations such as the American Red Cross, World Vision and World Wide Fund for Nature (WWF).
Without focussing on helplessness and dependence, these organisations translate charity into empowerment. Since online donations must essentially be of a recurring nature, this type of positive approach is more effective in accumulating funds and provides donors with a feel-good factor with which they like to be associated.
Charities need partnerships to be sustainable and changing the donor mindset from one-time donations to a subscription model is crucial. Without asking donors to contribute a specified amount up front, spreading it over a year in the form of monthly gifts is not only easier on their wallets but also increases the chances of them signing up for another year.
With the use of audio, video and graphical content, online charity websites are also able to make giving fun, simple and a collective effort. Clean interfaces with minimal clutter, and easy to load pictures and videos, are powerful storytelling tools.
Using vibrant media invites people to connect with missions that need support and are more attractive when it comes to sharing online. Last year, Westminster based charity The Passage used virtual reality to offer donors a chance to be in the shoes of a homeless person on London's Oxford Street to experience what it feels like.
The best part is that you don't need fancy websites to start collecting funds or volunteers. Having a well managed Facebook page, Instagram account or even non-spamming WhatsApp group can do wonders. Take a cue from some of Sri Lanka's not-for-profit organisations such as Animal SOS Sri Lanka, The Soup Bowl, Robin Hood Army Sri Lanka, TrailSL, SOS Children's Villages Sri Lanka and Disaster Relief LKA.
The key factor to consider when it comes to collecting online contributions is to make it simple – to avoid donor fatigue. In an age when 'bounce rates' determine success or failure, people do not want to wait for pages to load – and they certainly don't tolerate cumbersome processes that call for filling forms, registering, creating accounts and keying in credit card details.
Easy, fast and seamless transactions are needed to entice people to donate more, and more frequently. So requesting potential donors to log in from social media and pay through PayPal accounts can increase donor satisfaction.
When it comes to payments, it's important to keep in mind that there are cybercriminals who target not-for-profit sites that tend to have less stringent security frameworks. Therefore, enlisting the services of a payment partner such as PayPal or Venmo is advisable.
If you're thinking of collecting funds to help those in need this Christmas, consider making it fun – because who's a fan of negativity?
And pay attention to detail.
When Cancer Research UK and WWF once used the same text line for donors to help 'beat cancer,' those whose smartphones autocorrected 'beat' to 'bear' received a reply from WWF – it informed them that they would receive a polar bear for 'adoption'!
Merry Christmas – and here's hoping that there will be many online Santas this season!