HIGH COMMISSION OF INDIA
High Commission of India announces with profound sorrow the demise of former Prime Minister of India Mr. Atal Bihari Vajpayee on 16 August 2018 in New Delhi.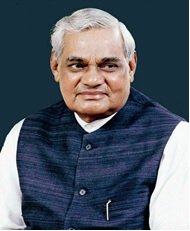 State Funeral will be accorded to the departed leader at Smriti Sthal, New Delhi on 17 August 2018. As a mark of respect to the departed dignitary, seven days of State mourning is being observed from 16 – 22 August 2018.
A Condolence Book will be kept open at the High Commission of India located at 36-38, Galle Road, Colombo 03, on 21 – 22 August 2018 from 1000 to 1700 hrs.
Mr. Atal Bihari Vajpayee served as Prime Minister of India thrice: in 1996, from 1998 to 1999, and from 1999 to 2004. He also served as India's External Affairs Minister from 1977 – 1979. He was a distinguished statesman, great orator, and a published poet. He visited Colombo to attend the 10th SAARC Summit in July 1998.