FROM WINTER HOME TO SUMMER CRIB
Shift from Cozy Winter Home to a Fresh Summer Crib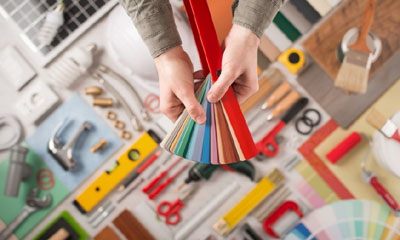 Two months have already passed by since the dawn of 2017. Even though the New Year's celebrations seem far behind us, homeowners are constantly looking for ways to elevate the look of their spaces. So if you didn't redecorate your home for the very beginning of 2017, fear not! We have compiled a list of effortless ways for you to transform your home into a summer paradise.  These steps are simple, fun, and inexpensive.
Goodbye winter drapes and hello soft linen curtains!
First things first, we need to take off those winter drapes. Drapes are quite thick and heavy. They are designed this way because they are meant to keep you warm during the cold season in December. But as summer is approaching, it is wise to replace your thick drapes with soft linen curtains that will allow plenty of light to come into your space.
Decorate your home with fresh flowers
Decorating your home with fresh flowers is one of the most inexpensive methods of creating a vibrant fresh summer look in your home. Flowers are known to introduce positivity and freshness to your space with a hint of feminism. Make sure you constantly change your flower arrangements for a fresh summery fragrance every day.
Floral, tropical, or vibrant Bedding
You could definitely make a big difference with colorful vibrant bedding. Even with only a few things going on in your room, your bedding can be considered a statement piece.
Add plenty of greenery
If there was a single decorative piece that could transform your crib into a summer paradise in a heartbeat, it would be to introduce greenery to your space. You can achieve a fresh and a casual summery look by bringing in some of your favorite house plants. In addition to the design benefits that you receive from plants, they can also benefit your physical and mental health in numerous ways.
Get creative with your plants by
Designing a vertical garden
Creating a gallery wall with your favorite plants and flowers
Decorating your coffee table or bar cart with varieties of succulents and other fake plants
Repaint your furniture
Finally, if you are willing to go the extra mile with your summer home makeover, we suggest you repaint your old furniture. This could be a fun summer activity not just for you, but for the whole family, or you and your friends. It's also very inexpensive. Repainting your old furniture will leave you with many furniture pieces that are unique and which in return will add personality and a fresh look to your space.