COVER STORY

5 QUESTIONS FOR FIVE PRESIDENTIAL CANDIDATES
LMD posed five key questions to the candidates featured in this Election Special supplement
Zacki Jabbar reports on what they had to say
What steps would you take to reduce or root out corruption in politics?
Anura Kumara Dissanayaka
Corruption in politics is not only about accepting money from special interest groups or individuals in exchange for political favours. Nepotism and patronage are also forms of corruption.
Our political movement is built on the values of commitment to a political vision, an ideology and the ideals of public service. Politics is not a business or family matter.
Ensuring transparency and accountability requires electoral reforms so that there are strict laws about revealing sources of funding as well as setting limits on how money can be raised for political work.
Strict laws should govern election campaigning. Today, politicians need vast amounts of money for election campaigns and then they're forced to provide favours in exchange for money. We need radical electoral reforms to keep corruption out of politics.
Rohan Pallewatta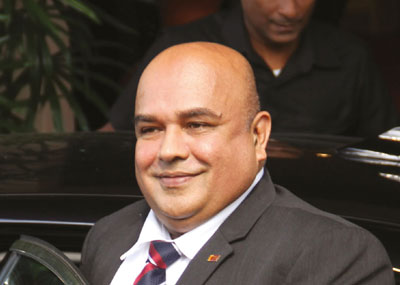 I will set an example through my conduct – I believe that proper conduct at the top will cascade down to the next political or administrative layers. I will introduce legislation that would prevent members of the legislature switching political parties once they're elected by a specific mandate of the people.
And I will introduce a national blockchain that would monitor each and every government transaction, and create the political culture that was prevalent in Sri Lanka in the 1970s where politicians never compromised their integrity.
Sajith Premadasa
Tackling Sri Lanka's corruption problem requires several measures. The Bribery Commission must be strengthened and provided the independence to conduct thorough investigations. It takes an average of 10.2 years to conclude a criminal case. Special anticorruption courts will be able to address these delays. The parliamentary Code of Conduct will also be enforced.
I will not protect anyone who is found to be corrupt whether they are officials or even politicians from my own party.
Gotabaya Rajapaksa
Corruption is not restricted to politics – it should be fought not only at the individual level but also at the institutional level.
Whilst we take necessary action to bring corrupt people to justice, prevention of corruption is equally important. Corruption can be prevented using e-technology and proper systems. At the Customs, Inland Revenue, Excise Department and other government institutes that people have to visit for various approvals, we must minimise the need for human interaction by enabling approvals to be provided online.
Tax systems should be simplified so that people can calculate their own taxes and there is no room for manipulation. We also hope to strictly implement the national procurement policy, introduce a contract management system and appoint a national expenditure monitoring committee.
Mahesh Senanayake
Politics is corrupted due to the corrupt individuals engaged in it. My team is uncorrupted and has never been in politics; they are professionals. Therefore, by having a team of uncorrupted professionals, I could reduce or root out corruption in politics.
---
Would you appoint people who are under investigation for corrupt activities to high posts in government or the state sector?
Anura Kumara Dissanayaka
Absolutely not! My party has been at the forefront in the fight against corruption; in parliament, we have been responsible for fearlessly revealing corruption. The whole country has witnessed the role played by our MP Sunil Handunnetti as Chairman of the Committee On Public Enterprises (COPE). So there is no way that we will appoint those under investigation for corruption to high posts. 
Rohan Pallewatta
Not only should justice be done but it must be apparent that it is being done. Hence, no person under investigation for corrupt activities would be appointed to high posts in government or the state sector.
Sajith Premadasa
I will not appoint anyone who is facing legally instituted charges of corruption; neither will I hesitate to remove any person who is charged with corruption from posts in government and the state sector. All my appointments will be vetted to make sure that they are fit and proper, and institutional mechanisms will be introduced to enforce these criteria.
Gotabaya Rajapaksa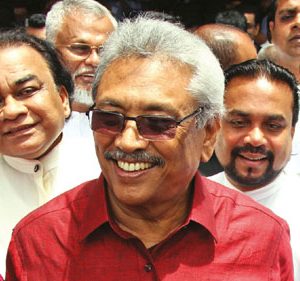 The Solicitor General of the Attorney General's Department has been interdicted for disclosing in a phone conversation how she had to begin investigations on various individuals to please politicians [who are] presently in power. A former Solicitor General provided an interview to a newspaper recently detailing how government higher-ups were abusing the legal system to suppress political opponents by launching various investigations on them.
At the rate the present government has abused the system, there aren't any good people left in the country without facing some sort of ongoing investigation. If the courts have charged an accused, we will not involve them in our government. But it will not be fair by the large number of honest people who are being harassed with bogus accusations if we are to leave them out. 
Mahesh Senanayake
No. Stringent scrutinising would be done prior to appointments and I will ensure that tainted personnel will not be appointed to any high posts in the government or state sector.
---
What steps would you take to ensure that all Sri Lankans – irrespective of their ethnicity or religion – will be treated equally?
Anura Kumara Dissanayaka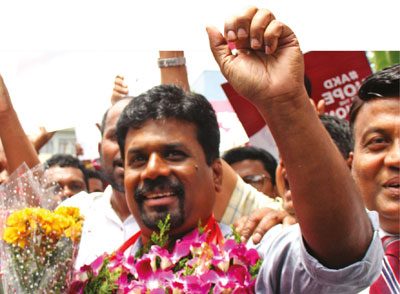 We intend addressing this constitutionally, ideologically and through our political practice; we intend to bring about constitutional reforms to ensure that the law does not allow for discrimination or unequal treatment based on ethnicity and religion. All citizens should feel entitled to an equal stake and have equal powers in deciding their own futures.
Ideas of equality, respect for diversity, pluralism etc. must be inculcated through the education system. We intend to bring about reforms in the school system, which will prevent segregation based on ethnicity, gender, language or religion and encourage mixing among communities.
We will also bring changes to the curriculum so that the values of democracy, tolerance, appreciation of diversity and critical understanding of history become part of the education process. For example, we want to initiate the teaching of religion so that children of all faiths can be in one classroom and learn the best of all religions.
Racism and extremism in this country is maintained primarily by politicians. We reject racism and extremism completely. Even in the most difficult of circumstances, we will not use racism for political advantage. 
Rohan Pallewatta
There is a correlation between the GDP growth of countries and ethnicity or religion. The higher the GDP, ethnicity or religion become very private matters in one's life. Therefore, the answer is that equality can be achieved through the economic success of a nation.
Sajith Premadasa
Discrimination and inequality will be addressed at its roots. All Sri Lankans must be treated as equal before the law regardless of their ethnicity, religion or caste as enshrined in our constitution.
The Official Languages Policy must be implemented to ensure that all government departments and institutions have interpreters and translators. All state name boards, forms and templates must comply with this policy. Staff with adequate language proficiency will be stationed at front office service points.
I will not tolerate any form of gender discrimination, and will implement policies to tackle issues such as low female labour force participation and gender-based violence.
Gotabaya Rajapaksa
Every citizen has the same rights in this country and we will always uphold the constitution. 
Mahesh Senanayake
The Tamils and Muslims of Sri Lanka arrived before the 15th century or even prior to the European invasions. Six centuries later, if discrimination of the ethnic groups or religions is taken into consideration or influence feelings, the progress of a democratic nation would be hindered.
Our community is interwoven with the religions and ethnic groups, with intermarriages and belief in various faiths including Buddhists worshipping Hindu gods or lighting lamps in catholic churches. Delivery of this message – and an awakening of the inner feelings of compassion, acceptance and equality – will be the action initiated to maintain equality.
---
Would you agree that the gap between the haves and have-nots has become an embarrassment for a middle income nation such as ours?
Anura Kumara Dissanayaka
It is not simply an embarrassment, it's unjust! How can we accept that in our society, there are high levels of malnutrition and parents committing suicide because they cannot meet the needs of their children due to high levels of debt? As much as economic prosperity, there needs to be economic justice. Without that, you cannot ensure a stable and contented society. 
Rohan Pallewatta
I admit that there is an income distribution disparity in Sri Lanka. Although our per capita [income] is around US$ 4,000, more than 50 percent of the population is living on less than three dollars a day. Agro-based industries at the village level would be a great way to reduce this income distribution disparity.
Sajith Premadasa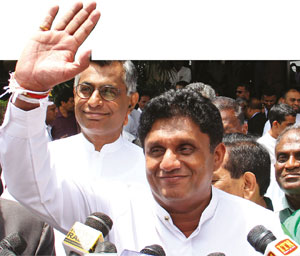 The richest 20 percent of households in Sri Lanka enjoy 10.6 times the income of the poorest 20 percent of households. To reduce the gap, we must increase access to quality health and education especially in marginalised communities such as the estate sector. I will establish universal preschool education, and expand English language and science, technology, engineering and mathematics (STEM) education. Priority will be given to instituting national schools.
Our indirect to direct taxation ratio is 80:20; this needs to be brought to a ratio of at least 60:40 to ease the burden on the poor. This will be done by decreasing noncompliance among the high income segments of society. Samurdhi payments will be used to empower people. Clear criteria will be used to select beneficiaries.
Gotabaya Rajapaksa
That is why we're going to introduce a people centric economic policy where we want to ensure that each and every citizen will have economic stability, equal opportunities to progress and a dignified place in society. All our economic development plans are designed keeping these overall objectives in mind.
Mahesh Senanayake
Yes. The disparity between the haves and have-nots is increasing at an alarming rate. The economic and education policies formulated when executed correctly would be able to double the per capita income of Sri Lankans. Therefore, it would narrow the gap between the haves and have-nots.
---
How will you tackle Sri Lanka's debt burden?
Anura Kumara Dissanayaka
The problem is not so much debt but that the loans are unproductive. We have got into debt for 'vanity projects' – projects that aren't really generating wealth or employment, or benefits, for our people. We will ensure that loans are invested in productive ways.
We also need to cut down on wastage and corruption. When I was Minister of Agriculture, I was able to transform loss making state owned entities into profit making entities within a year. With proper economic management and by sticking to the basic principles of good economics, we can gradually reduce Sri Lanka's debt burden. 
Rohan Pallewatta
Sri Lanka needs at least US$ 10 billion in foreign direct investments (FDI) within 12 months if it is to put itself in a fair position in managing its economy. I have single-handedly managed to obtain pledges for nearly four billion dollars under my leadership. Once this happens, it will pave the way to restructure debt by sourcing funds from sources with lower interest rates.
Sajith Premadasa
This requires a combination of legislation, an institutional framework and economic growth. I will establish an independent debt management office to reduce the cost of debt. International debt borrowed by the previous government was on commercial rather than concessionary terms. This is driving up our repayment obligations and debt. We will increase government revenue and improve external inflows through export diversification.
Gotabaya Rajapaksa
Given the economic crisis where the growth rate has fallen from over seven percent to below three percent under the present government, a lot will have to be done to kick-start the economy.
We cannot avoid borrowing but should be extra careful in utilising funds effectively. A lot of wastage that is taking place can be reduced, and the government should support the business community to bounce back quickly by completing pending infrastructure projects, simplifying the tax system and making government departments more efficient.
Mahesh Senanayake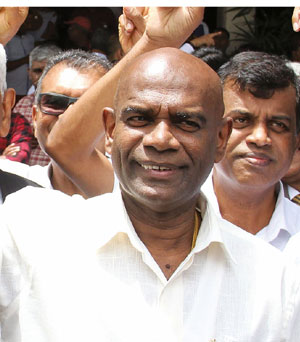 Today, the gross domestic production or income per day is close to Rs. 5 billion whilst expenditure is approximately seven billion rupees. The major portion of expenditure is on an oversized cabinet, ineffective public service and wastage of resources.
Downsizing the cabinet, and revamping the public and government service to reflect an efficient machinery, zero wastage and proper management of resources would reduce expenditure. If the income supersedes expenditure, a daily surplus could be achieved, thereby reducing the debt burden.