1973
Sri Lanka's First Five-Star Property
Inter-Continental puts Colombo on the map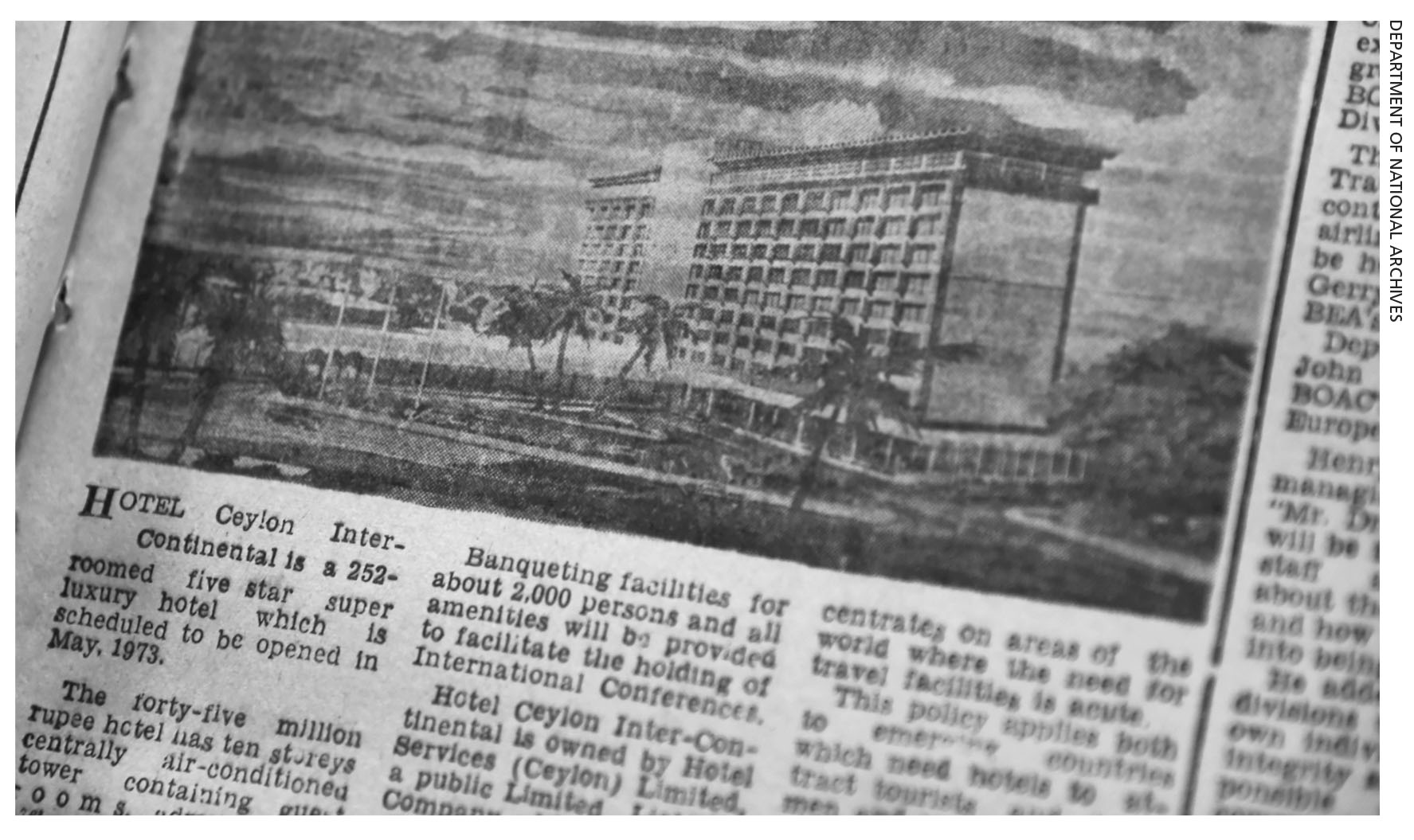 Ceylon was once – and still is for sure – synonymous with tea. The eponymous isle has gone on to fame and fortune (and admittedly, even some infamy or notoriety) in other arenas.
The 'package deal' for which it was most famous in the bright sparkling years was 'sun, sand and sea.' And a string of tourist hotels and leisure resorts dotting the coastline, littoral and hinterland added no little lustre to the 'Pearl of the Indian Ocean.'
However, it was to be a quarter-century before the then capital of Sri Lanka had its very first five-star hotel. The property – at the time it was known as Ceylon Inter-Continental Hotel – was at the heart of the city's entertainment district (or what passed for it) and only a stone's throw away from Colombo's business centres, being located along a prestigious boulevard: namely, Janadhipathi Mawatha, the road that leads to the president's official residence.
Sitting at the northern end of the iconic Galle Face esplanade, the city and business hotel has had several name changes – from Ceylon Inter-Continental to Ceylon Continental Hotel Colombo.
Built by U. N. Gunasekera, it was a departure from run-of-the-mill touristy architecture that characterised the 1960s era, and was once considered the epitome of high-rise engineering with its modern face and businesslike exterior.
Today, the nine storey building is known as The Kingsbury and remains an eminently recognisable landmark as one drives into downtown Colombo, straddling the precincts of the Port City and providing clients with vistas of sky, shore and sky in addition to all the amenities of a five-star hotel.
The property – at the time it was known as Ceylon Inter-Continental Hotel – was at the heart of the city's entertainment district … and only a stone's throw away from Colombo's business centres