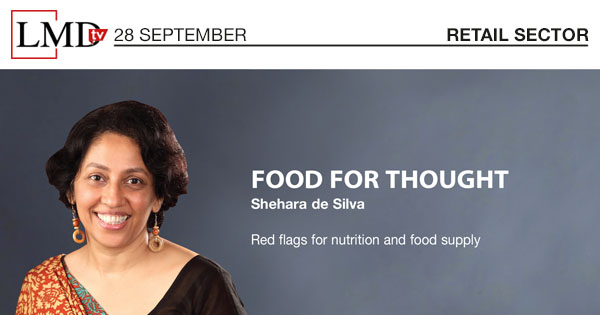 "It's quite dystopian and alarming on many levels," remarked the Non-Executive Director of Keells Food Products Shehara de Silva, referring to the state of food and nutrition in the island in light of the economic crisis.
But she added that our humanitarian crisis is not unique. It's a global problem shared by Sri Lanka and about 45 other countries.
"We should have learned globally and the UN should've known better," she said of the global food issue, adding: "And the COVID-19 pandemic should have prompted a greater commitment to food security on both a national and international level."
With regard to the food supply, de Silva identified a few red flags: "Food scarcities and fuel pricing have disrupted supply chains; the predominance of the Ukraine-Russia war has impacted the food category with inflationary pricing. Energy costs have also affected food chains."
De Silva remarked that Ukraine and Russia dominate the global trade in food base, and observed that "70 percent of sunflower production and 30 percent of the procurement of wheat for the UN are coming from these countries."
Since wheat is a primary component in numerous businesses including biscuits, the food sector has been badly hit.
Forty percent of the world's food supply comprises wheat, corn and rice. The majority of these commodities are located in a few regions. In the light of this, the war in Ukraine has amplified the issue that Sri Lanka hasn't prioritised food security. Additionally, Indo­nesia has stopped palm oil exports. "This is a double whammy," as she put it.
"At the policy level, the red flag is that we've had a very myopic approach to special commodity levies. The fact that we have had to freeze many imports because of the dollar crisis is another huge red flag," she added, listing the warning signs.
She referred to large private corporations as "big players" and said that this crisis should serve as a wake-up call, and cited the example of the country requiring roughly two million metric tonnes of rice to feed about a million pregnant women and another million needy people, to emphasise how serious the situation is.
De Silva averred that the wrong people were receiving what is being given as handouts because government disbursement is politicised. And she observed that "we have to partner with them on disbursements and there may be an opportunity for the big food distributors to participate in this."
Commenting on the interim budget, she said that it was "IMF friendly" and compared it to attempting to stop a bleeding wound without healing it. She shared her view that the "volatile situation" in the country necessitated the proposed tax hikes.
In response to the budget's emphasis on agriculture, de Silva said: "We are non-players in every sense of the word. People are unwilling to work in the sector. We haven't understood how multi-cropping can buffer seasonality and crop loss." And because making structural changes or rethinking some of these will take time, she emphasised that these issues cannot be remedied in the short term.
On her expectations for the 2023 budget, de Silva quipped that though she is no puritan she found it appalling that we could do no better than "casinos and legalising pot." Referring to the government's plans to implement immediate policy solutions, she advocated giving fisheries a high priority in the forthcoming budget as "40 percent of the protein value of our country is consumed from fish."
However dystopian the setting, de Silva appeared to be optimistic. She said that "there is hope" and commended the system's resilience.
"The challenge will be to see whether we can get a strong enough government to hold out and make some priorities, resolve the humanitarian crisis relating to starvation, and manage to take the haircuts we need," she said in her summing up, adding: "And then I think we'll bounce back, God willing."