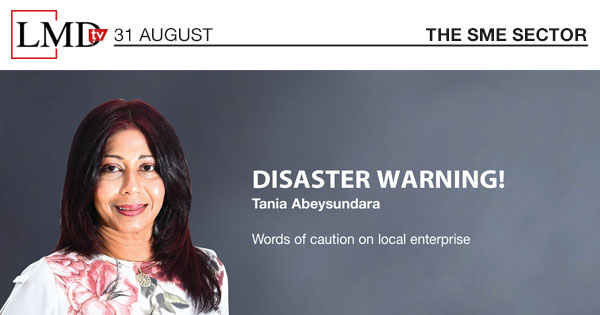 The Sri Lanka United Business Alliance (SLUBA) was formed following the Easter Sunday attacks to help small and medium-size enterprises (SME) overcome their difficulties. The president of the organisation Tania Abeysundara was in conversation with LMDtv recently, and she reasoned that coming together as a common entity carried more weight than attempting to get things done – especially with efforts to seek relief – in individual capacities.
Speaking about the respite afforded to SMEs, she said: "Every issue has been addressed briefly but insufficiently and in terms of defending SMEs, they aren't adequately protected. We're drowning. We've been squeezed and tugged to the point where we believe we can no longer survive…"
"It's unfortunate because SMEs are the backbone of the country's economy. We account for 52 percent of the country's GDP. We house nearly 4.5 million employees – roughly 55-60 percent of the nation's workforce. So there's a massive responsibility for the government to look after SMEs," she emphasised.
As the organisation's leader, Abeysundara reiterated that it is not looking for temporary solutions, and stressed that "we need answers because SMEs have struggled throughout these three years… 90 percent of SMEs have developed their businesses with their own funds; and most of the time, the collateral is their property. It's the house they live in that they usually put up."
SMEs have taken numerous risks to boost the national economy. And at a point when they have been confronted with challenges such as the fallout from the attacks, the pandemic and the economic crisis, there is an expectation of greater support and assistance from official sources.
"We as SMEs have no colour. We have no government. It is government policies that matter to us. All we ask is for systems to prevail. So we've always asked governments to put their colours and parties aside, and support bringing the economy back so that we can breathe. Politicians have a lot of responsibility," she said, in reference to the government's obligation to ensure that SMEs don't fail.
In the prevailing commercial climate, the survival of SMEs is greatly threatened. Overheads are higher than income and it is harder to sustain employment. The responsibility for a 4.5 million strong workforce is considerable and there is a possibility that this workforce could be out of work if action isn't taken to provide assistance to SMEs.
Particularly concerning to Abeysundara are the challenges posed by the need to service bank loans when overheads are higher than income and when no steady revenue is coming in. "The moratorium has to be extended," she insisted, and pointed out that "our businesses have been downsized over the last two years."
And she stressed that the increase in interest rates will further destabilise SMEs.
Furthermore, the new importation restrictions, combined with the forex crisis, have made it impossible to bring in raw materials; and as a result, manufacturing units are being phased out.
Abeysundara spelled out the fact that "no country has ever gone forward being an import economy. We have to learn to be an export economy and an industrial economy, and manufacture as much as possible within the country. The government must support the relevant organisations."
And she pointed out that "we must be allowed to find market values and be led to trade shows… the Export Development Board (EDB) should hold seminars and organise workshops for SMEs… and groom entrepreneurs on how to participate in the export market."
"If SMEs were to collapse, the country's economy would collapse," the president of SLUBA warned, and she concluded her interview with the parting observation that "the interim budget is not SME friendly at all. So how do they expect these 4.5 million workers to survive? Making Sri Lanka a developed country only takes someone with the willingness, empathy and love for the country."