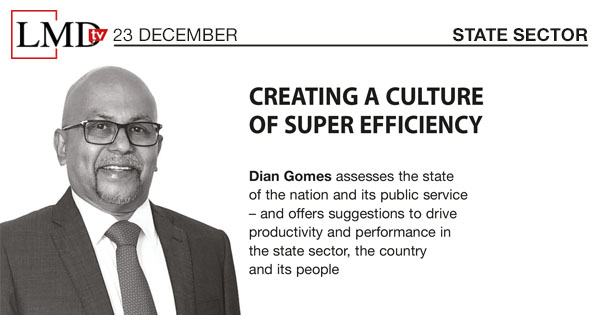 "The country is presently experiencing a little stagnation largely due to COVID-19 and because there's uncertainty among the people," said Dian Gomes – the Honorary Consul of Georgia – as he commented on the state of the nation.
He continued: "The world is in the same position so I believe the next six months will see an improvement where people return to their normal lives. Once the vaccines come, people's minds will change; but until then, the stagnation will continue."
As for the economy, Gomes was of the view that it is performing fairly well as exports have not been impacted as much as anticipated with the apparel industry maintaining its momentum. Simultaneously, imports have declined drastically, which he considered to be the balance that the country needed.
And while local consumers and smaller industries have been impacted, he stated that they have managed these circumstances "in the most pragmatic way."
Commenting on the appointment of business leaders from the private sector to the Public Service Commission, he asserted that there is extensive knowledge and structured organisation within the public sector, which may be surprising to some.
"Given the right environment, the state sector may even perform better than the private sector," Gomes opined, explaining that "public sector bureaucrats seem to understand how it operates and the implications of decisions – and their knowledge base is even stronger than private sector executives."
Moreover, he pointed out that there are respected senior civil servants who may be capable of addressing some issues more quickly than their private sector counterparts.
In his view, ideas that must be considered are the impact of technology in improving services, and enhancing civil servants' accountability and strength in performing their jobs without political interference.
As for calls to list state owned enterprises, Gomes pointed out that the aim of all companies should be to earn profits with the country not suffering due to their inefficiencies. However, he believes that if state enterprises are restructured, they could be profitable without the need for privatisation.
"However, if these organisations are listed, there would be mechanisms to instil transparency, more efficient management, recruitment of better talent and looking at the future rather than merely sailing your own ship," he acknowledged.
When it comes to taking measures to safeguard jobs and subsidise businesses, Gomes stated: "We need to understand that there is a need to restructure, and make our public service and organisations much more accountable in terms of their future existence – because the government cannot keep pumping funds into these ailing sectors although it has continued to do so."
Discussing the topic of motivating the workforce in the public sector, he believes that creating the right environment with the appropriate training could drive an organisation or a country. To help drive productivity, he suggested establishing key performance indicators for employees in senior positions and driving these initiatives.
"We need to drive companies, the public service and the country in the same manner," he elaborated while acknowledging that there would be resistance, particularly in a politicised society.
Summing up his views on the state of the nation, he noted: "I believe that Sri Lankans are resilient people. We have been through a war, a tsunami and a pandemic, and we will emerge from it – the private sector, the public sector, sports and the rest of the people."
And in his concluding remarks on this edition of LMDtv, Gomes disclosed his wish list for Sri Lanka in 2021 and the future: "There is corruption – and as a nation, we must get rid of all those bad eggs in every sphere and drive this country, so that my daughters and your sons have a great future not only in this new year but the years to come."