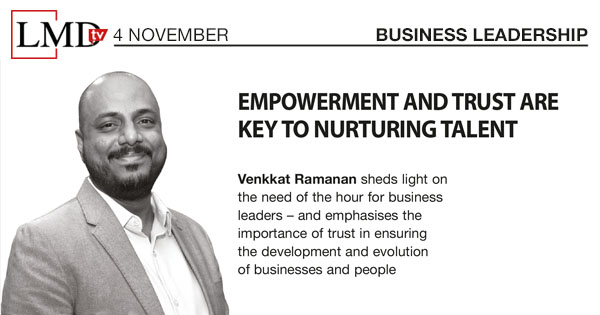 "From the perspective of people in organisations, a must-have is empathy because the pandemic has impacted everyone in different ways and leaders must be empathetic to the challenges that their teams may face," said Venkkat Ramanan.
Expanding on must-have qualities for business leaders, the Regional Vice President, Asia Pacific of the Association of International Certified Professional Accountants (AICPA) added: "The second need is agility as everything does not remain constant, which means knowing how to go about activities in different ways, and being agile in terms of mindsets and an organisation's identity."
"And finally, innovation is needed because there is always opportunity in crisis and business leaders must seek out what will have a positive impact," he asserted.
Ramanan stressed the importance of trust when motivating employees, noting that most people have questioned their purpose in organisations during the pandemic: "If you understand what drives a person, you're able to empower and trust him or her. I believe that work from home (WFH) did not work previously as most leaders did not trust their staff."
"With trust, empowerment and greater understanding, individuals and teams can do more than what is required," he maintained.
As companies look to balance short-term strategies with long-term visions, Ramanan suggested that managing cash flows should be a priority for the near term, pointing out that liquidity serves as the lifeline of any business.
"While doing this however, businesses must redefine who they and their customers are while acknowledging that the latter group's needs may not be the same as before," he explained. This requires assessing customers' needs and evaluating whether technology can be adapted to cater to these changes.
He elaborated: "What is critical to this entire process is people; so in the medium term, the best staff should be called on to offer advice in terms of how cash flows can be improved or business models can be integrated differently, and what is changing and potential opportunities."
Commenting on how business leadership should evolve following the end of the COVID-19 crisis, Ramanan cited the importance of trust in terms of the perceptions of employees and external stakeholders.
"We need a different mindset in terms of how we approach everything," he noted while discussing means to nurture new leaders, stressing the need for trust in this scenario as well.
In addition to this, he highlighted the importance of digital as younger generations may identify opportunities that established leaders cannot recognise. Ramanan also emphasised the significance of fostering an innovative culture in which speed and agility are embedded.
When it comes to the accountancy profession, he believes that CFOs are in the right positions these days as they're not merely viewed as people in charge of finances and budgets: "CFOs have always been strategic leaders but when crises emerge, they are connected to the business, understand people, and are able to link with leaders and make decisions."
While the finance function has traditionally been regarded as a back office function, Ramanan maintained that these professionals have always been at the front and centre of organisations with leadership and business skills supported by technical competencies.
In the future, he expects to witness more automation of the finance function – in terms of robotic process automation or AI integration, leading to it shrinking: "This means finance leaders are moving up the value chain to become better value enablers and strategic business partners."
"We must also understand that the digital workforce will continue to grow so a collaborative environment and connectivity are needed to communicate with finance professionals in WFH scenarios," he stated in his concluding remarks, asserting that "it's important that they are seen as value enablers."